Miller wins epic battle with Tulo to notch save
On 12th pitch of at-bat, Yankees closer strikes out Blue Jays shortstop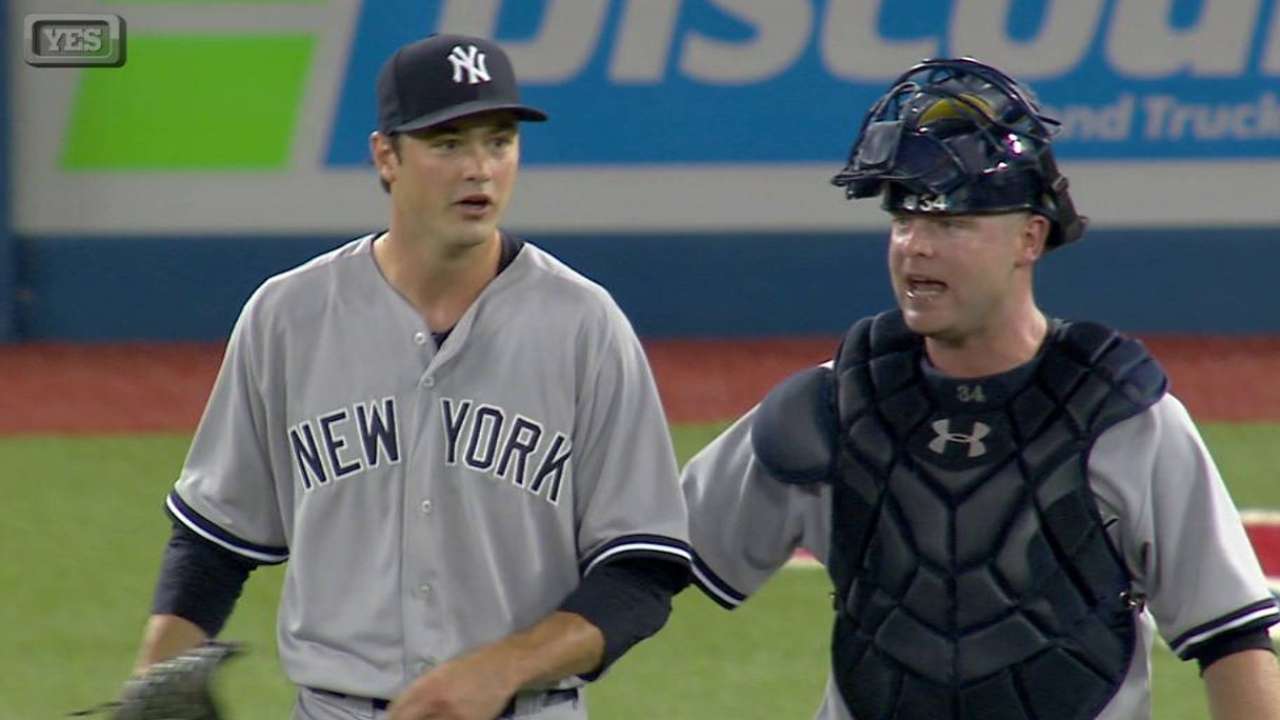 TORONTO -- By the time Yankees closer Andrew Miller's chess match with Troy Tulowitzki reached its conclusion, even the frenzied fans chanting the shortstop's name high above the Level of Excellence at Rogers Centre probably could have guessed that there was a slider on the way.
Miller said that he was running out of gas as Tulowitzki continued to waste pitches, but the left-hander summoned a spinner that was a little tighter than the rest, missing the slugger's bat and securing a 4-3 Yankees victory in a showdown that was as good as it gets.
"I changed locations and angles," Miller said. "I didn't execute everything I wanted to; I practically threw him a curveball on one pitch. I was throwing him in, I was throwing him down, I was throwing him back door. I think his odds were pretty favorable to guess that I was going to throw a slider, and I don't blame him."
Miller used 28 pitches to lock down his 26th save in 27 chances, with the fight against Tulowitzki requiring 12 offerings, including nine sliders -- seven of which Tulowitzki fouled off while possession of first place in the American League East hung in the balance.
"Classic. It was a battle," Blue Jays manager John Gibbons said. "Two of the best players in baseball. That's what you want to see, pay to see. And Miller, he's one of the best out there and he's got some nasty pitches. Tulo fouled a lot of them off, that's for sure. He's got that wicked slider he throws down and in to righties. It was a great at-bat."
Miller issued a one-out walk to pinch-hitter Chris Colabello and, seeking a double play, got Kevin Pillar to hit a ground ball that scooted past shortstop Didi Gregorius for a clean single. A wild pitch advanced Pillar and pinch-runner Cliff Pennington before Miller struck out Ben Revere swinging.
Not wanting to repeat a cross-up with the tying run 90 feet away, catcher Brian McCann and Miller huddled several times while Tulowitzki batted, going over signs and sequences before the plate appearance and again after a called strike on an 86-mph slider and a 96-mph fastball that buzzed outside.
Tulowitzki fouled off the next three sliders before Miller wasted a heater away, then tried another slider, which was fouled off. McCann came back to the mound as the crowd booed, and Tulowitzki took a 97-mph fastball away to work the count full. After yet another slider was fouled off, McCann trudged out 60 feet and 60 inches one final time.
"I threw a pretty good [fastball] away for a chase pitch," Miller said. "He didn't take the bait. Same thing to Colabello; I don't know, maybe they were sitting on sliders or something like that. I liked my chance there. I didn't locate one in that I wanted. They got probably 15 of my best sliders."
Miller believes he can throw his breaking ball so many different ways that no hitter ever sees everything he's got, but that was put to the test with Tulowitzki. Pitch No. 10 was a slider whacked foul past third base, as was pitch No. 11.
"Just put it in play already," third baseman Chase Headley said. "I knew the only place he was going to hit it was to me. It was either going to be foul or it was going to be right to me. You just keep sitting there, and the anticipation keeps building with every foul ball."
McCann said the final pitch had just a little extra mustard on it, as Tulowitzki waved and Miller exulted.
"There's a lot of stuff going on; I think physical, mental, everything," Miller said. "I think, just a great all-around win. I'm glad I was able to nail it down."
Bryan Hoch is a reporter for MLB.com. Follow him on Twitter @bryanhoch, on Facebook and read his MLBlog, Bombers Beat. This story was not subject to the approval of Major League Baseball or its clubs.