Yogi remembered at BBWAA Awards
Late Yankees legend presented with Joan Payson Award for his community service
NEW YORK -- Yogi Berra always told Ron Guidry how much he enjoyed being a member of the Yankees or recounted tales from his stint as manager of the Mets whenever the two used to have dinner together.
Those memories stuck out for Guidry as he presented -- and accepted -- the Joan Payson Award for community service on behalf of the late Hall of Fame catcher at the Baseball Writers' Association of America Awards Dinner on Saturday night. A historic blizzard forced the BBWAA to cancel the originally scheduled event that was open to the public and instead present the awards in a private ceremony for the honorees and their families at the New York Midtown Hilton.
"Only [Yogi] would be able to get me to leave the nice, friendly confines of the state of Louisiana -- where it's 70 degrees, right now -- in the middle of my duck season to come and be a part of the worst storm to hit New York in 20 years," Guidry said with a laugh. "Thank you very much."
Berra, who passed away in September, was a national recipient of the award -- named after the first Mets owner -- with a list of off-the-field contributions as long as his accolades on the field.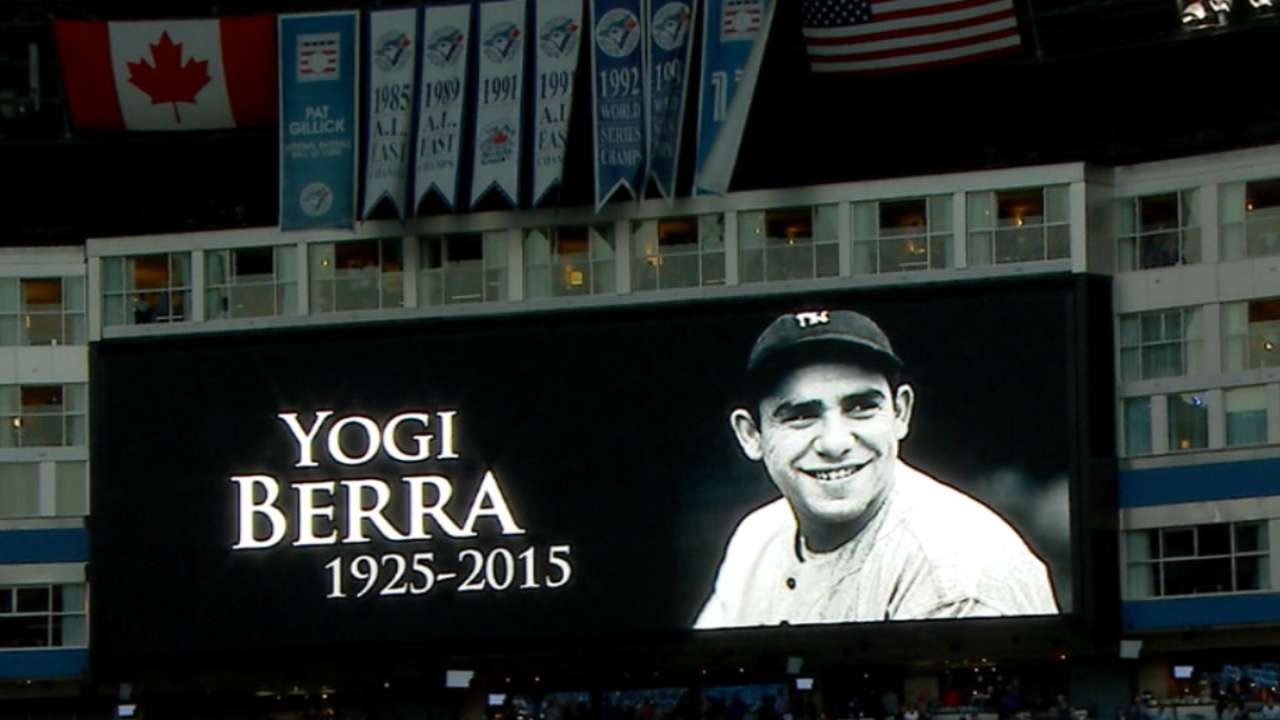 Before his playing career, Berra served in the U.S. Navy during World War II. He was also an ambassador for Athlete Ally, which promotes LGBT rights in sports, in retirement. He created scholarships for education and was always a supporter of civil rights. In November, he was posthumously awarded the Presidential Medal of Freedom, the nation's highest civilian honor.
"It was always amazing to watch him walk around and have people react to him," Guidry said. "If there ever was a person more loved than Yogi in this country, I don't think I've ever met that person."
At the end of his speech, Guidry made his own attempt at one of Berra's classic quips -- "[Yogi] would have probably said something like, 'I'd like to thank everybody for making this possible, because I deserve it.'"
Jamal Collier is a reporter for MLB.com. Follow him on Twitter at @jamalcollier. This story was not subject to the approval of Major League Baseball or its clubs.