Camp notes: Long-relief innings up for grabs
Backup catcher's job also open to competition this spring
TAMPA, Fla. -- Adam Warren was an integral part to the Yankees' pitching staff in 2015, starting 17 games and making 26 relief appearances, pitching a total of 131 1/3 innings.
His offseason departure -- via trade with the Cubs that saw the club net Starlin Castro -- means there are a fair share of innings available.
"There's some guys who have more experience than others and some guys who have good arms," manager Joe Girardi said. "It comes down to performance at the end."
How the rotation shakes out will largely determine who will get the long-relief role. Bryan Mitchell, Luis Severino and Ivan Nova all figure to be in the running for a rotation spot but could find themselves coming out of the bullpen to start the season.
Girardi said the key for the young pitchers is to define their roles early.
"A lot of times, guys come up and they aren't exactly sure," Girardi said. "We try to tell them to be the guy you were because that's what got you here. I expect that you'll see guys much more relaxed and understanding what that role is."
• Spring Training: Schedule | Tickets | Gear
Girardi added that Warren's success early on allowed him to be more flexible, and hopes this year's options can do the same.
"The ability is there," Girardi said. "It can't be a guy that's anxious because each day your role is a little bit different."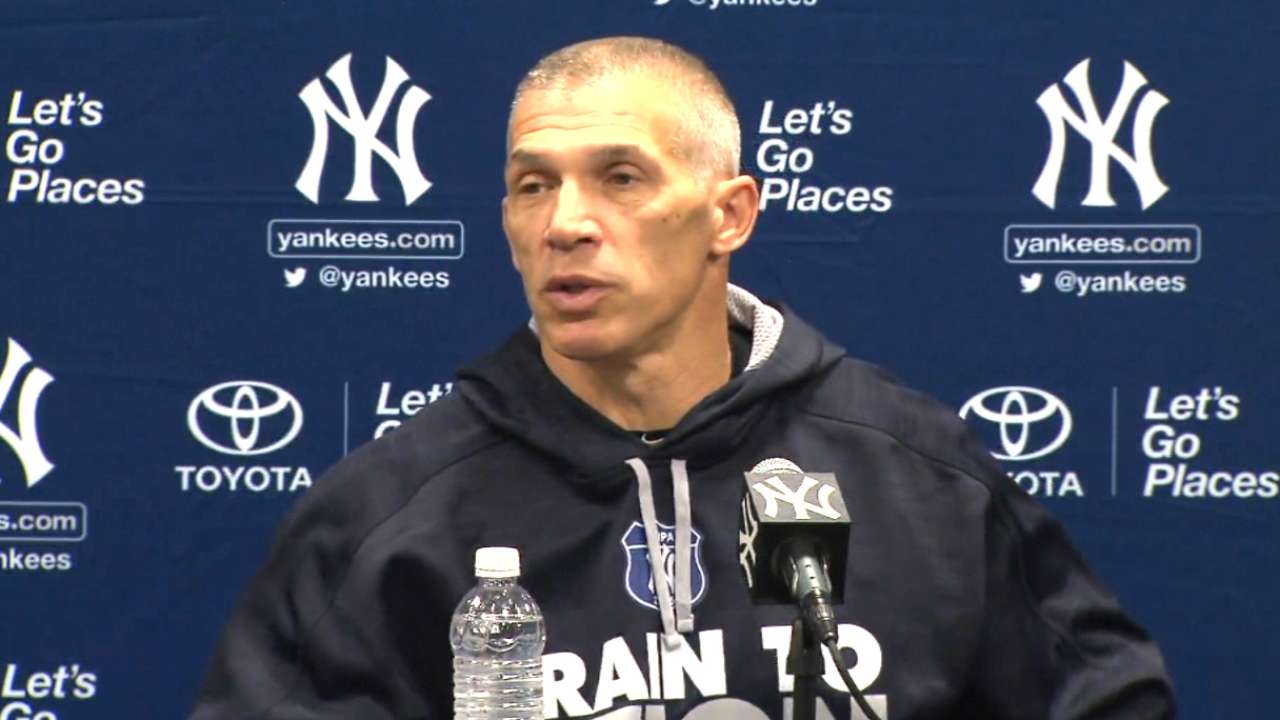 Competition wide open for No. 2 catcher
Though Brian McCann is undoubtedly the team's primary option at catcher, the backup spot is still up for grabs. Gary Sanchez and Austin Romine figure to be the favorites, but Girardi said not to discount the other options.
"They're both on our 40-man roster, they know our pitching staff, but I'm a big believer in [letting it play out]," Girardi said. "I don't care to come into camp and say, 'This person has no chance.' That's not fair to the player, and then I think you're narrow-minded. You have to keep your eyes open."
Sanchez and Romine combined to play in just three games for the Yankees last year with neither recording a hit. Carlos Corporan, who is not on the 40-man roster, played in 33 games for the Rangers in 2015, hitting .178 with three homers.
McCann is expected to be behind the dish most games, after he made 119 starts at catcher last season. Girardi noted how well McCann has handled the catching duties in his first two years with New York.
"There's been a lot of guys in and out of the rotation, out of the bullpen," Girardi said. "He's done a really great job."
German MRI update
Pitching prospect Domingo German underwent an MRI on Friday after feeling pain during his bullpen session. Girardi said no tear was found but there was a strain in the right-hander's flexor muscle and a bone bruise in his elbow.
Girardi said while the news was encouraging, German will undergo a contrast dye on Monday to determine the full extent of the injury. German missed all of last season after undergoing Tommy John surgery.
Extra bases
• There will be no practice on Tuesday, the day before the club's first spring game.
• The Yankees will announce on Sunday who will start Wednesday's game.
Greg Zeck is a contributor to MLB.com. This story was not subject to the approval of Major League Baseball or its clubs.