Yankees Magazine: Eye on the Ball
In 2015, Luis Severino proved he belonged in the Big Leagues, and he has his sights set on an even brighter future in 2016
Luis Severino finished a round of warm-up pitches and walked from the bullpen through right field to the mound at George M. Steinbrenner Field. On this unseasonably cool afternoon in Tampa, Fla., with Manager Joe Girardi and pitching coach Larry Rothschild standing a few feet behind him, the 22-year-old starting pitcher picked up a baseball and looked toward catcher Carlos Corporan for a sign.
With Jacoby Ellsbury at the plate, Severino delivered a fastball. The outfielder remained still. Severino continued to throw, and after about a dozen more pitches, Ellsbury left the batter's box without having swung at any of them. Outfield prospect Ben Gamel stepped in. Like Ellsbury, Gamel kept the bat on his shoulder for his entire turn. If Severino was confused by the lack of activity on the part of his teammates, he didn't show it.
One after another, the batters took strike after strike until Girardi asked Severino to wrap up his 15-minute mound session with two pitchouts.
When he was done, a few hundred fans cheered from the stands. Then, a middle-aged man sitting behind the third-base dugout hollered for an encore.
"Stay out there," the fan yelled as he clapped for Severino. "We want you to keep throwing."
But on this day, that was all the fervent fans would get. Severino walked over to Girardi and Rothschild with a smile on his face, and the manager filled Severino in: The batters had no intention of swinging. They were instead using this early-spring batting practice session to get acclimated to the speed of live pitching.
"I had no idea what they were doing," Severino said later that day from the home dugout. "I kept expecting them to swing, but it never happened."
For Severino, this was the unofficial beginning of his second Big League act. It was the first time he had faced live batters since the end of the 2015 season.
In 2015, Severino took the ball at three different levels. He began the season with Double-A Trenton and cruised through the first month and a half. In eight starts with the Thunder, the right-hander pitched to a 3.32 ERA before being promoted to Triple-A on May 30.
One step away from the Big Leagues in only his fourth season in professional baseball, Severino turned it up a notch. After giving up two earned runs in his Triple-A debut, Severino gave up only five runs in his next five starts, including a seven-inning shutout against the Buffalo Bisons on June 26.
"That was a fun time," Severino said. "I really grew up as a baseball player there. When I got to Scranton and began working with [pitching coach] Scott Aldred, I threw my breaking ball a lot more frequently. That was the first place I pitched where I couldn't count on my fastball to get everyone out. But it taught me to think about what pitches I needed to throw in different situations."
In his final five starts in Northeastern Pennsylvania, Severino gave up three runs or fewer in each outing. By the end of July, Severino was 7-0 in Triple-A with a 1.91 ERA, and opposing batters had managed to hit only .184 against him.
With the Yankees atop the American League East, rumors about the team acquiring a starting pitcher at the trade deadline to strengthen their rotation and maintain the lead swirled. With a few frontline starters on the block, Severino's name was mentioned in virtually all of those rumors. But Brian Cashman had no intention of trading his young starter. Although Severino was unproven, the general manager believed that he gave the Yankees the best chance to win games in the immediate future and beyond.
"That meant a lot to me," Severino said. "I thought about it a lot last season, and it made me feel good about my future. The fact that the Yankees have put their trust in me makes me want to do well for this team for a long time."
With nothing left to prove in the Minors, Severino was called up on Aug. 5, a few days after right-hander Michael Pineda was placed on the 15-day disabled list. Severino was immediately thrust into the team's starting rotation.
For Severino, getting to the Bronx had been on his mind for a while.
"If I was asked last year at this time where I was going to end up in 2015, I would have said the Big Leagues," Severino said. "I really had the confidence I needed when I got to Spring Training last year, and I was determined to get there before the end of the season."
In his Big League debut, Severino took the Yankee Stadium mound against the Boston Red Sox. Just like he had done in the Minors, he baffled batters with a fastball, slider and change-up combination. In five innings of work, he struck out seven while allowing one earned run.
"Every time I turned on the TV that day, it seemed like all anyone was talking about was my debut," Severino said. "That made me anxious and a little nervous. But when I got to the mound, all of those feelings went away. I was excited to be out there."
The one earned run Severino gave up that night came in the form of a longball off the bat of Red Sox designated hitter David Ortiz. It cost Severino the game, and it also served as a reminder that he was no longer in the Minors.
"In the Big Leagues, you can't make any mistakes," Severino said. "You have to be consistent the entire time you're out there. The pitch to David was supposed to be on the outside part of the plate, but I left it over the middle. I knew he was going to make me pay as soon as the ball left my hand. But I also learned firsthand how disciplined you have to be."
Just as he learned from the Ortiz home run, Severino figured out how to manage the pressure of taking the ball every fifth day for a team vying for a postseason spot.
"I got more comfortable each time I took the mound," Severino said. "But even in the beginning, it didn't feel any different from pitching in the Minors. Once the game starts, you're doing what you've always done: playing baseball. It's still baseball, just like it is anywhere else."
With a quiet confidence and unwavering poise rarely seen in pitchers so young, the Dominican Republic native, who turned 22 in February, quickly turned into the top-of-the-rotation starter the Yankees needed.
After dropping to 0-2 in his first three games -- during which he gave up six earned runs in 17 innings of work -- Severino came to Yankee Stadium on Aug. 22 determined to bring home a win.
"Well, that was Jorge Posada Day," Severino said. "I got a chance to meet Jorge before the game, and he wished me luck. That was a great moment for me. I have always admired Jorge, and I felt like that was a game we had to win. I didn't want Jorge to watch us lose on his day."
Not only did Severino earn his first Major League win, but he also put together what was his most complete Big League performance to that point. In the Yankees' 6-2 victory, Severino struck out six Cleveland Indians in six innings while giving up only three hits and one run.
"That was my favorite game of the season," he said. "My mother was there to see my first win, and that was very special."
Severino again gave the Yankees six innings of work in his next start, this time not allowing an earned run against the Atlanta Braves. His poise was especially evident in the Yankees' 3-1 victory that night. Fighting the Braves' lineup and a noisy sold-out crowd in Atlanta, Severino allowed two men to reach base in three separate innings. But each time he got into trouble, he got out of it.
"Everything was working for me that night," Severino said. "My fastball was sharp, and my breaking pitches had a lot of movement. Sometimes, you get into tough situations, but I knew I had to bear down. Mentally, I was ready for those situations a long time before that game. I had gone through those situations in my mind many times, and I knew what I had to do."
In the final month of the regular season, Severino took the mound six times. Save for one start, which took place a day later than expected because of a rainout, he put together quality outings in each of those games. He was especially dominant down the stretch, allowing only six runs over his final four starts.
Severino finished the 2015 regular season with a 5-3 record and a 2.89 ERA in 11 starts. More importantly, he helped the Yankees get back to the postseason for the first time since 2012. Even though the team only played in one postseason contest, losing to the Astros in the American League Wild Card Game, Severino established a foundation on which he hopes to build even more success this season.
"I feel like I did well last year," Severino said. "But I made some mistakes. I watched every game I pitched, and I realized that those were mistakes that for the most part, I don't think I will make this season. As a pitcher, you have to make those mistakes in order to improve. I also feel that getting to know the hitters I will be facing again this season will help me."
When Severino returned to his home in the Dominican Republic for the offseason, he did so with a perspective on the future he had never had.
"I knew that if I picked up from how I was pitching last year, I had a chance to spend this entire season with the Yankees, not just a few months," Severino said. "But to reach my full potential, I knew that I had to work as hard as I could."
With that in mind, the 6-foot-2, 215-pound pitcher spent more time in the weight room than he had before.
"I wanted to get stronger this offseason," said Severino, who maintained the same thrice-weekly throwing regimen he used in the past. "My workouts were a lot more intense. I feel like that will help me, especially as we get into the later part of the season. Because of what I did in the offseason, I have a lot more confidence than I had at the end of last season."
As for his goals in 2016, Severino has kept things simple.
"I want to stay healthy all year," he said. "And I want to pitch 200 innings. If I can do those two things, everything else will fall into place."
And just as Severino left his supporters wanting more after his first workout this year, Yankees fans left the young pitcher with the same feelings when last season reached its end.
"When you get a taste of what it's like pitching in front of thousands of fans in the Major Leagues like I did last season, you can't wait to experience that again," Severino said. "I enjoyed the time in the Minors, but there's nothing that rivals the excitement you feel from the number of fans rooting for you at Yankee Stadium."
So far this season, Severino has battled. On a cold and snowy afternoon in Detroit, he lost his first start of the season, giving up three earned runs over five-plus innings while striking out five. Severino could have benefited from a stronger defensive performance that day, as his teammates muffed three potential outs.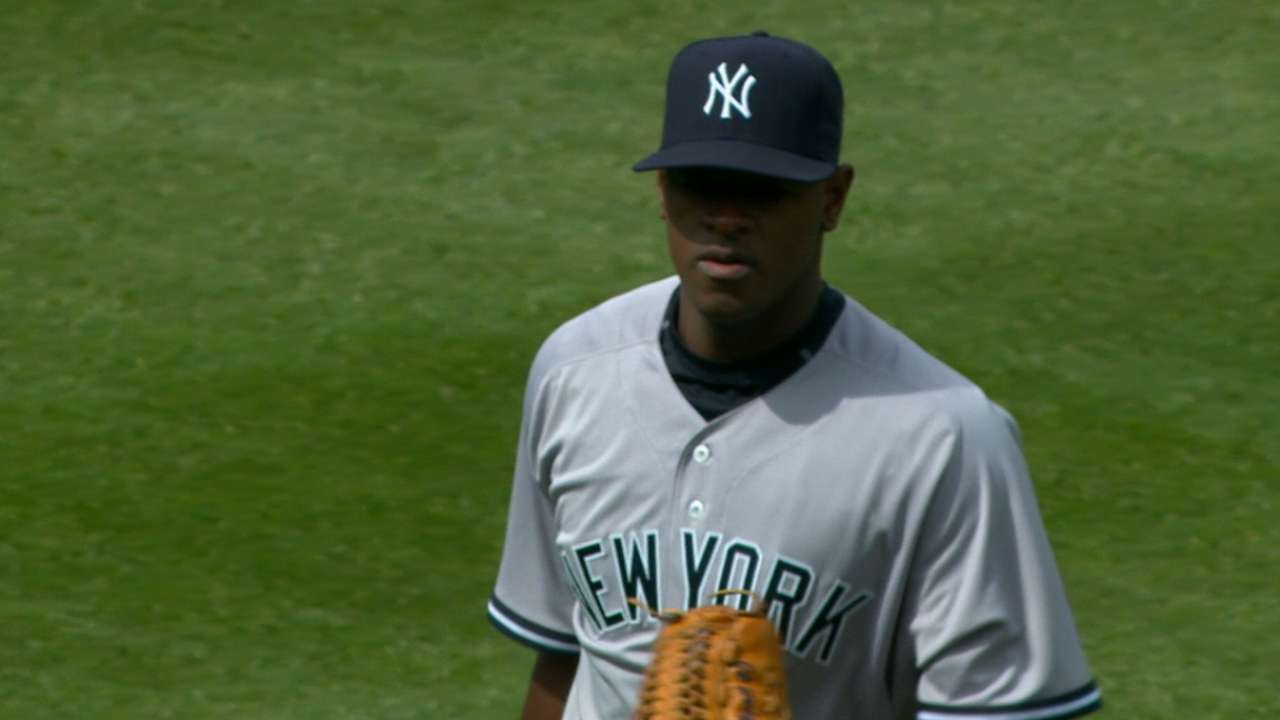 "You have to fight through some games," Severino said after that start. "I made a couple of mistakes, as well. You always want to be out there for at least eight innings, but that can't happen every time I take the ball."
Severino's next start didn't go as well. He gave up four earned runs to Seattle over 5.2 innings in a losing effort.
Six days later, he rebounded with a solid performance against Oakland. This time around, Severino limited the opponent to two runs over six innings. He didn't allow a walk, and he struck out four. Severino left with the game tied 2-2, but Oakland pulled away against the Yankees bullpen.
"We have a good team," Severino said from his locker. "Sometimes, you just have nights like this, but the run support is going to come."
If Severino keeps throwing the ball the way he has been, he'll be on the winning end more times than not. He'll have many more exciting nights at Yankee Stadium -- and so will his fans.
Alfred Santasiere III is the editor-in-chief of Yankees Magazine. This article appears in the May issue of Yankees Magazine. Get this article and more delivered to your doorstep by purchasing a subscription at yankees.com/publications.