Teixeira goes deep in return to Yanks' lineup
After missing three games due to foul ball off foot, first baseman expects production to improve with health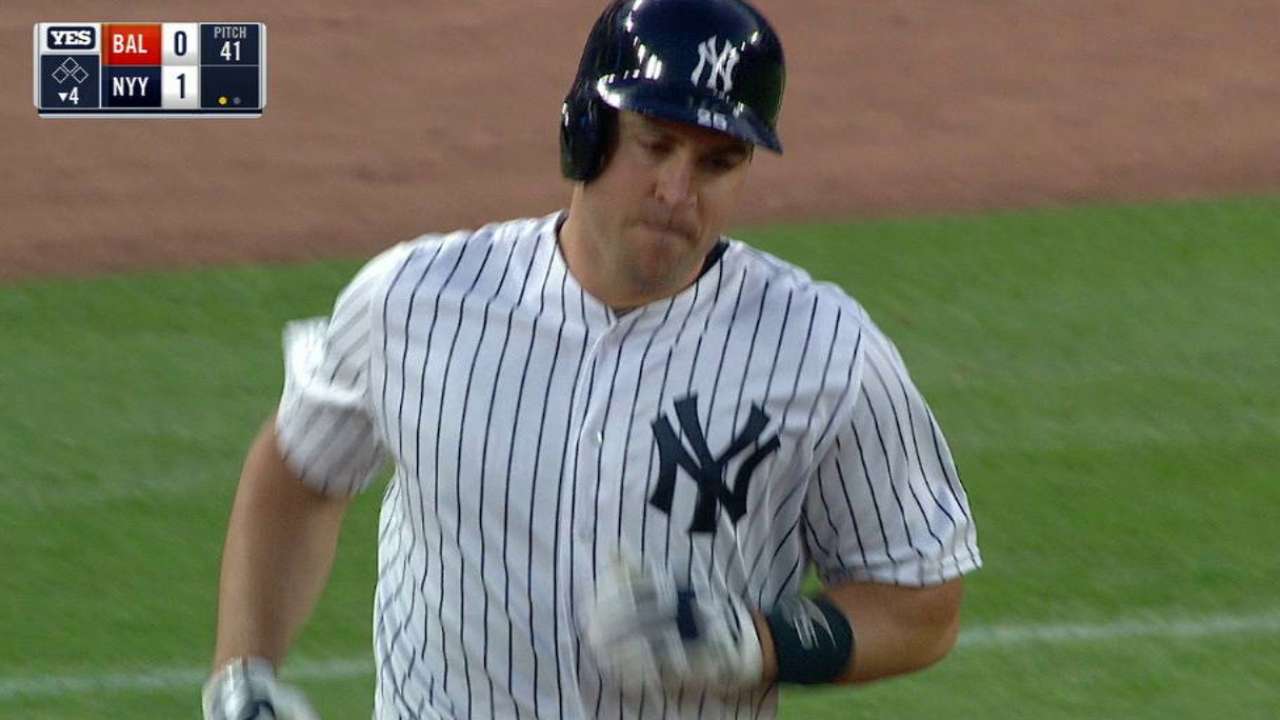 NEW YORK -- Having missed three games after fouling a ball off his left foot Saturday afternoon, Mark Teixeira was back in the lineup for the Yankees' 5-0 win over the Orioles on Wednesday night, playing first base and hitting fifth.
Teixeira quickly made his presence felt, clubbing a solo home run, his eighth of the season, in his second at-bat to give the Yanks a 2-0 lead. He then coaxed a bases-loaded walk for his 600th RBI as a Yankee in the sixth to make it 3-0.
"That was a good game," Teixeira said of his performance. "The walks were good, too, just seeing the ball. And, obviously, home runs are always fun. But the win is the most important thing."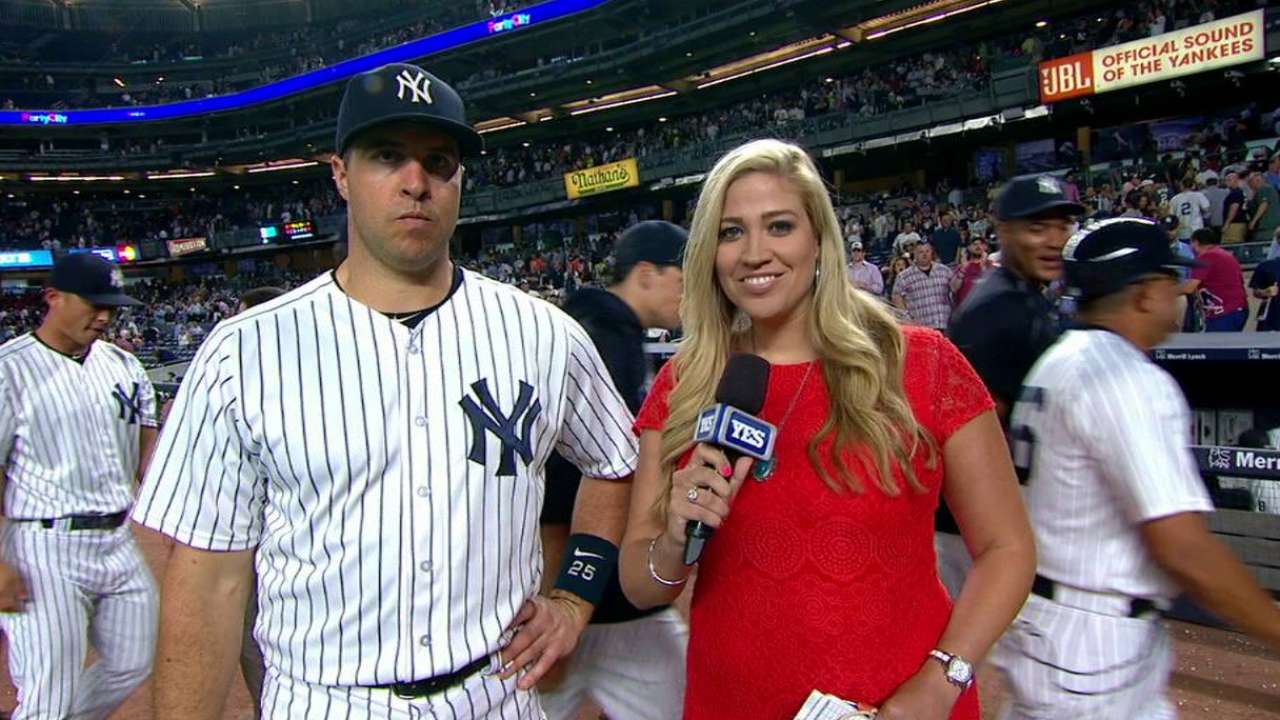 Teixeira, who is hitting .189, is still nursing the knee injury that kept him on the disabled list for most of June -- and he continues to feel pressure to break out of his hitting slump in what he has described as a "terrible" season.
"The only thing I can do the last two months is try to get healthy and be hot," Teixeira said before the game. "I live off my hot streaks, and I haven't had one yet this year. Hopefully I can stay on the field, that's the first thing, and help this team win some games."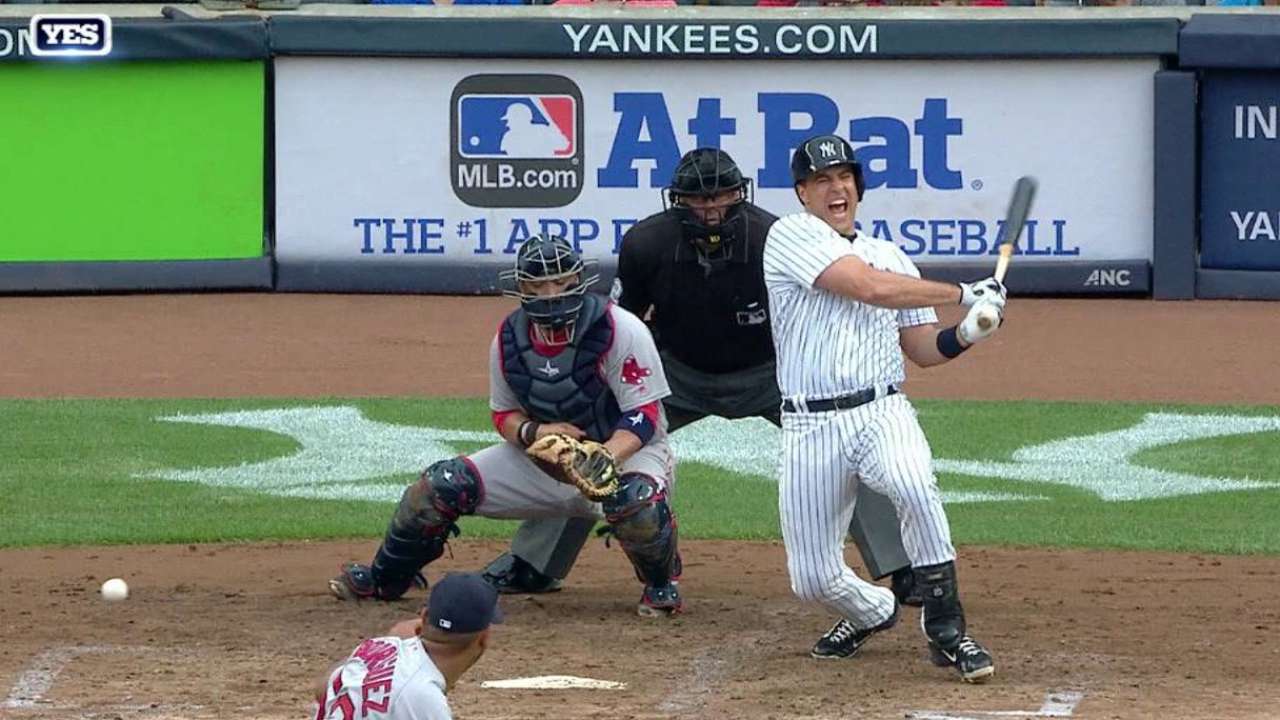 When it comes to staying on the field, the formula is pretty simple. Yankees manager Joe Girardi has said multiple times since Teixeira's return from the disabled list that he'll give his first baseman an off-day every third or fourth day to manage the pain and swelling. But when it comes to getting hot, that's up to Teixeira.
Says Teixeira, the key is to translate a couple of good games into a solid couple of homestands and road trips.
"Usually it's one or two games you feel good, and then you have two really good weeks," he said. "I'm not sure if I've played two weeks straight. It's just been that kind of year, unfortunately. Hopefully I can stay healthy these last few months."
Missing these three games might have actually helped Teixeira's chances of playing more in the near future. Because of his recent string of days off, Teixeira said his knee feels as good as it has since he was activated, and he feels confident that this cleaner bill of health can be parlayed into an increase in production.
For that to happen, he would need some at-bats.
"I know what I'm capable of when I'm healthy, and hopefully I can do that," Teixeira said. "I appreciate Joe keeping me in there and giving me at-bats. I think our team needs me to be healthy and productive if we're going to get where we're going to get."
Nick Suss is a reporter for MLB.com based in New York. This story was not subject to the approval of Major League Baseball or its clubs.