Yankees Magazine: Bedlam in the Bronx
My '76 home run sent the Yankees to the World Series and punctuated the 'thrill of a lifetime' in New York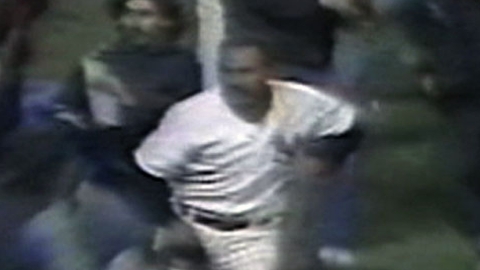 When I was traded to the Yankees from the Cleveland Indians in April 1974, I remember it was a Friday night and we had just been playing the Angels. Nolan Ryan was pitching, and we were down by two runs in the eighth inning. I came up with the bases loaded and hit a double down the left-field line to score three runs. We went on to win, and after the game, in the clubhouse, it was like we had just won the World Series.
My manager, Ken Aspromonte, called me, Dick Tidrow and Cecil Upshaw into his office and told us we had been traded. The next morning, I was on a plane to New York, and that afternoon, I was in a Yankees uniform playing a home game at Shea Stadium (Yankee Stadium was being renovated at the time).
The start to my Yankees career was frustrating. I didn't get off to a great start, and a couple of weeks in, I started getting platooned. By the end of the season, there were rumors that I was going to be traded away. During Spring Training in '75, I was so sure I was going to be traded that I actually gave Roy White my glove. I wound up staying, and it was a breakout season for me. I reached career highs in batting average (.304) and RBI (72) and hit nine home runs. That year really gave me confidence going into the 1976 season.
The '76 season was special from the beginning because it was the first season we got to play in the remodeled Yankee Stadium. Even though we had been Yankees at Shea Stadium, you felt like you really became a Yankee when you went into the new Stadium. You started understanding the uniform and the guys that played there before. Yogi Berra was around, and Elston Howard was, too. And all of a sudden, you were standing on the same grounds as these great former Yankees, and that brought a lot of pride to the team.
Additions to the team also made '76 a great year. That was the first full season we had Billy Martin as our manager, and he had a fiery personality. His demeanor made you want to play. We traded for Willie Randolph that offseason, and we also added Ed Figueroa to the rotation, and Mickey Rivers came over with him to man center field. They came into a club that was already strong and included guys like Thurman Munson, Roy and Lou Piniella. With the additions, we became a club that could win in a lot of different ways.
I hit fourth that season. Rivers, White and Thurman all hit in front of me, and it seemed like every time I got up to the plate, those guys were in scoring position. Our power came from Graig Nettles, who hit 32 home runs that year. And our pitchers were tremendous. We had Sparky Lyle in the bullpen, and Ed and Dock Ellis joining Catfish Hunter in the rotation.
We had speed, we had power, we played good defense, and we had a great starting rotation. We had everything we needed to be a good ballclub, but I never imagined what was going to happen that season.
We started off really well, and it carried on from there. There was no one specific point where we said, "Oh, we're going on to greatness." We just took it as it came, and we dealt with each team as we played them. By the All-Star break, we were 50-31 and leading the division by nine-and-a-half games. I was selected to my first All-Star Game. I didn't get to really play in the game -- I got only one at-bat -- but it was exciting to make the team with five of my teammates.
We were in charge that whole year, and we felt like we were going to the playoffs. It was just going to be a matter of what team we were going to face. We kind of had an idea about that, too, though, because the whole year, we had a pretty good rivalry with Kansas City, and they were very strong. We had tough games with them all year, and when we faced them in the playoffs, that playoff series reflected our regular-season series with them.
They were a formidable club all around, but the guy that killed you was George Brett. They had great hitters up and down the lineup -- John Mayberry was a powerful hitter, Amos Otis was good, Hal McRae was on that team and was an All-Star -- but Brett was the guy. If anybody was going to hurt you, it was going to be him, and he did.
We knew it was going to be a tough series because of what happened during the year. All year long, it was a seesaw -- they would beat us, and then we would beat them -- but they wound up winning the season series against us, taking seven of 12 games. I couldn't predict who was going to win that American League Championship Series, but we were very confident that we could beat anybody. We just had that demeanor about us. It's part of being a Yankee. The Yankees tradition is about being out there to win; that's why you're there.
The series was back-and-forth. We won Game 1 and Game 3, and they won Game 2 and Game 4, so it all came down to Game 5.
I can't remember if I was really nervous, but I don't think I was. In any big game like that -- and we had played a lot of them to that point -- you just anticipate what you have to do, and you get out there and play. The jitters really go away once the game starts because you have to concentrate. If you're worried about everything else, you'll find that you get into trouble out there and lose your concentration. So I can't say that I was nervous, but we all knew what the game meant. We would be going home if we lost, so we had to prepare for that.
There's no doubt the fans were anxious. We'd been getting big crowds all year, so this was just another game with a lot of people there; the only difference was that everything was on the line.
It was a cold October night in New York. We got off to a good start. The Royals scored two in the top of the first, but we tied it up in the bottom of the inning. By the end of the sixth, we had built a 6-3 lead, and we were feeling really confident.
Then in the top of the eighth, Brett came up to bat with two runners on against our pitcher, Grant Jackson, and he hit one out of the park to tie the score. Once Brett hit the home run, it wasn't exactly a letdown, but we all took a breath and said, "Oh no, we've got more work to do now." It was deflating.
As you would imagine, the crowd got a bit quiet after the home run. You could almost hear them take a deep breath. But again, they built back up. The fans started to realize that all we had to do was score one more run, and then we were going to win.
The Royals brought in Mark Littell to pitch, and he was a hard-throwing right-hander. He sent our guys down in order in the bottom of the eighth. That meant I would be leading off against him in the ninth.
Littell basically had two pitches: He threw a hard slider, and then he had a fastball. There was nothing tricky about him, but he was a power guy, so there weren't many tactics you could use as a hitter. You just looked for the fastball and had to be ready to hit it, so that was going to be my approach.
In the moments leading up to my at-bat, the fans started throwing toilet paper all over the outfield, and there was a delay while the grounds crew went out to pick up all the trash. We were just standing around and I wasn't shivering, but I was cold, so Littell must have been freezing, too.
When I got into the batter's box, I was just trying to meet the ball and put it in play. I had learned by then that every time I tried to hit a home run, I did terribly. Every time I tried to hit a home run, I think I would ground out to second base. So my philosophy was that if he threw a fastball, I was going to meet it. That's exactly what happened on the first pitch. It was a high fastball, and I just put a good swing on it.
I couldn't tell if it was gone right away. McRae was in right field, and he ran back to the fence, and it looked like he was going to catch it. He jumped, and I didn't know if he came down with the ball or not, so I had to wait. When I saw it was a home run and that he didn't come down with the ball, it was an exciting moment. I knew we had just gotten into the World Series. It was pure excitement. Of course, a few steps later, it turned into a real scary moment.
Almost immediately, fans started rushing the field. I had gotten around first, but when I got to second base, I think I tripped, and then there were people everywhere. I didn't even get to touch third base because third base was just a mountain of people.
I went around them and was looking at the dugout, and my thoughts were just to get straight to our dugout. Coming around third base, I was closer to Kansas City's dugout, but I wanted to get back to our side. I made a beeline for our dugout, and there was a lot of stuff going on there. Willie was kind of behind me, trying to push people out of the way from behind. I didn't even see him at the time; he told me that later. When I got off the field and into the clubhouse, everybody asked me, "Did you touch home plate?" I said there was no way I could touch home plate because there were people everywhere!
I still had my uniform on, but I put a jacket on over it and took a couple of cops with me out to the field. We made our way through the crowd, and people had no idea it was me. We went up to home plate, and when we looked down, there was nothing there. Someone had taken home plate. So I put my foot down where it used to be, and then we went back in.
Meanwhile, in all the pandemonium, Graig did something amazing. When I hit the home run, of course I just dropped my bat. Well, he ran out to the field and picked my bat up and took it to the dugout. In those days, they didn't have a railing in front of the steps to the dugout, and we used to put our gloves and our hats right on the steps. So Graig was right there, using my bat to guard all of our equipment. He gave me the bat after the game, and I even got the home run ball, too. The ball was given to me by a Stadium security guard. The ball hadn't gone into the stands. It went into the area between the stands and the wall, where there were a bunch of security guards stationed. One of the security guards got the ball, brought it right into the clubhouse and gave it to me. At the end of the game, I had the ball and the bat.
The celebration was incredible. It had been a long time since the Yankees had reached the World Series, and it was the first time for many of us, so the celebration was amazing -- there was champagne everywhere. I don't even know if anyone slept that night. Two days later, we were playing in the World Series against the Cincinnati Reds, who unfortunately beat us in four straight.
We got back to the World Series the next year and won, but I'll always be remembered for that pennant-clinching home run in 1976, and that's great. I played in the Bronx for six years, and to spend three of them in the World Series with a prestigious team like the Yankees was the thrill of a lifetime.
Hilary Giorgi is the associate editor of Yankees Magazine. This article appears in the Commemorative Home Run Edition of Yankees Magazine. Get this article and more delivered to your doorstep by purchasing a subscription at yankees.com/publications.