Sanchez doesn't feel pressure after rookie heroics
Rodriguez to work with Yanks' shortstops at Spring Training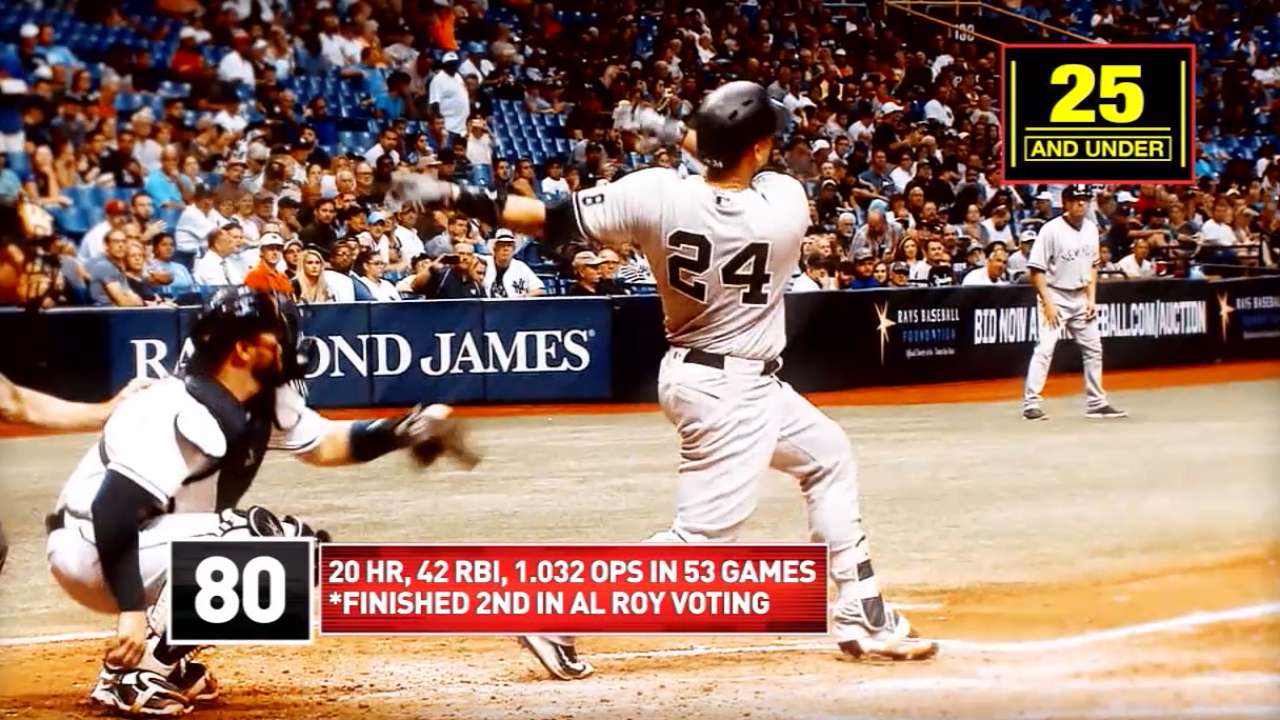 TAMPA, Fla. -- Yankees catcher Gary Sanchez is not taking anything for granted after his strong rookie season.
Sanchez, who hit .299 with 20 home runs and 42 RBIs in 53 games in 2016, said he will work this spring as if he is fighting for a roster spot.
"I think I'm working as if I don't have a guaranteed spot," Sanchez said. "You never know, so you have to keep working hard."
• Spring: Info | Tickets | Schedule | Gear
Sanchez wowed onlookers with his batting-practice session at Steinbrenner Field on Thursday. He hit one offering off the scoreboard in left-center field.
Gary Sanchez sends one off the scoreboard during BP. @Yankees @CBSNewYork pic.twitter.com/T1K5CiBvnW

— Otis Livingston (@OlivingstonTV) February 16, 2017
Sanchez has been known as a slow starter, and he struggled at times last spring. But he said that he didn't feel pressure then, nor does he feel any additional pressure now after his rookie year.
"It wasn't pressure [this past spring], I just couldn't get the result that I wanted," Sanchez said. "You want to hope to have a good spring and a good start. Overall, you always want to improve not only defense but also offense. It's minor things you always want to improve to get better."
Worth noting
• Former third baseman Alex Rodriguez will be working with the team's shortstops as a camp instructor.
ESPN.com reported that the 41-year-old will be in camp for three days next week.
"He's just going to do what everybody else does," general manager Brian Cashman said. "When he comes in, [bench coach] Rob Thomson and Joe Girardi will tell him where and what."
Rodriguez, who retired as a player in 2016, agreed to serve as an instructor this season. He has one year remaining on his contract and will earn $21 million. Yankees co-chairman Hal Steinbrenner said Wednesday that he was open to Rodriguez having an expanded role within the organization in the future.
Corey Long is a contributor to MLB.com. This story was not subject to the approval of Major League Baseball or its clubs.