Wade embraces Yanks' vision of 'Zobrist model'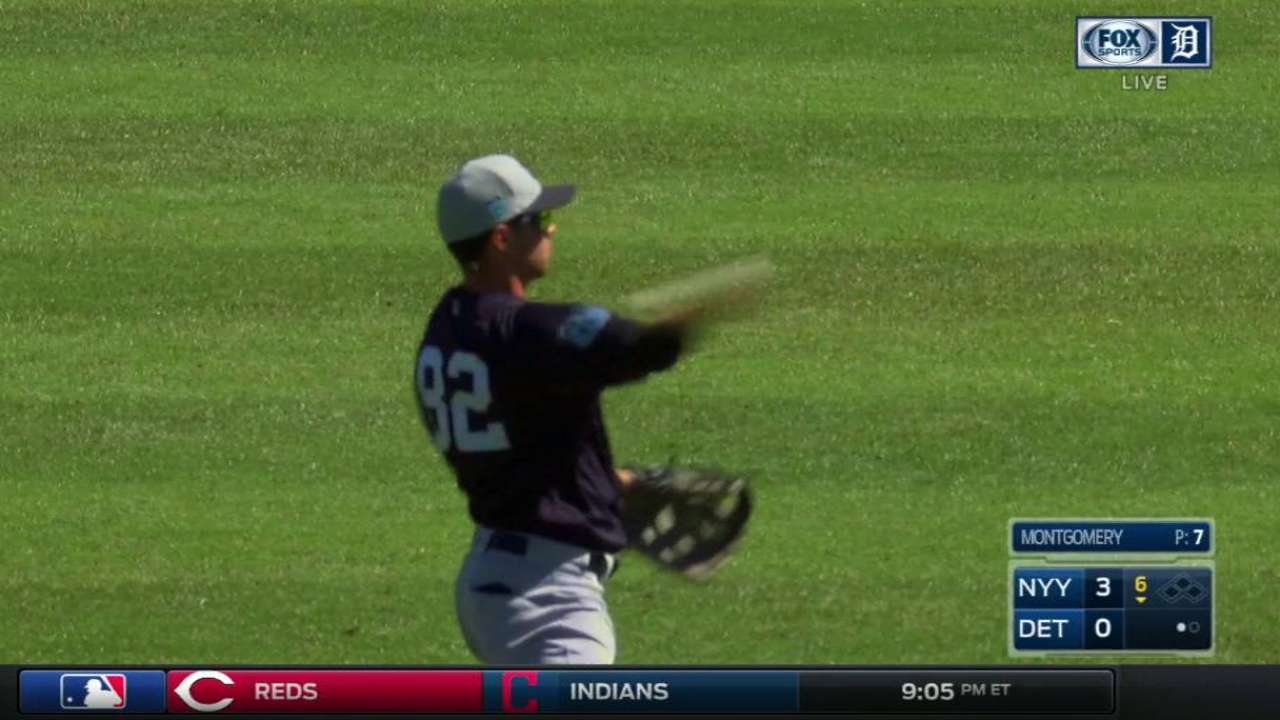 TAMPA, Fla. -- The phone call that changed Tyler Wade's career path was made from the manager's office late in the 2015 season, after Joe Girardi had several head-to-head opportunities to see Brock Holt's impact as a super-utility player with the Red Sox.
"They had just played Boston, and he's like, 'Man, they use him all over the field and he's a valuable asset,'" recalls Gary Denbo, the Yankees' vice president of player development. "He said, 'Do we have anybody in the system like that?'"
• Spring: Tickets | Ballpark | 40-man roster | NRIs
Denbo's response was that the Yankees would try to develop one. Wade was then wrapping up his year as the shortstop for Class A Advanced Tampa, and jumped out as a prime candidate because of his high baseball IQ, character and athleticism.
"I said, 'I want to create this player,'" Girardi said. "I think it's very important to a roster, because here you get in a situation where you have to call up a 13th pitcher. And if you have a guy like that on your squad, you're covered everywhere."
A fourth-round selection in the 2013 Draft, Wade had already been exposed to reps at second base, as the Yanks were preparing all of their shortstops for the aggressive infield shifting that was becoming more prevalent. They explained to Wade that he was not being benched, but would instead play five or six days a week at different positions.
"They said, 'You'd be like a Ben Zobrist model,'" Wade said. "Being able to play all these different positions, those guys are helping their teams win, they're giving guys days off and now they have several rings. That's the ultimate goal."
A crash course with outfield coordinator Reggie Willits followed, and after making a trip to the Arizona Fall League, Wade remarked that he felt like had been playing the outfield his entire life.
"It's crazy. Reggie Willits is like a guru out there," Wade said. "He crammed a bunch of information in my head -- it just kind of fit and it worked out really well. I was getting reads pretty well and everything that was about to happen, I heard Reggie's voice in the back of my head."
Wade played all three outfield positions in the Fall League and has seen time at every infield position except for catcher and first base. He gave the Yankees a glimpse of his progress on Friday against the Tigers in Lakeland, Fla., making a diving catch in center field to preserve a combined no-hitter.
"It went in the sun, so the sun was right on me," Wade said. "It went straight up and I lost it for a second, and I just stood there saying, 'Oh, we've got a no-hitter going.' I saw it and went into a dead sprint. I did everything I could to catch it. I think if the sun's not there, it's a routine catch, but I'm just glad I caught it."
The 22-year-old batted .259/.352/.349 in 133 games for Double-A Trenton last season, playing 91 games at shortstop and 38 games at second base. Should Wade not make the Yanks' roster out of camp this spring, he will go to Triple-A and continue preparing to be the Yanks' version of Holt or Zobrist.
"I'm just very lucky for this opportunity; I'm enjoying it," Wade said. "I don't know when I'll be there, but hopefully it's soon."
Bryan Hoch has covered the Yankees for MLB.com since 2007. Follow him on Twitter @bryanhoch and on Facebook. This story was not subject to the approval of Major League Baseball or its clubs.