Named Yanks' 1B, Bird celebrates with 2 HRs
Carter struggling; Hicks, Judge battling for RF job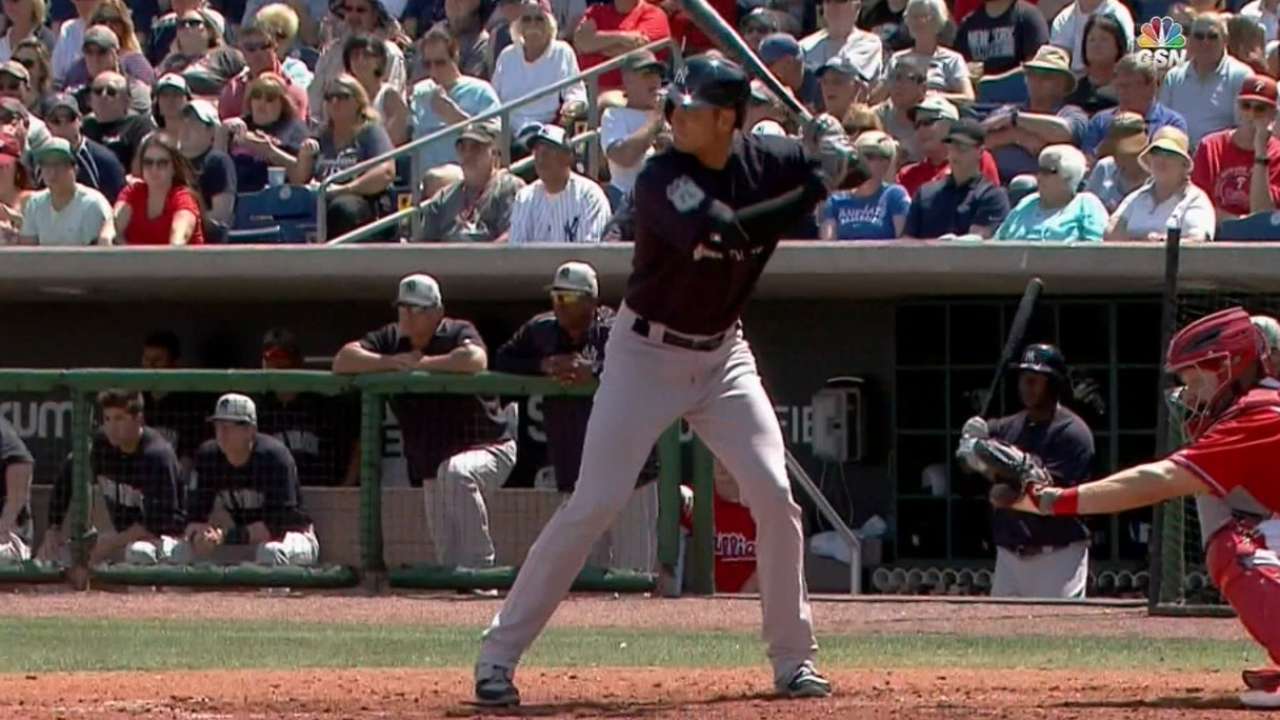 CLEARWATER, Fla. -- Greg Bird's superb spring made it an easy call for the Yankees to anoint him as their starting first baseman, but just for good measure, the lefty slugger quickly validated that decision.
Bird homered twice and drove in five runs in the Yankees' 7-3 win over the Phillies on Wednesday at Spectrum Field, giving him a team-leading six long balls. After spending all of last year rehabbing from right shoulder surgery, Bird has answered any and all questions in convincing fashion.
"It's always nice. I felt good in the offseason," Bird said. "I felt like my swing was where I wanted it to be. At the end of '14, I felt like what I could do then was cool. Now in the offseason I felt like I got that back. I was just excited to get at-bats and get back playing, really."
Bird, 24, came into camp competing with Chris Carter for reps at first base. The Yankees briefly entertained a platoon, but manager Joe Girardi said Wednesday morning that he is planning to have Bird pick up the majority of at-bats there.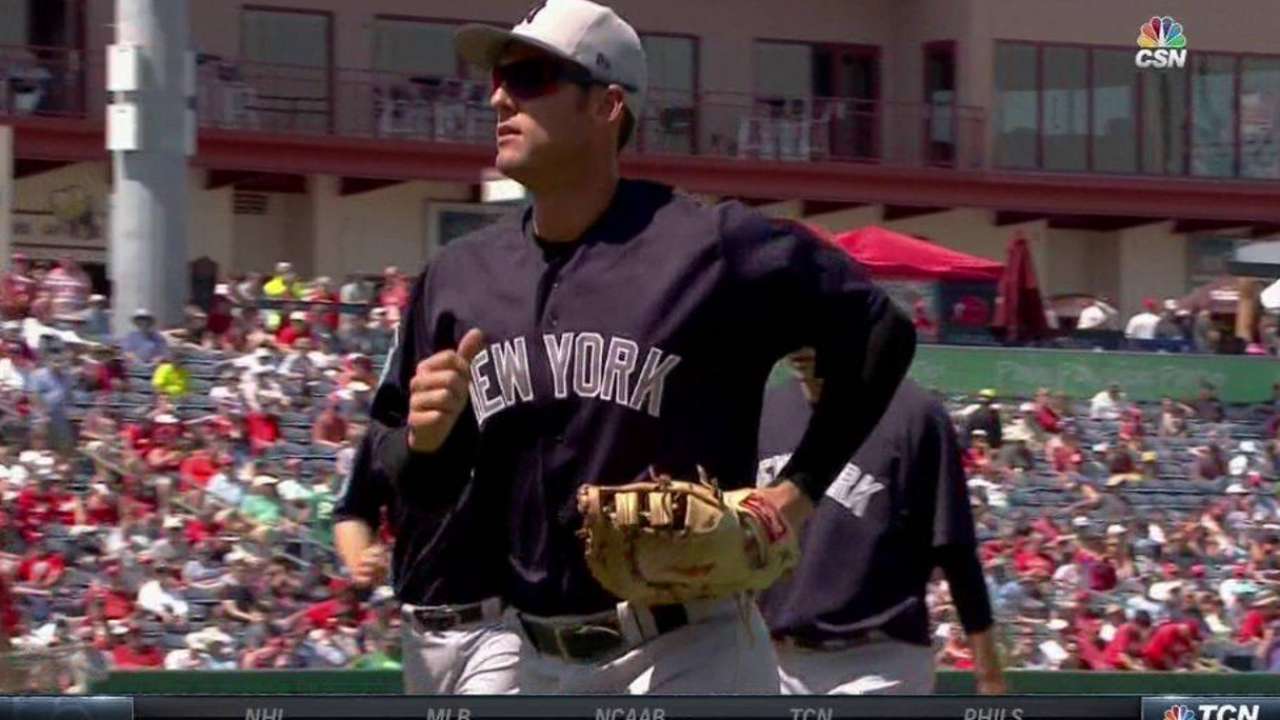 "He's been really good," Girardi said. "Maybe better than what I expected, knowing that he sat out a year and you worry about guys' timing. It hasn't seemed to affect him."
Bird hit a two-run homer in the fourth and a three-run homer in the sixth off Phillies starter Vince Velasquez. He leads the Majors with 44 total bases this spring, hitting .439 (18-for-41) with six doubles, a triple and 11 RBIs in 17 games.
Yankees third baseman Chase Headley said that he believes this version of Bird has more bat speed than the rookie who hit 11 homers in 46 big league games at the end of 2015, helping the team secure an American League Wild Card spot.
"Obviously spring isn't what we're all about, but he's playing with the team, doing his thing and he's doing it off good pitchers," Headley said. "It's not like he's beating up on No. 97. Nothing against No. 97, but these are the types of guys he's going to face during the season."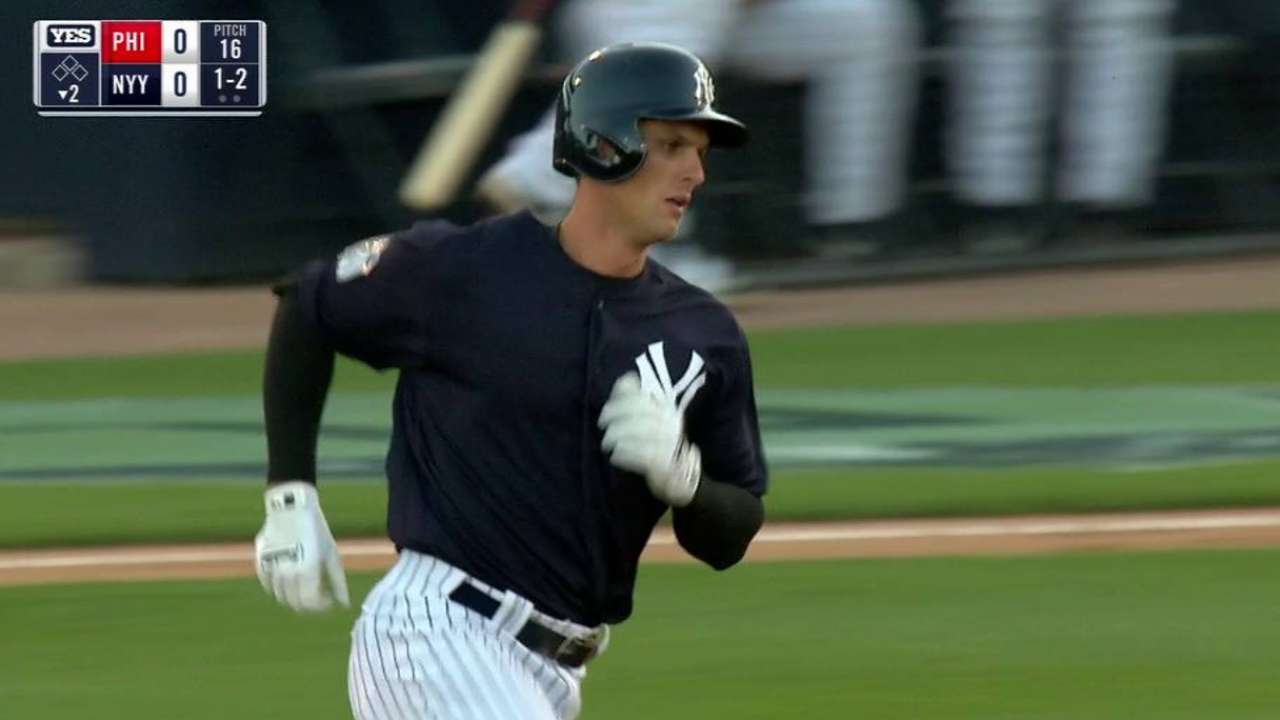 Meanwhile, Carter has struggled since signing a one-year, $3.5 million contract in February. Carter tied for the National League lead with 41 homers last year, but has batted just .108 (4-for-37) with a home run, three RBIs and 20 strikeouts this spring.
Bird said that the rehab from surgery has helped his confidence in the field, particularly with throwing. Girardi said that he has been pleased with Bird's defense; in the fifth inning Wednesday, Bird made a pair of nifty plays, snaring balls hit both to his left and right.
"Last year, the first thing I was able to do was defense. No throwing, no swinging, just ground balls," Bird said. "You can go two ways with rehab, and there were days that I sulked. I kept telling myself that I was going to be better because of it and it's cool to see."
With Bird locked in, the Yankees have turned their attention to the other battles in camp.
Before Didi Gregorius' right shoulder injury, the other position battle in camp had been between Aaron Hicks and Aaron Judge in right field. Girardi said that race is still too close to call.
"That's something that's probably going to come down to the wire; that, the fourth and fifth starter, and now the shortstop," Girardi said. "We had two decisions; now we've got three."
Bryan Hoch has covered the Yankees for MLB.com since 2007. Follow him on Twitter @bryanhoch and on Facebook. This story was not subject to the approval of Major League Baseball or its clubs.