Thomson fills in as Yanks' manager for a day
Girardi away to attend daughter's graduation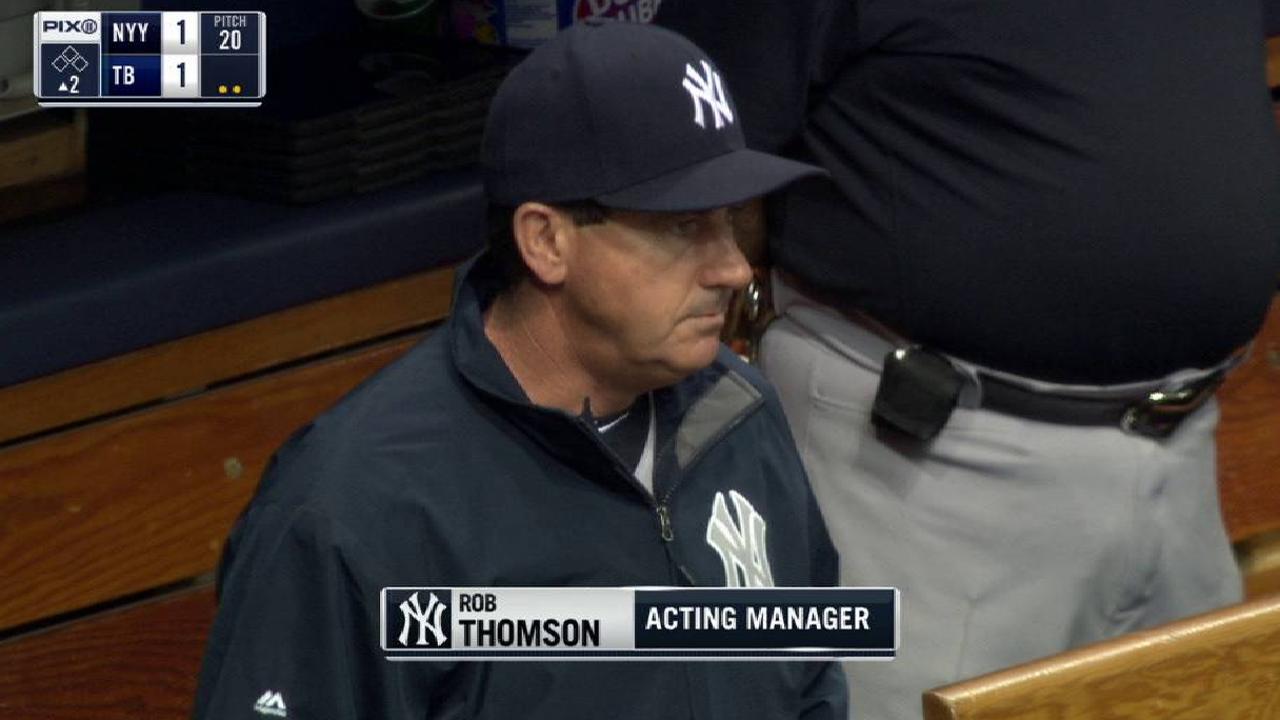 ST. PETERSBURG -- Joe Girardi often stresses the importance of family to his players and coaches. The Yankees' manager is practicing what he preaches, handing the reins of his club to bench coach Rob Thomson in order to attend his daughter Serena's high school graduation.
Thomson said that Girardi filled out the lineup card in advance of Friday's series opener against the Rays at Tropicana Field, but otherwise there will be no communication with Girardi during the game. The manager is expected to be back on the Yanks' bench for Saturday's game.
"I enjoy the fact that it gives Joe an opportunity to go be with his daughter at her graduation," Thomson said. "That's a big thing for a young girl and her father to be together on that day. It happened with both of my daughters, I'm glad that I was there and I'm pretty sure they were glad I was there."
Thomson said that Girardi started planning for this absence back in Spring Training. Other than a pregame meeting with the media, Thomson said his day did not seem much different from his usual duties as the bench coach.
"I'm just kind of preparing the same way," Thomson said. "We all talk, we're all together as coaches, talking about the game and how we're going to use pitching and how we're going to defend against certain guys, defend in bunt situations, things like that. Really, nothing has changed.
"I'm the guy that has to make the final decision on things, but the conversation will still be the same. We'll be bouncing ideas off each other, trying to figure out what the best move is at the time."
This marks Thomson's fourth time filling in as the Yankees' manager; Thomson was at the helm on April 4-5, 2008, as Girardi missed two games against Tampa Bay with an upper respiratory infection. Thomson also piloted the club on May 23, 2008, as Girardi served a one-game suspension for kicking dirt on umpire Chris Guccione. The Yanks lost two of the three games.
Thomson is believed to be the first Canadian to manage or stand in to manage a Major League game since George Gibson with the 1934 Pirates. Thomson interviewed via telephone for the Blue Jays' managerial opening in October 2010, a position that eventually went to John Farrell, and said that he still has aspirations to hold a full-time managerial position in the Majors.
"It's in the back of my mind, because right now I'm thinking about tonight and the rest of the season," Thomson said. "But it's always in the back of your mind."
Bryan Hoch has covered the Yankees for MLB.com since 2007. Follow him on Twitter @bryanhoch and on Facebook. This story was not subject to the approval of Major League Baseball or its clubs.