Yanks turn to CC in winner-take-all Game 5
Veteran lefty tasked with trying to pitch New York into ALCS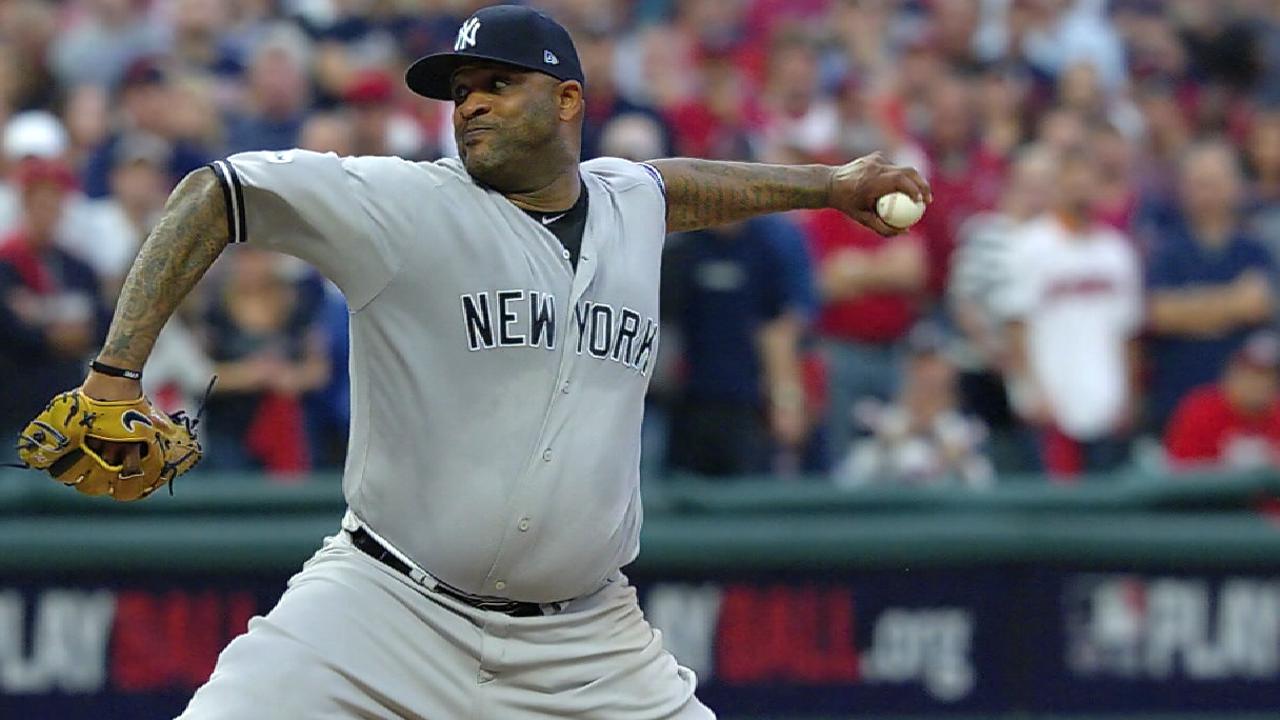 CLEVELAND -- CC Sabathia stood in front of a throng of reporters by the visiting clubhouse showers at Progressive Field late Friday night. The Yankees had just blown an 8-3 lead after Sabathia exited, putting them in an intimidating 0-2 hole in the American League Division Series presented by Doosan. The clubhouse was hushed and sullen. Reporter after reporter asked the same question.
Could they really win three straight games against this Indians team?
Sabathia didn't hesitate. After all, this Yankees team -- which has now played three elimination games in a week -- has been incredibly resilient. The lefty was confident, assured even, that night as he reiterated over and over that the Yanks had what it takes to turn the tables on the Tribe.
"Just knowing these guys and the way we responded all year, this is a team that I felt like every time, whether it's in a game or coming up through the season, we had tough times or backs against the wall, I felt like we responded really well," Sabathia said. "So I didn't see why we couldn't go home and play well and end up back here."
That scenario -- as unlikely as it was in the wee hours of Friday night -- is exactly what has unfolded. The Yankees, winners of two straight in the Bronx, have forced a winner-take-all Game 5, and for the first time in a week, they seem to have the momentum going their way.
And there isn't a better guy to send to the mound in a big moment than Sabathia. He is what manager Joe Girardi calls "all heart and mental toughness," pitching with a bulky brace on his left knee, which at times looked as though it would end the 37-year-old's career. He is the Yanks' stopper, going 9-0 with a 1.71 ERA in the regular season when taking the mound after a loss.
And now Sabathia could be the guy to send New York to its first AL Championship Series since 2012.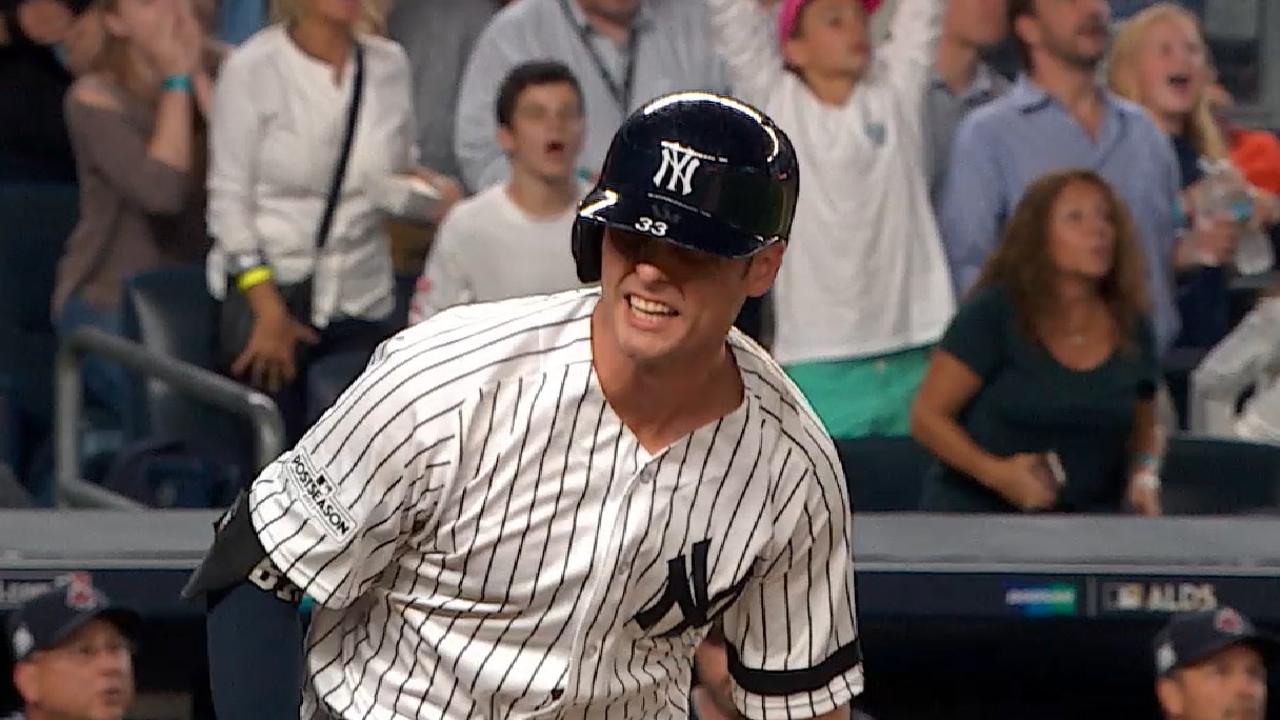 "[I've] just always been confident in my ability to get people out, no matter what the stuff was," Sabathia said, when asked if he thought the days of pitching in such big games were behind him. "Being able to come out and have a good season makes me confident. But I never really thought about that, pitching the big games or anything like that. I just felt like if I got to the spot, then I could show up."
Sabathia credits age and maturity for his ability to not let big moments -- particularly on the road -- get to him. In seven career AL Division Series, he is 6-0 with a 3.25 ERA in 10 games (nine starts). He's coming off a solid performance in Game 2 in which he went 5 1/3 innings and struck out five, with four of the whiffs on his devastating slider. He held Cleveland to four runs (two earned) in a no-decision with his exit -- after just 77 pitches -- a hotly debated topic.
"I love it. I don't like it, I love it," outfielder Brett Gardner said Monday of the way Sabathia has pitched lately. "He's a big-game pitcher. ... We all live for this. We all live for moments like tonight -- Game 5, with all of it on the line. I know CC is looking forward to it. We are looking forward to playing behind him."
Sabathia got the nod over starter Sonny Gray, and he will be pitching on regular rest following Tuesday's off-day. The big lefty is coming off a 14-5 season in which he made 27 starts. He allowed 61 earned runs over 148 2/3 innings for a 3.69 ERA, and the Yankees went 19-8 in his starts. He has reinvented himself from a power arm to a pitcher, a guy who relies on experience and feel as much as a still-impressive repertoire.
"You see a lot of pitchers out there that have logged innings, and they've changed their mechanics and things. He's always had such a pretty arm swing, and he's got such a nice feel for the ball. He can manipulate the ball a lot," Indians manager Terry Francona said of Sabathia, who is 9-5 with a 4.47 ERA in 20 career postseason games (19 starts).
"He doesn't have the power that he did, which I think is natural. But he's got a really good feel for pitching. We're going to have to lay off the breaking ball that's the strike-to-ball breaking ball. … CC's been doing this a long time, and if you don't make him stay in the zone, he will exploit that."
Tonight's outing has the added emotion of potentially being Sabathia's final start in pinstripes. While he has stated that he wants to pitch in 2018 if healthy, Sabathia is a free agent at the end of the year. But that's a conversation for another day. For now, the veteran just wants to savor the moment of getting the ball in Game 5 in a city that he holds near and dear. Cleveland is the organization that drafted him, the place where three of his children were born and where he learned to become a man.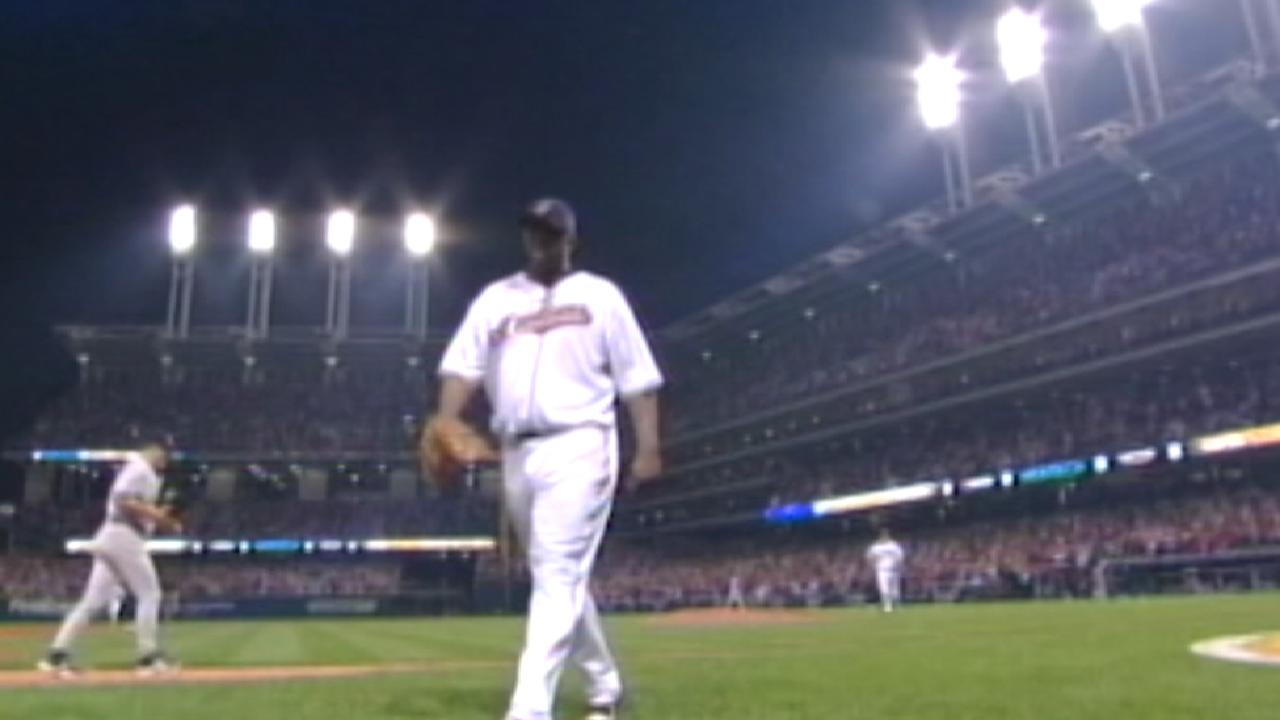 Now it will be the place Sabathia has to go through to extend an improbable 2017.
"It's a helluva lot of fun to be in it [rather] than to be sitting on the side. I'm just glad I get the opportunity to participate and not have to watch," Sabathia said. "Because watching these games, you'll get an ulcer. But pitching in them is a lot more fun."
Brittany Ghiroli has worked for MLB.com since 2010. This story was not subject to the approval of Major League Baseball or its clubs.