Severino answers call, sends Yanks to Game 5
Right-hander bounces back after rough AL Wild Card Game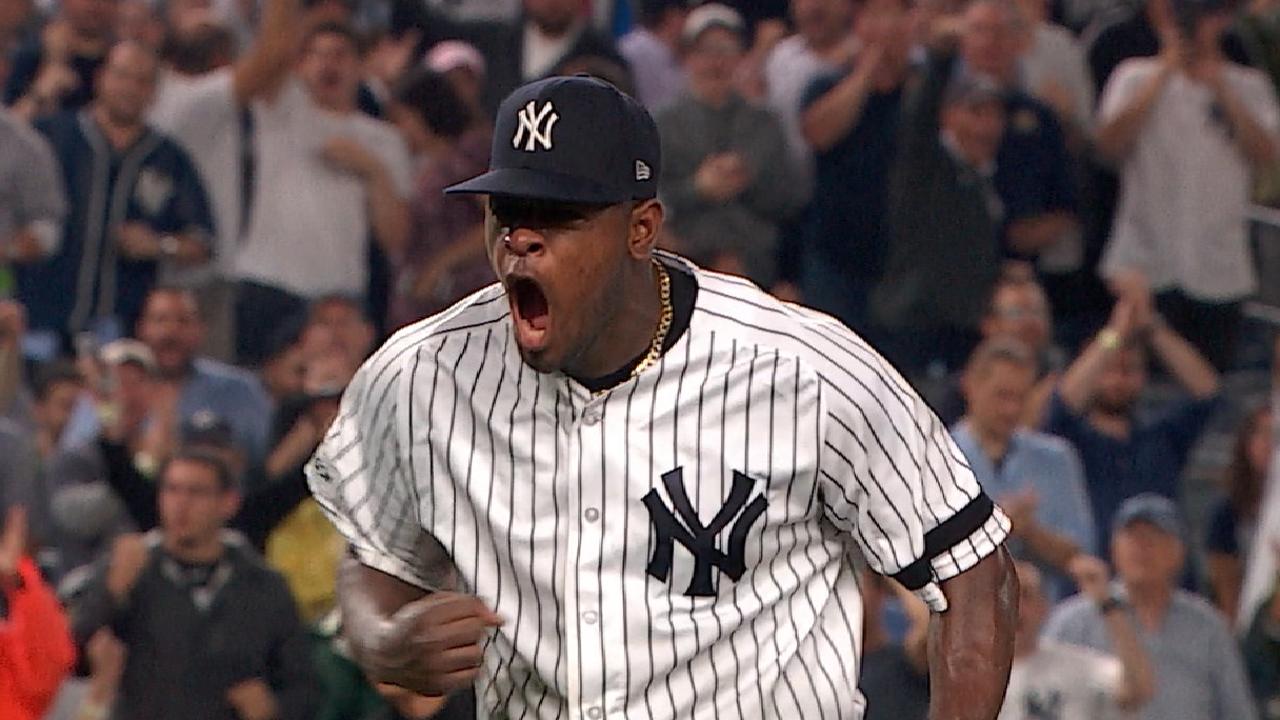 NEW YORK -- Yankees starter Luis Severino cradled the ball in his right hand and leaned in, ready to fire. He unleashed a 90-mph offspeed pitch -- his 12th of the night -- to strike out Indians center fielder Jason Kipnis for the second out, which boldly put Severino where he hadn't been before.
And then the 23-year-old, who recorded just one out in his postseason debut in the American League Wild Card Game last Tuesday, never looked back. Severino struck out nine over seven strong innings to help New York down Cleveland, 7-3, and force a decisive Game 5 on Wednesday night in the AL Division Series presented by Doosan.
"I don't think anybody ever doubts what he's capable of doing," Yankees left fielder Brett Gardner said of Severino. "He throws 100 [mph] all game long with a filthy slider and a changeup. If he can command his fastball and limit the walks, he's pretty darn tough to hit."
Severino, who said he was overamped in the AL Wild Card Game, was hardly devoid of emotion in the season-saving win. It was on display on his 92nd pitch, a 99 mph fastball that Jay Bruce flied out to Gardner to end the sixth inning, causing Severino to emphatically thump his hand into his glove. It was there again in the seventh inning, on pitch No. 113, a full count to Roberto Perez. With the sellout crowd on its feet, Severino got the Tribe's catcher to ground out, raising his arms overhead and slapping them down on his legs in glee as he walked into the dugout to chants of "Sev-er-ino" to end his evening.
• A look at Severino's best reactions
"I talked to [catcher] Gary [Sanchez]," Severino said. "[I told him,] 'When you see me doing something -- you know, maybe rushing -- talk to me, go talk to me and say, "Hey, calm down." Make a pitch.' "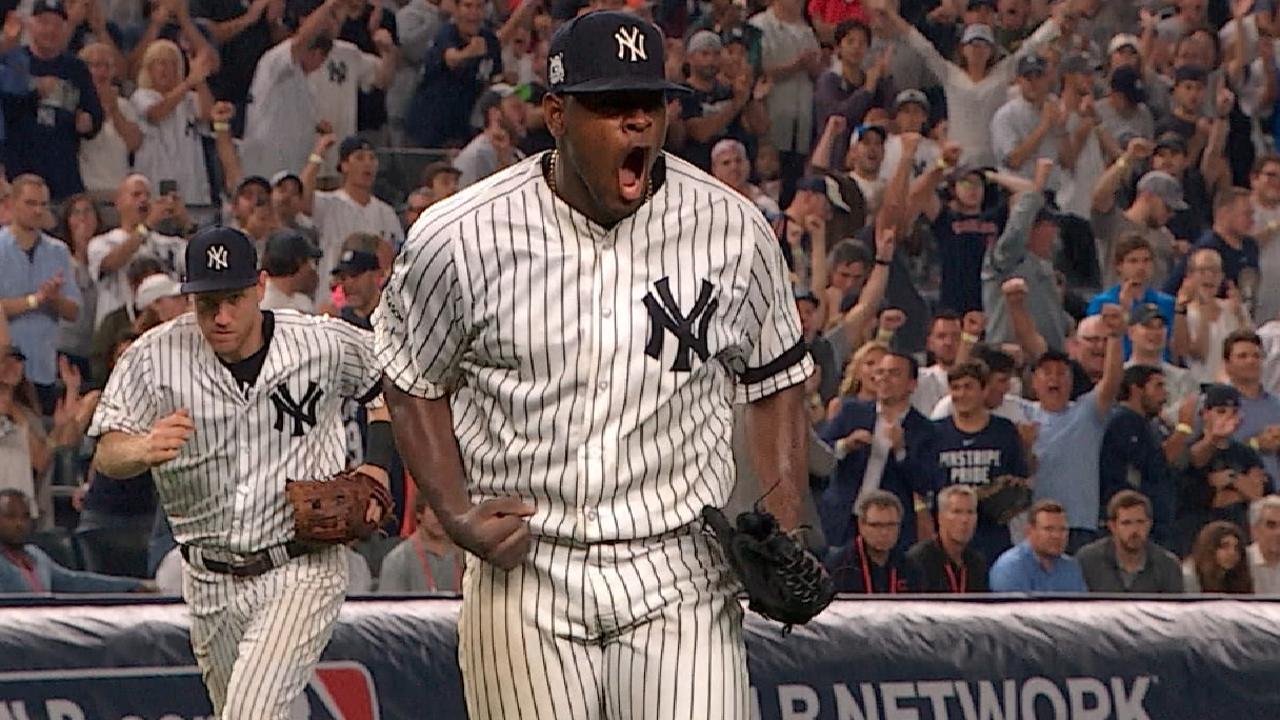 So maybe the Yanks' ace didn't contain his emotion on baseball's big stage so much as learned to corral it, using that energy to carve up hitters with a devastating late-game heater. Severino topped out at 99.6 mph in the seventh inning, which is the fastest pitch by a postseason starter in the seventh or later since Statcast™ launched in 2015.
"He was able to control his adrenaline," Yankees manager Joe Girardi said. "I believe the first fastball we saw against him -- for him against Minnesota -- was 100. Maybe the first one was 96 tonight. He was able to channel things down and make his pitch, as opposed to just trying to power his way through it."
Severino wasn't perfect, allowing three earned runs on four hits, including a pair of homers. But he never let the Indians, who rallied from a five-run deficit in Game 2, get any momentum. Severino followed up Carlos Santana's two-run fourth-inning blast by retiring Michael Brantley. After Perez went yard in the fifth, he promptly struck out Giovanny Urshela and got Francisco Lindor to line out.
"When you have a guy like Severino, I don't think we saw a fastball under 97 tonight or anything like that. So it's power," Kipnis said. "You've got to have an approach. You've got to be short. You've got to take what they give you. You can't be trying to swing out of your shoes to beat them."
Severino and Sanchez pounded the fastball early, mixing in the changeup and slider as the game progressed. It was important for Severino to get through the first inning and put those demons behind him. The other six were just gravy.
"He had lost a little bit of his confidence, and then he came in today nasty," Yanks second baseman Starlin Castro said. "Commanded his pitches. And I was so proud of him that he looked so good today."
• Kahnle earns first save in more than a year
Severino is the youngest Yankees starter to win a postseason game since Dave Righetti in 1981, and his efforts help put New York on the precipice of its first AL Championship Series since 2012. The Indians are 3-16 in their past 19 games when trying to close out a series, and the Yanks, who have won back-to-back games, now have some momentum heading to Progressive Field. And Severino, who also helped preserve the bullpen, is a big part of why.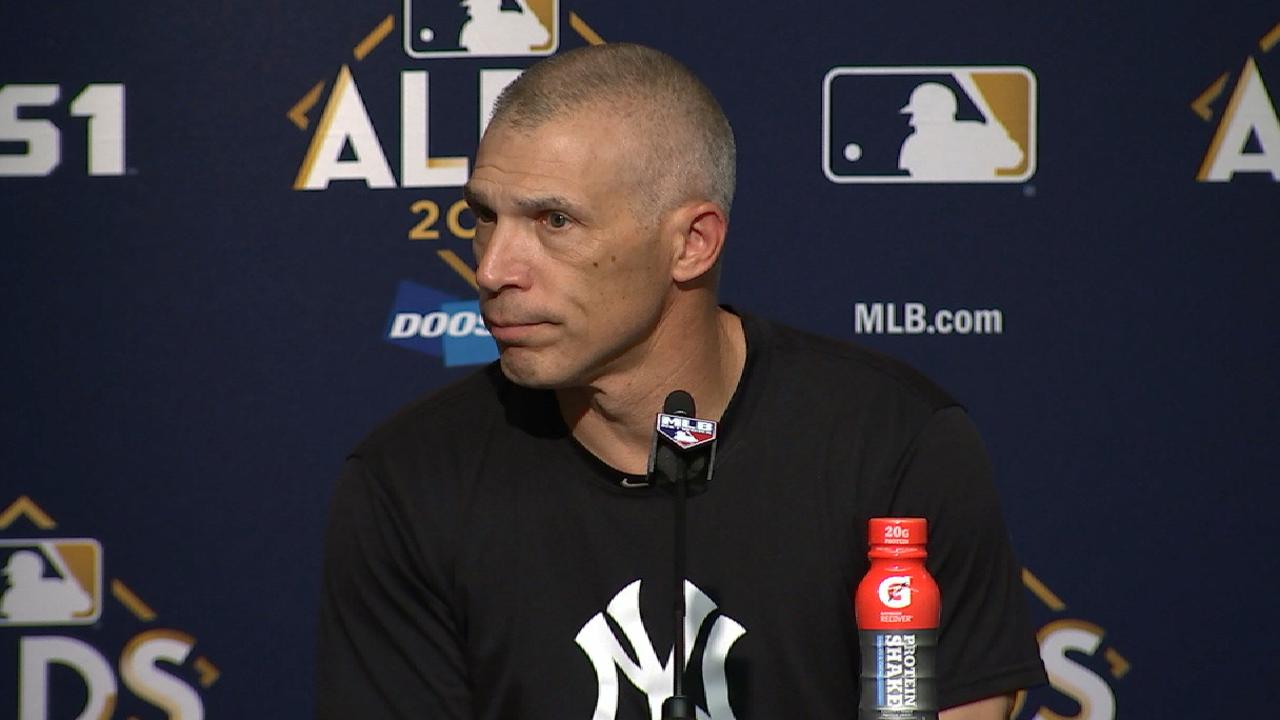 "I told him after the game, he grew up a lot today," said Girardi, who used only relievers Dellin Betances and Tommy Kahnle. "[Severino] started to get tired after the six innings and it was the part of the lineup giving him trouble, and he was able to get the extra inning, which was good for our bullpen. To me, that's growing up."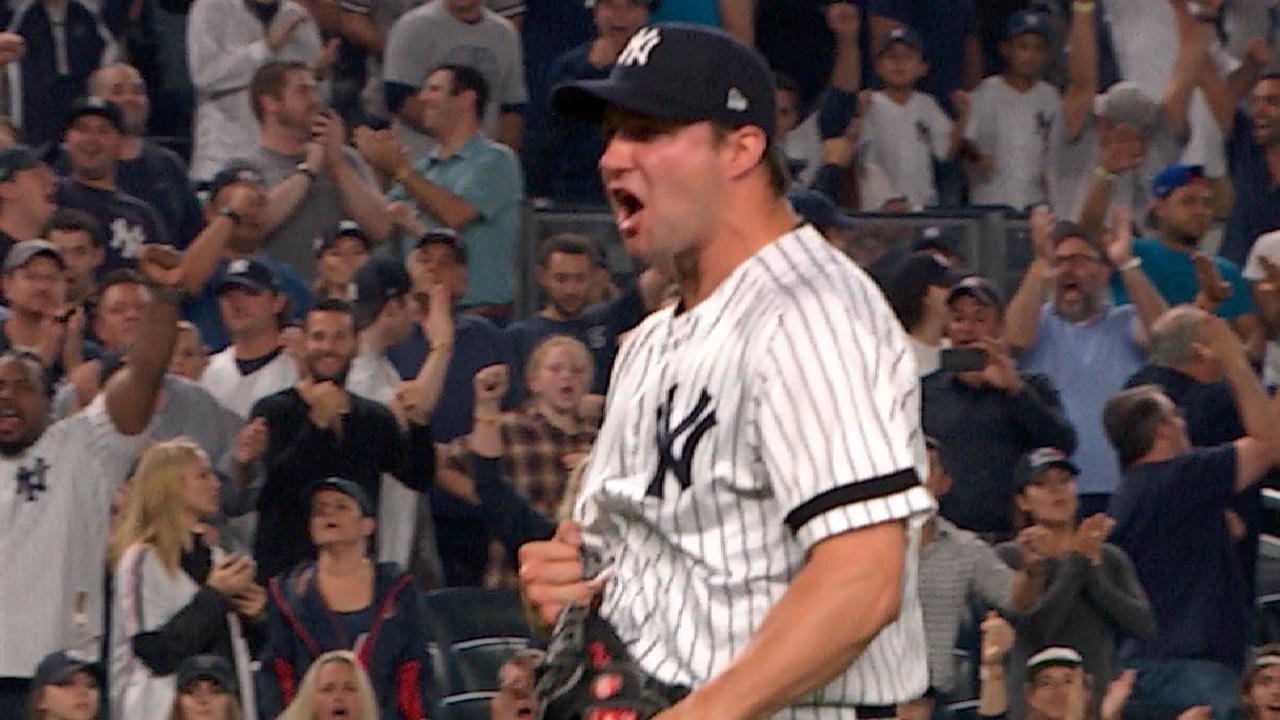 Brittany Ghiroli has covered baseball for MLB.com since 2010. Follow her on Facebook and Twitter @britt_ghiroli, and listen to her podcast. This story was not subject to the approval of Major League Baseball or its clubs.