Yankees set ALCS rotation against Astros
Tanaka, Severino, Sabathia, Gray will pitch Games 1-4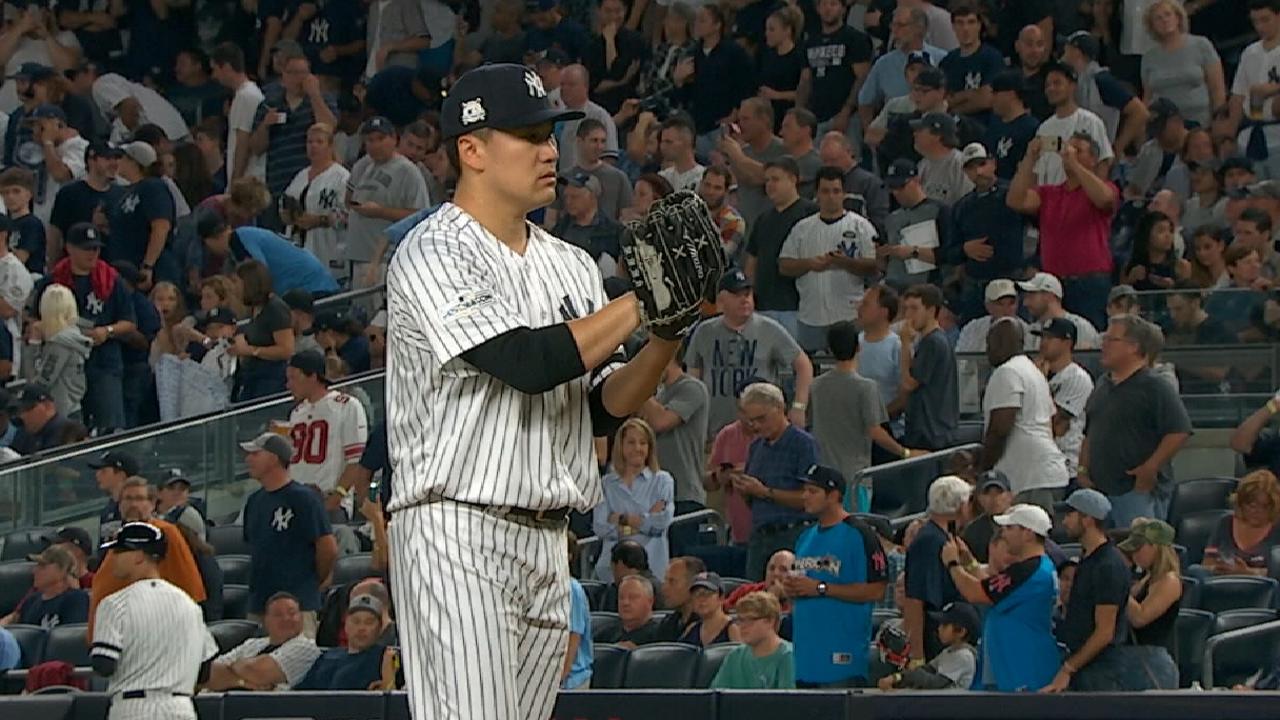 HOUSTON -- The Yankees have opted to roll with their hottest hands as they outlined their pitching rotation for the American League Championship Series presented by Camping World, entrusting the Game 1 start to Masahiro Tanaka coming off two of the right-hander's best efforts of the season.
Luis Severino is scheduled to start Saturday's Game 2 at Minute Maid Park before New York hands the ball to CC Sabathia when the ALCS shifts venues to Yankee Stadium for Game 3 on Monday. Sonny Gray, who started the AL Division Series presented by Doosan opener against the Indians, will have a 12-day layoff between outings before he returns to the mound for ALCS Game 4 on Tuesday.
"We just talked about who is throwing well, how the stuff kind of sets up, and we decided to go that way," Yankees manager Joe Girardi said. "Obviously, you can look at splits for this club, but it doesn't really matter; they hit right-handers basically the same as they hit left-handers. So we decided that we would go this way just on what's been going on the last month and the playoffs so far and go from there."
The Astros have announced only Dallas Keuchel and Justin Verlander as their starters for Games 1 and 2, respectively.
Tanaka earned Girardi's trust with what the right-hander called his "most important win" as a Yankee, tossing seven scoreless innings with seven strikeouts in ALDS Game 3 on Sunday to help his club stave off elimination. The Yanks completed just the eighth comeback from an 0-2 series deficit since the best-of-five format was implemented.
The Astros will present a challenge for Tanaka, as the club handed him one of the worst starts of his career at Yankee Stadium. On May 14 against Houston, Tanaka gave up a career-high eight earned runs on seven hits and lasted just 1 2/3 innings. Tanaka also pitched markedly better at home (3.22 ERA in 15 starts) than on the road (6.48 ERA in 15 starts) during the regular season.
• Dress for ALCS: Get Yankees postseason gear
"I have a ton of confidence in him," Girardi said. "When you think about the way he's been pitching lately, you think about him having the possibility of making two starts in a series. So if I wait until Game 3, you don't know if you're going to get there. Then his next start would be Game 7. So one way of guaranteeing him one start at home is [Games] 1 and 5. So that's why we chose to do it, and we loved what he did his last start and give us whatever you got."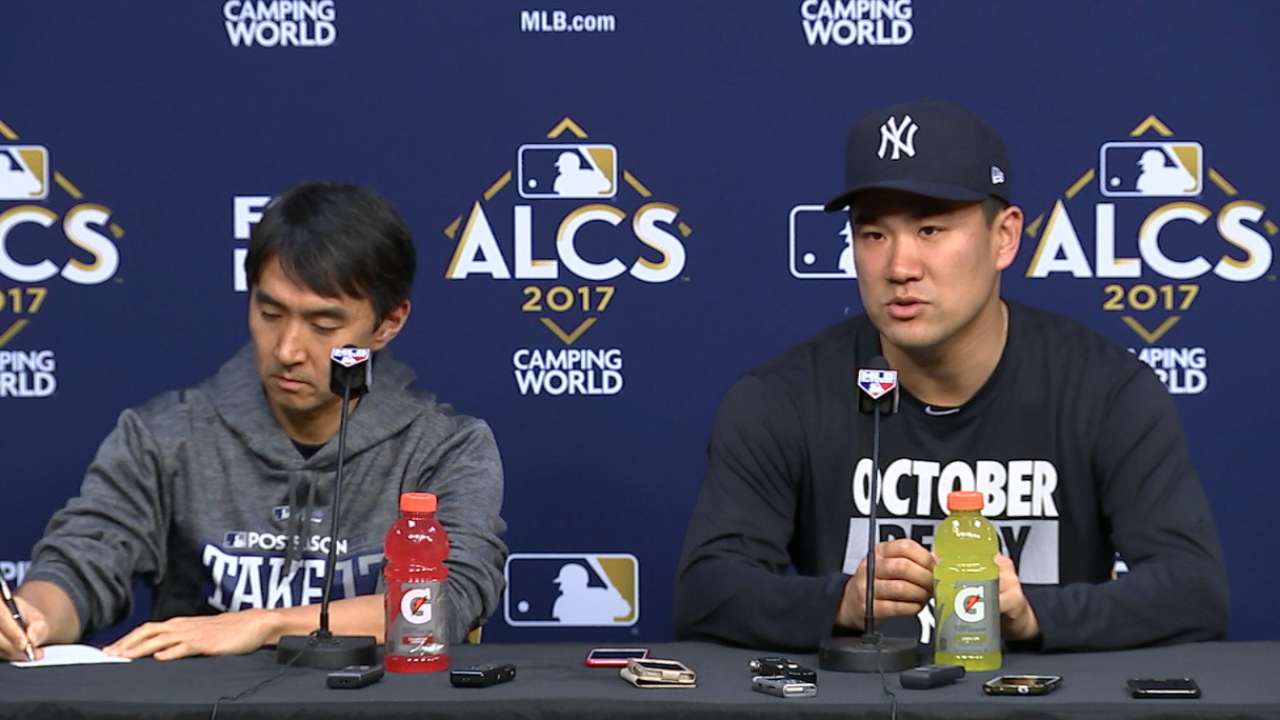 After lasting just one-third of an inning in the AL Wild Card Game against the Twins on Oct. 3, a start that represented his postseason debut, Severino calmed his emotions to fire seven strong frames in ALDS Game 4 on Monday, during which he held the Indians to three earned runs with nine strikeouts.
Severino's 2.98 regular-season ERA was third best in the AL, behind only AL Cy Young Award front-runners Corey Kluber and Chris Sale. Including the postseason, Severino is at 200 2/3 innings this year, well above his previous career high of 113 in 2014, when he was in the Minors.
Well acclimated to big postseason moments, Sabathia made two strong starts against the Indians in the ALDS, including a critical outing in Wednesday's series clincher. He did not pitch against the Astros this year.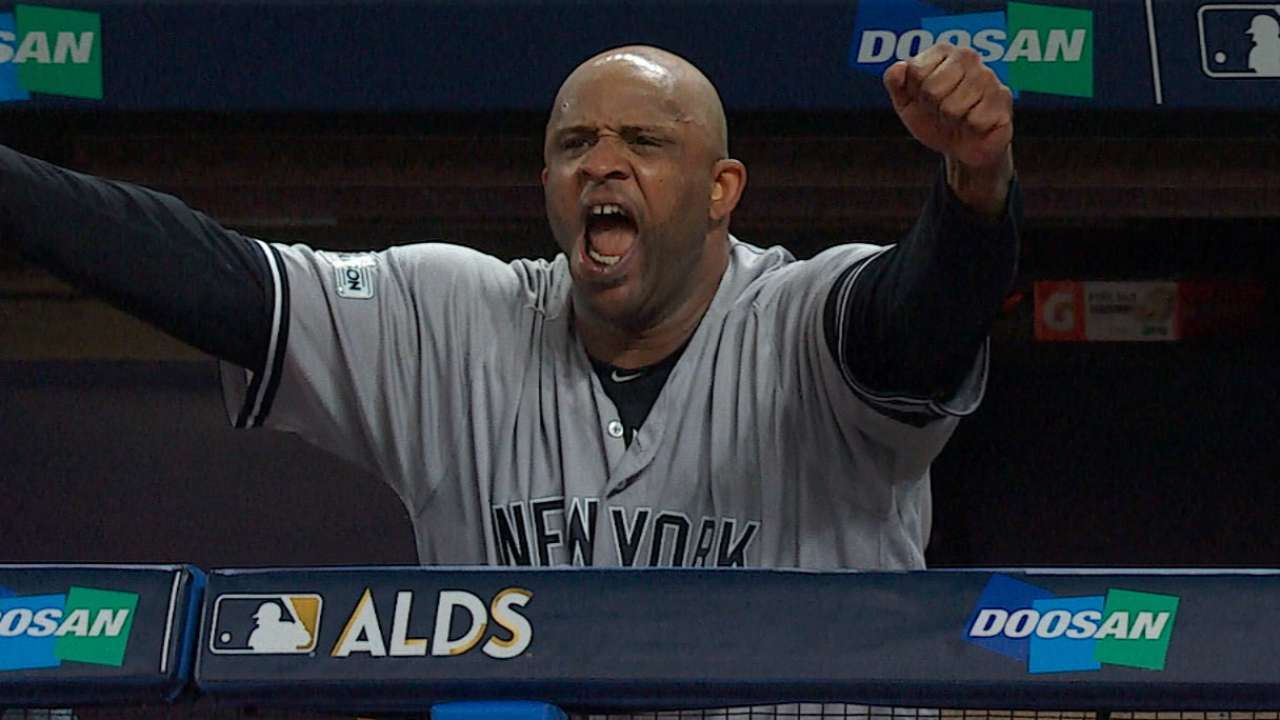 In ALDS Game 1, the Indians tagged Gray for three earned runs over 3 1/3 innings. Gray threw a three-inning simulated game during Thursday's ALCS workout day, pitching to Matt Holliday and Ronald Torreyes. He knows the Astros well, having made nine career starts against Houston, going 4-3 with a 3.09 ERA.
DHs are due
The Yankees have not gotten a hit from either of their designated hitters this postseason, having utilized Jacoby Ellsbury (0-for-8, two strikeouts) and Chase Headley (0-for-12, six strikeouts) in that role during their first six contests.
"You just hope that it means you're due and you're ready to get going," Headley said. "I thought I had some good at-bats that didn't go my way, and I think the same thing with Jacoby. We're going to need to produce a little bit for us to have a chance in this series."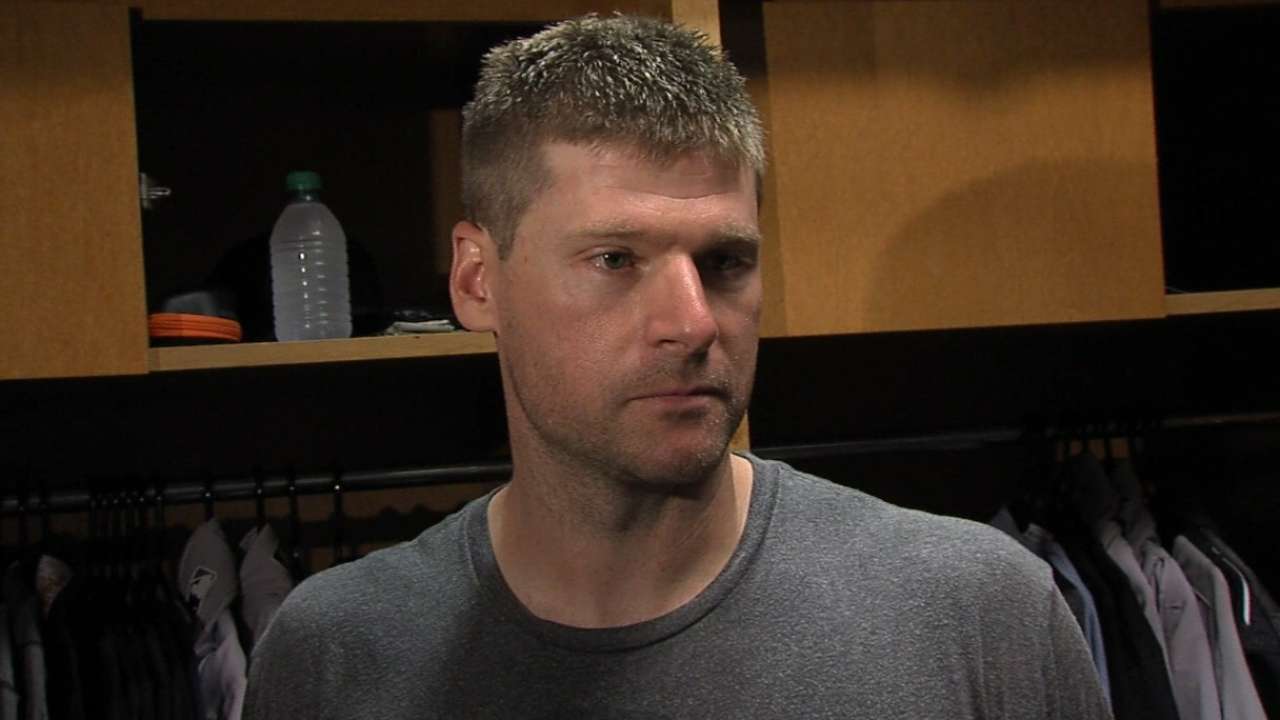 Holliday has yet to receive a postseason at-bat, and Girardi indicated that he is considering using Holliday in Game 1 against Keuchel, saying only, "Stay tuned." Holliday is 1-for-7 (.143) lifetime vs. Keuchel, and 3-for-7 (.429) with a double vs. Verlander. Girardi added that the Yanks would only make minor changes, if any, to their roster from the ALDS.
"We're going to look at it on a daily basis, what we think is the best thing to do, and you go from there," Girardi said.
Tall and short of it
There was a terrific photo taken during the Yankees' June 30-July 2 visit to Houston that showed 6-foot-7 Aaron Judge standing alongside 5-foot-6 Jose Altuve while Judge wandered off second base. The ALCS features a captivating sidebar with the lead contenders for the AL MVP Award going head-to-head, and Judge said that he is a fan of Altuve's.
"I talked to him a little bit. What a great guy," Judge said. "You see what he does on a baseball field, the type of person that he is, the passion that he has for the game. It's pretty fun to watch."
Bryan Hoch has covered the Yankees for MLB.com since 2007. Follow him on Twitter @bryanhoch and on Facebook. This story was not subject to the approval of Major League Baseball or its clubs.