Severino wanted to continue in Game 2
Righty appeared to be loosening shoulder in 4th; also hit by comebacker before exit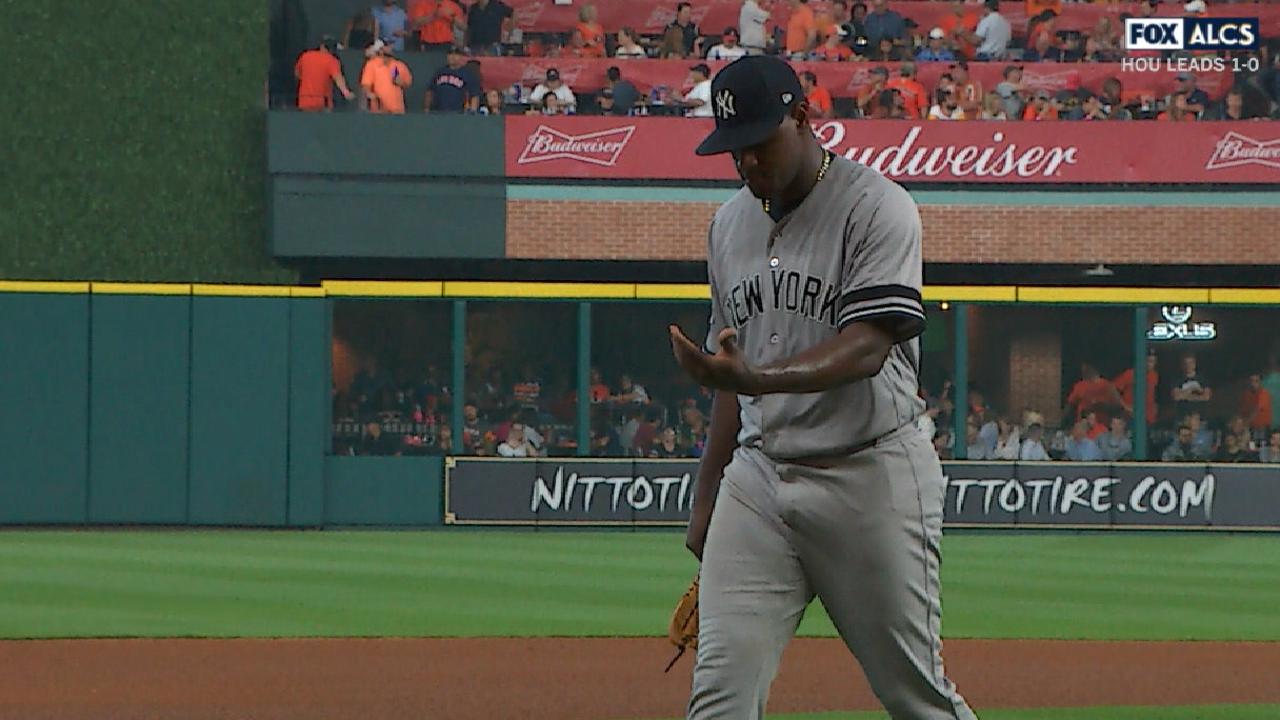 HOUSTON -- Luis Severino's pleas to remain in Game 2 of the American League Championship Series presented by Camping World fell upon deaf ears after the Yankees spotted the right-hander attempting to rotate his pitching shoulder during the fourth inning of his start against the Astros on Saturday at Minute Maid Park.
Yankees manager Joe Girardi said that Severino seemed to be having difficulty getting loose after a changeup to Marwin Gonzalez. Severino insisted that he felt "100 percent," but that wasn't enough to keep him in the game. The Astros won, 2-1, taking a 2-0 ALCS lead.
"I'm a fighter. I want to go over there and keep fighting," Severino said. "I was feeling great. I want to go over there and give six, seven innings."
• Dress for the ALCS: Get Yankees postseason gear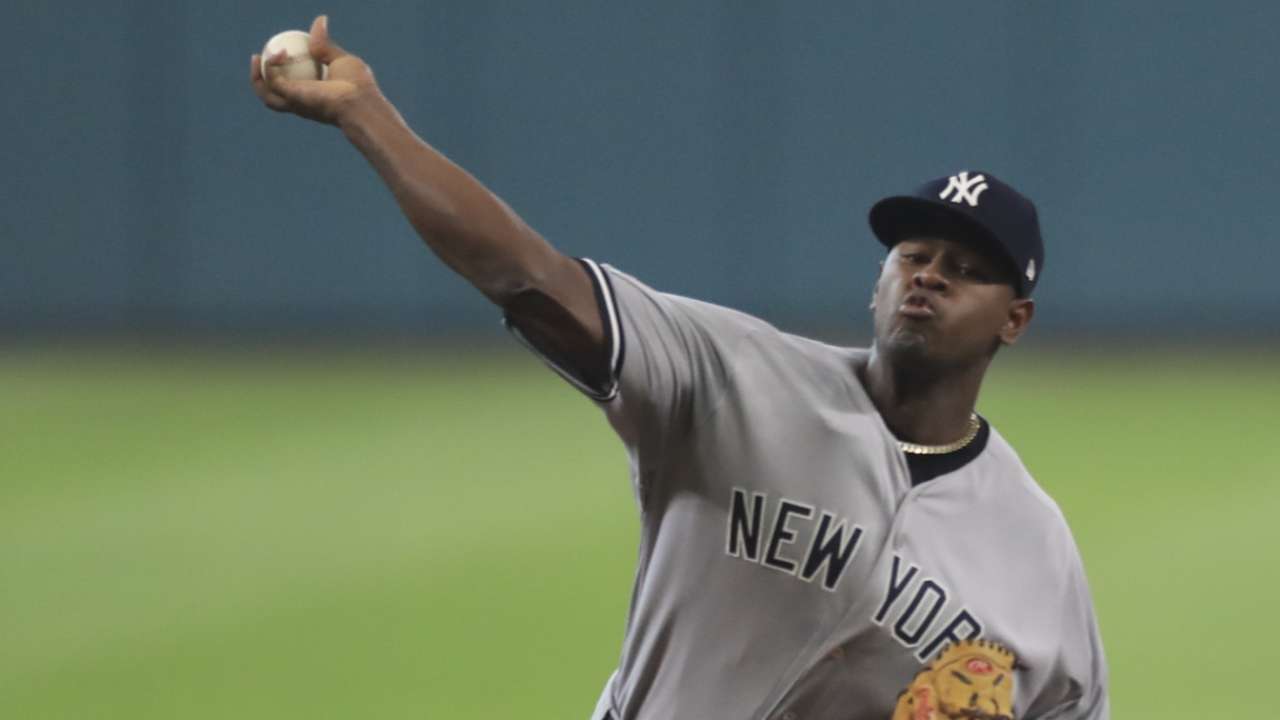 Instead, Severino recorded just 12 outs, the last of which came after he was struck on the left wrist by Yuli Gurriel's sharp comebacker. Severino made the play on the ball, which came off the Astros first baseman's bat at 104.9 mph before hitting the turf.
Though Severino appeared to be in some discomfort as he left the field, the moment that concerned Girardi more had spurred the skipper to visit the mound a few pitches earlier with assistant athletic trainer Tim Lentych in tow.
"I haven't seen him do this," Girardi said, mimicking Severino's flexing, "and a red flag went up for me. That was a concern."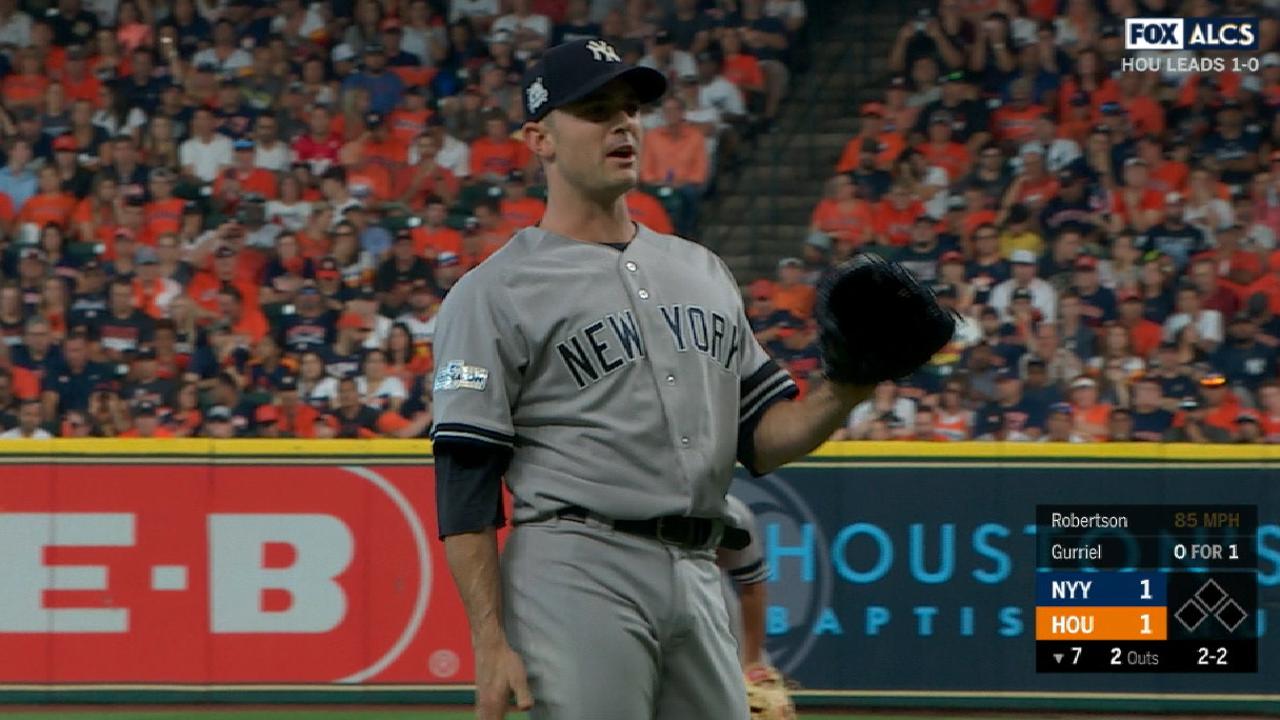 Girardi permitted Severino to complete the inning, though he said some of the team's dugout staff observed that Severino seemed to be pushing the ball. Girardi said that team medical staff found no issues after examining Severino in the clubhouse.
"He wasn't very happy I took him out, but I think it is my responsibility to protect this kid," Girardi said. "He's very young, he's thrown more innings than he has thrown during the course of the season. He gave us a great effort today, but I felt that I couldn't take a chance."
Girardi said that he anticipates that Severino will be examined again when the team returns to New York, but Severino said that seems unnecessary.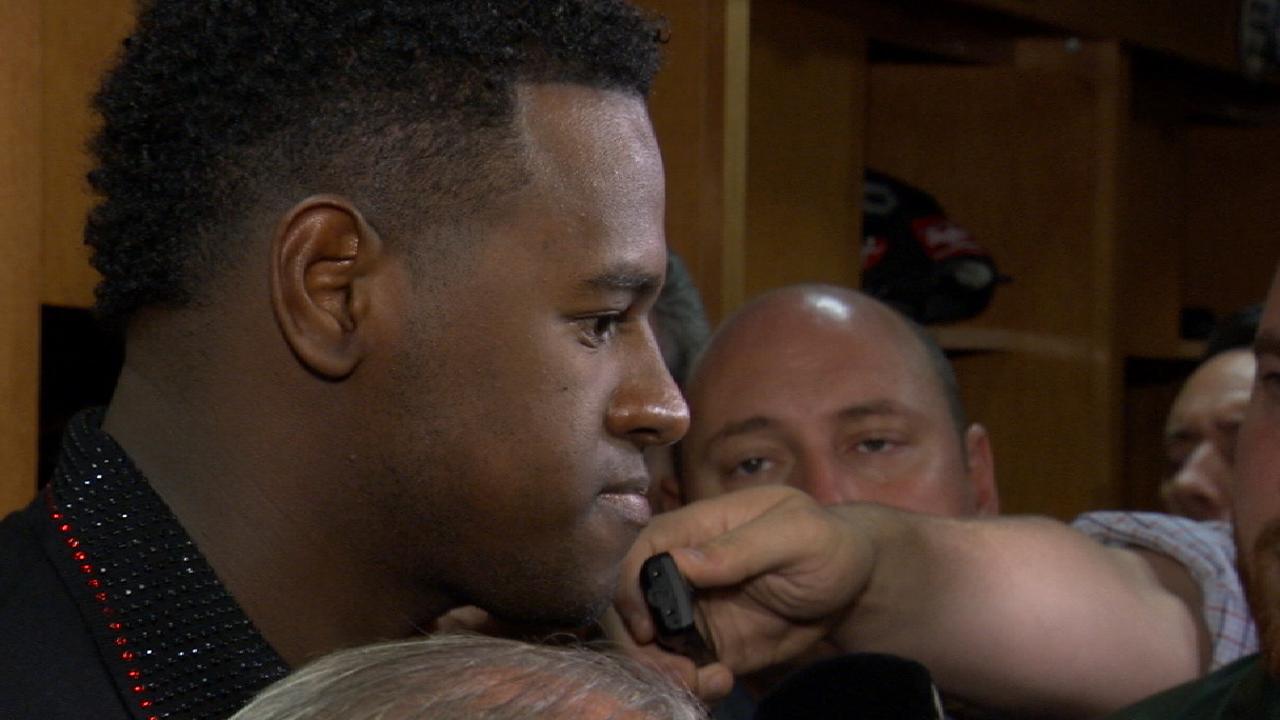 "I feel fine. I don't need any tests," Severino said. "I'm a smart guy. If I feel something, I'm going to tell them. I'm not going to go over there and hurt myself."
Tommy Kahnle relieved Severino, who limited Houston to Carlos Correa's solo home run among two hits over four innings. Severino walked two and struck out none, throwing 40 of 62 pitches for strikes.
"I didn't agree with that. I wanted to go over there and pitch," Severino said. "I was feeling good. Even though I didn't strike out anybody, I was feeling good. I was getting outs."
Bryan Hoch has covered the Yankees for MLB.com since 2007. Follow him on Twitter @bryanhoch and on Facebook. This story was not subject to the approval of Major League Baseball or its clubs.