Nunez getting closer to silencing critics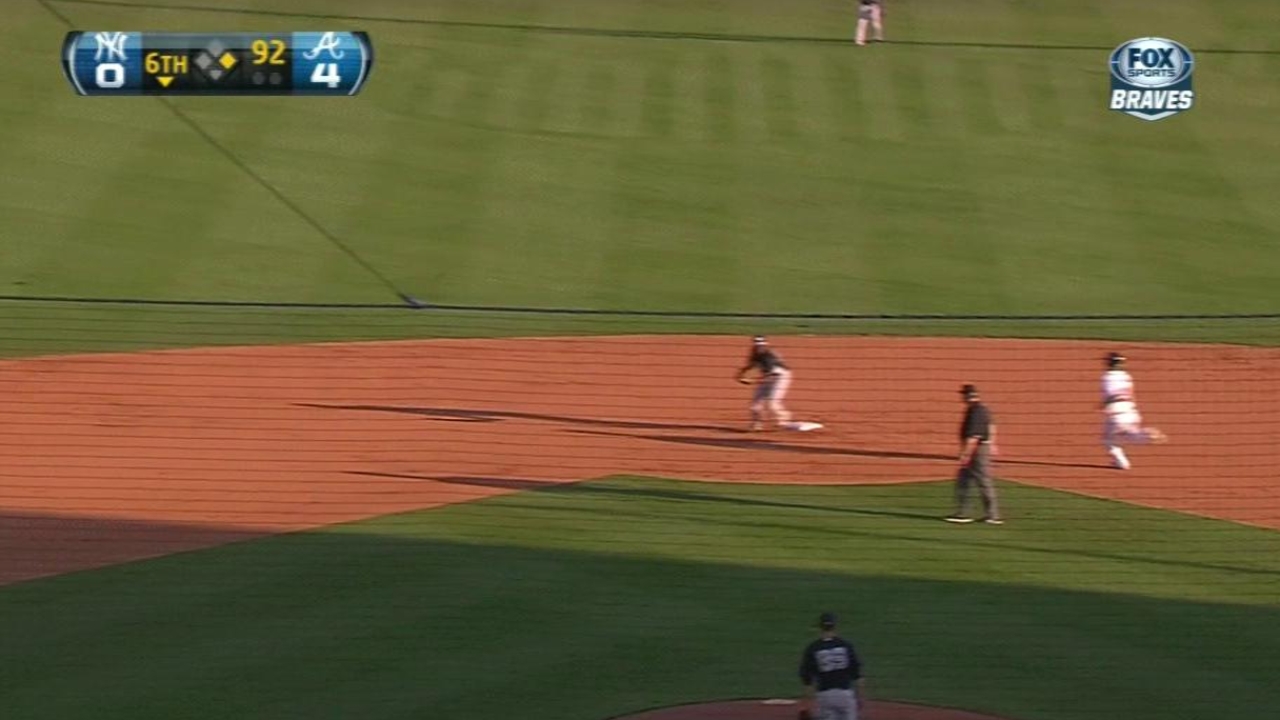 TAMPA, Fla. -- With each morning session spent firing baseballs across the infield to first base, Eduardo Nunez believes he is getting closer and closer to silencing his critics.
Nunez is acutely aware of the negative commentary his defensive adventures can create, and surely maintaining an active Twitter account (@EduardoNunez15) does not exactly help the situation.
Manager Joe Girardi is among those who believe Nunez's throwing has improved this spring, because Nunez has worked with infield coach Mick Kelleher to adjust his arm action to a more repeatable slot.
"It's my arm action. They got me to do that," Nunez said. "That's why I'm excited. I don't throw too many balls in the stands anymore."
The Yankees stopped experimenting with Nunez as a utility man last year, sending him to the Minors to focus on playing shortstop every day. Even this spring with unexpected holes at third base and left field, positions Nunez has played in the big leagues, he has remained at shortstop.
Nunez would be the Yankees' Opening Day shortstop if Jeter is unavailable. Nunez said that he has been receiving one piece of advice per day from Jeter and feels more confident and comfortable than last year, when his throwing issues and the demotion created negative thoughts in his mind.
"It's hard when you know you can do better than that and you're not doing it," Nunez said. "I hear a lot of things. People blame you: 'You [stink]. You can't do this.' That's hard, but everything that I hear -- comments about myself -- they make me stronger.
"I tell myself, 'I work hard and I will prove them wrong.' The people that talked about me bad, they're wrong. I don't put my head down."
Nunez committed an error in the Yankees' 4-0 win over the Red Sox on Wednesday, but Girardi gave him a pass, saying that he had been caught on a short hop on a do-or-die play. Nunez said that he would be excited to fill in for Jeter on Opening Day but would not feel more pressure because of the name he replaced.
"Nobody [can] be like Derek Jeter, you know?" Nunez said. "I [can] be like Eduardo Nunez. I know that's a heavy feeling on your back. You have to do a good job, but I don't worry about that. I do my best and help the team to win."
Bryan Hoch is a reporter for MLB.com. Follow him on Twitter @bryanhoch and read his MLBlog, Bombers Beat. This story was not subject to the approval of Major League Baseball or its clubs.