A-Rod likely to cheer on teammates at opener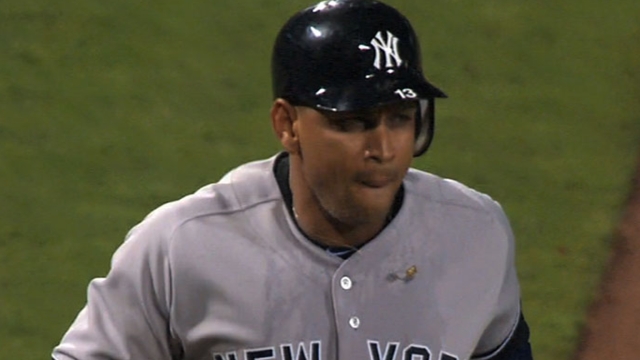 TAMPA, Fla. -- Alex Rodriguez is not going to return to the Yankees' lineup until at least after the All-Star break, but the team does expect him to be present when the team takes the field on Opening Day.
It has been a while since Rodriguez has been around the club, as he is continuing his rehab from left hip surgery in New York and has not appeared at George M. Steinbrenner Field at any point this spring.
"I text him about once a week," manager Joe Girardi said. "He says his rehab is going well. He feels pretty good. He's doing more and more every week I talk to him."
Girardi said that Rodriguez is now performing exercises in a pool, and Yankees general manager Brian Cashman said that the organization is keeping close tabs on Rodriguez's progress.
"I keep in touch through our trainers with how he's doing," Cashman said. "He's doing everything he needs to be doing."
Cashman said that Rodriguez will probably not be ready to begin on-field activity by the time the Yankees return to New York, making it likely that Rodriguez will be in attendance for the April 1 opener.
"He's just doing his physical activity," Cashman said. "Once he does baseball activity, we'll get him obviously down here [to Tampa]. Right now he's just in a physical therapy program."
Girardi said that it must feel "odd" for Rodriguez not to be around his teammates, and said that it would be good to see Rodriguez around the club more.
"It's kind of like when Jorgie [Posada] retired, not having him," Girardi said. "Even though Alex is still a player, we haven't had him all spring, so it is kind of strange."
Bryan Hoch is a reporter for MLB.com. Follow him on Twitter @bryanhoch and read his MLBlog, Bombers Beat. This story was not subject to the approval of Major League Baseball or its clubs.