Boesch scratched from lineup with stiff rib cage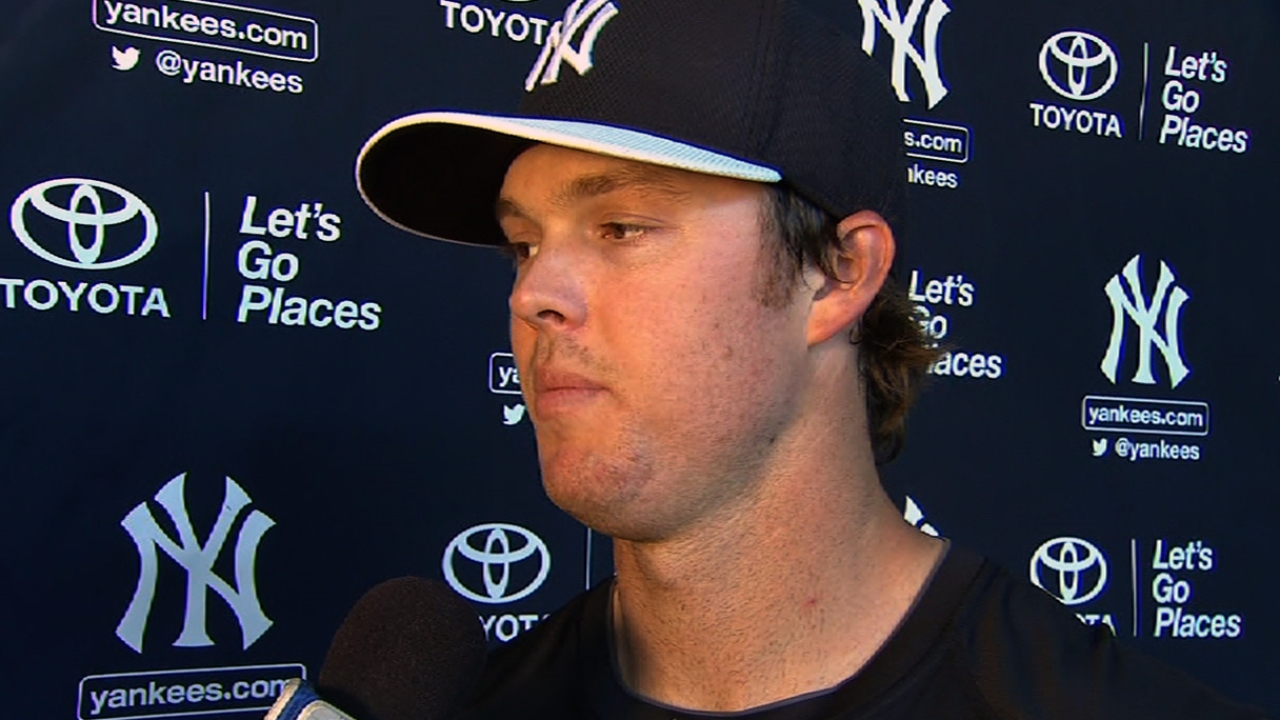 FORT MYERS, Fla. -- Seven days after the Yankees signed him, outfielder Brennan Boesch found himself like so many of his teammates: sidelined.
Boesch made the two-hour trip from Tampa, Fla., to Fort Myers on Friday morning for an afternoon game with the Twins, but he was scratched before the 9-7 win because of a sore left rib cage. Boesch said he "wouldn't classify this as an injury." Yankees manager Joe Girardi said Boesch will be off until Tuesday.
The long ride wasn't the culprit, but Girardi would have preferred Boesch not traveled. Boesch felt discomfort beforehand, something he and Girardi said should have come up.
"Just a little soreness from probably taking a lot of swings the last couple days," Boesch said. "I felt it before [the ride], but I figured with a little heat and moving around that I'd be fine, and I didn't get that chance to do that. Wasn't my call, but I understand. In hindsight, probably should've spoke up before I got on the bus, but I wanted to play."
Said Girardi after the game: "He wouldn't have made a two-hour and 15-minute trip. Not very smart on his part. Now he's got [two hours and 15 minutes] back."
Yankees general manager Brian Cashman said in Tampa that Boesch had asked the training staff for a heat pack when he got off the bus, which raised a red flag. Cashman said that Boesch would not be scheduled to have an MRI on Friday, but did not rule it out for Saturday.
"I don't think he described it as significant, but we banged him just as a precaution," Cashman said. "He won't play today or tomorrow."
Friday was a day game after a night game for Boesch and the Yankees. He went 0-for-3 on Thursday in a 5-1 loss to the Twins in Tampa.
The Yanks signed Boesch after he was released by the Tigers, hoping he could fill an outfield vacancy with Curtis Granderson expected to be sidelined until early May due to injury.
"He's in the mix for one of the outfield positions. We want to get him back in there as soon as possible," Girardi said. "But we don't want to hurt him."
Boesch also tweaked his right oblique in February while he was in Detroit's camp, which negatively impacted his chances of making the club. Cashman and Boesch said the injuries were not related.
"I'm not in a position to be worried," Cashman said. "We'll just deal with it. Whatever it is, you've just got to deal with it, whether it's small or large. We'll know more tomorrow."
Bryan Hoch is a reporter for MLB.com. Follow him on Twitter @bryanhoch and read his MLBlog, Bombers Beat. Evan Drellich is a reporter for MLB.com. Follow him on Twitter @EvanDrellich. This story was not subject to the approval of Major League Baseball or its clubs.