Nova not pleased with his outing against Twins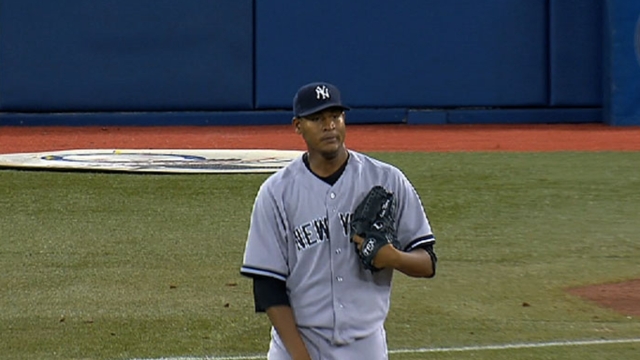 FORT MYERS, Fla. -- Back-to-back home runs and poor fastball control did not further Ivan Nova's rotation candidacy Friday in a 9-7 Yankees win over the Twins.
"I'm not happy," said Nova, who allowed five runs -- four earned -- in 5 1/3 innings. "I don't like the way I threw the ball today. I was behind on the hitters almost every time."
Nova's allowed a combined eight earned runs in 11 innings over his last two outings, after he allowed just one run in his first three Grapefruit League appearances. Friday's outing was worse than Sunday's against Pittsburgh, he felt, because he had better control against the Pirates. He gave up four runs in six innings in the Pittsburgh game.
The big blows on Friday came from Justin Morneau and Ryan Doumit, who went deep in succession in the second inning at Hammond Stadium.
"[He] made some mistakes with his fastballs, just got too much of the plate today," Yanks manager Joe Girardi said. "[I] didn't think his curveball was quite as sharp as it's been [earlier] in Spring Training. But the trouble he got in was with his fastball."
Nova said his new shortened delivery felt good. He and David Phelps are up for the fifth-starter's job, but Nova said knowing he has a job on the line doesn't add to his frustration.
"I want to pitch good, even if I'm not in the competition," Nova said. "All I want to do is get ready for the season and do my best. When you don't do your best, you don't feel good. I don't feel good especially. I'm not worried about any competition or anything -- my competition's with myself."
Bryan Hoch is a reporter for MLB.com. Follow him on Twitter @bryanhoch and read his MLBlog, Bombers Beat. Evan Drellich is a reporter for MLB.com. Follow him on Twitter @EvanDrellich. This story was not subject to the approval of Major League Baseball or its clubs.