Back spasms push back Pettitte's next start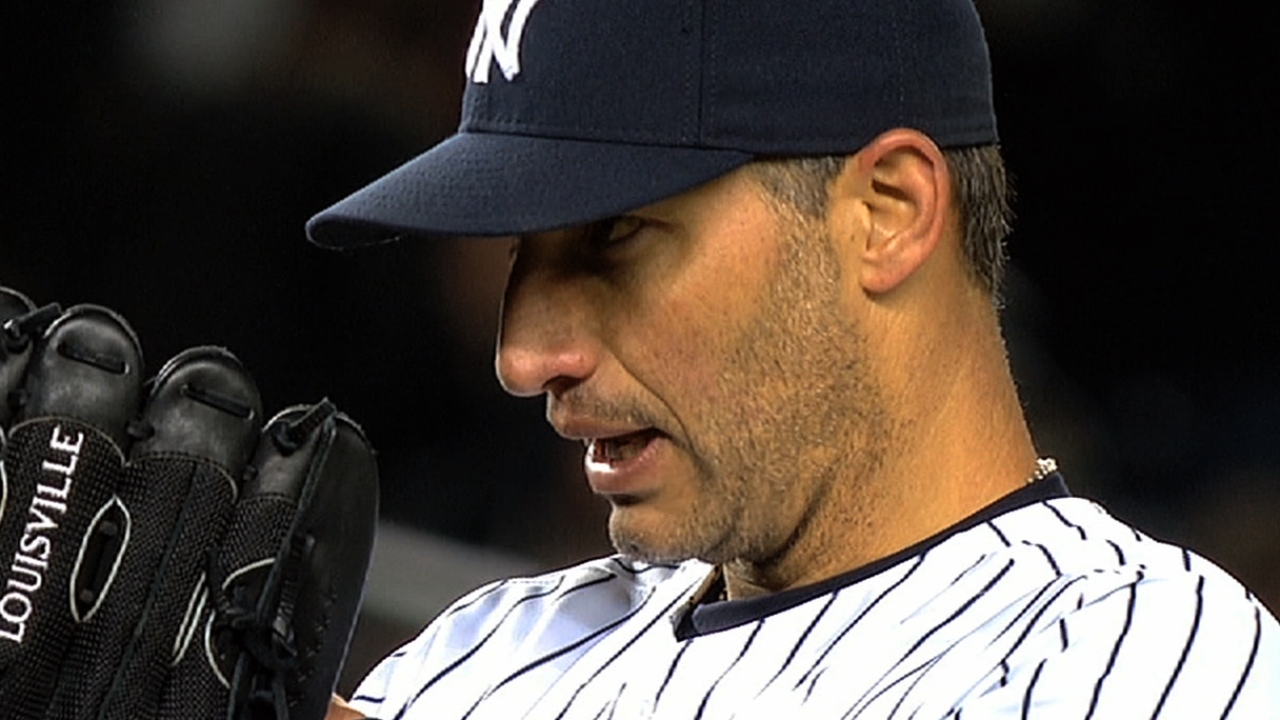 NEW YORK -- In what manager Joe Girardi deemed a precautionary move, veteran left-hander Andy Pettitte will not make his scheduled start Sunday against the Orioles due to back spasms.
The injury doesn't appear to be anything serious, and Girardi hopes to have the 40-year-old southpaw back on the mound either Tuesday or Wednesday, when the Yankees host the Diamondbacks. Phil Hughes -- originally expected to be skipped over after his Thursday start was rained out -- will now take the mound on Saturday, while Saturday's scheduled starter, Hiroki Kuroda, will pitch on Sunday.
Pettitte initially felt his back tighten up during Tuesday's outing against the Indians, but the left-hander said he was able to pitch through the pain in his middle back without it affecting his game. Though a little sore Wednesday, Pettitte felt back to normal during his bullpen session on Thursday before his lower back locked up at home Thursday night.
"I came in [Thursday] and threw my bullpen and felt great -- just threw a really good bullpen," Pettitte said. "I did my normal routine, as far as my whole upper-body workout, and then [Thursday] night just getting up off the couch, I had a spasm in my lower back and it just kind of locked up."
Though Girardi admitted Pettitte's age is something the coaching staff will take into account when dealing with potential issues this season, he doesn't believe it will play a factor this time around.
"Back spasms [are] just something that comes up," Girardi said. "If it reoccurs all the time, then it becomes a concern, but I've had them plenty in my lifetime and I didn't think it was going to keep me from playing. It might knock you out for a few days, but hopefully it's just a one-time event."
For Pettitte, the spasms come after two dominating outings to start his 18th Major League season. He allowed just one run on eight hits over eight innings in his season debut against the Red Sox before also limiting the Indians to one run on just five hits in seven innings of work on Tuesday.
"It's frustrating, you just never know," Pettitte said. "I had seven weeks of Spring Training, not one problem. So it is worrisome for me because I want to be healthy and I want to make my starts, but yet I also think that it's just a muscle spasm, and if it goes away, I'll be fine to pitch."
Paul Casella is a reporter for MLB.com. Follow him on Twitter @paul_casella. This story was not subject to the approval of Major League Baseball or its clubs.