Granderson likely to be out beyond May 1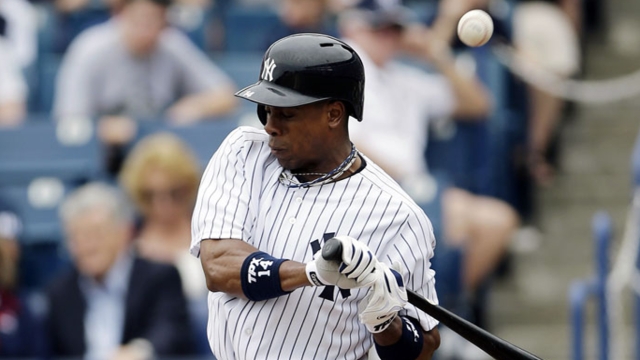 NEW YORK -- Curtis Granderson is not circling any dates as he works to return from a fractured right forearm, but it appears unlikely that he will be able to hit the May 1 goal that has been floated by Yankees personnel.
"It's a possibility, but I honestly don't know," Granderson said. "I haven't swung yet, so that's the tough thing. The sooner, the better."
Granderson's forearm was fractured in his first at-bat of the spring, on Feb. 24, and the Yankees said at the time that he was expected to be big league-ready in approximately 10 weeks.
Presented on Sunday with the suggestion of getting Granderson back in the lineup on May 1, manager Joe Girardi indicated that was likely to come at a later date.
"I think that's probably maybe a little quick," Girardi said. "I don't know. You just basically have to see how a guy's rehab is. He hasn't swung a bat yet, so until he swings a bat, we're really not going to have an idea."
Granderson has been performing lower-body conditioning, and he shagged fly balls during batting practice on Sunday. He has also resumed throwing, but a date for swinging a bat has not been set.
"I've still got to get in games, got to get at-bats," Granderson said. "That's where the timetable kind of goes up and down real quick."
Granderson said that he was told by hitting coach Kevin Long that he should get 50 to 70 at-bats in order to be ready for big league action.
"That's what I would have gotten in Spring Training," he said. "The great thing about being down in extended spring, I can get anywhere from five to 10 at-bats a day, so the number of at-bats can accelerate quite quickly."
Granderson is in New York for just one day, as his Grand Kids Foundation has an event scheduled for Monday morning at Abraham Lincoln High School in Brooklyn to celebrate Jackie Robinson Day.
He will then return to the club's training complex in Tampa, where he is working out with other rehabbing Yankees, including shortstop Derek Jeter.
"[Jeter's] looking good. Our schedules don't always mix, but the one day [that] was a physically difficult day for us, he was taking batting practice that day, and the ball was going all over the place," Granderson said. "He was driving it well to left field, to right field, to center field, and I got a lot of work that day out there shagging when him and his group were hitting. That's a good sign."
Bryan Hoch is a reporter for MLB.com. Follow him on Twitter @bryanhoch and read his MLBlog, Bombers Beat. This story was not subject to the approval of Major League Baseball or its clubs.