'Sweet Caroline' in Bronx part of Boston tribute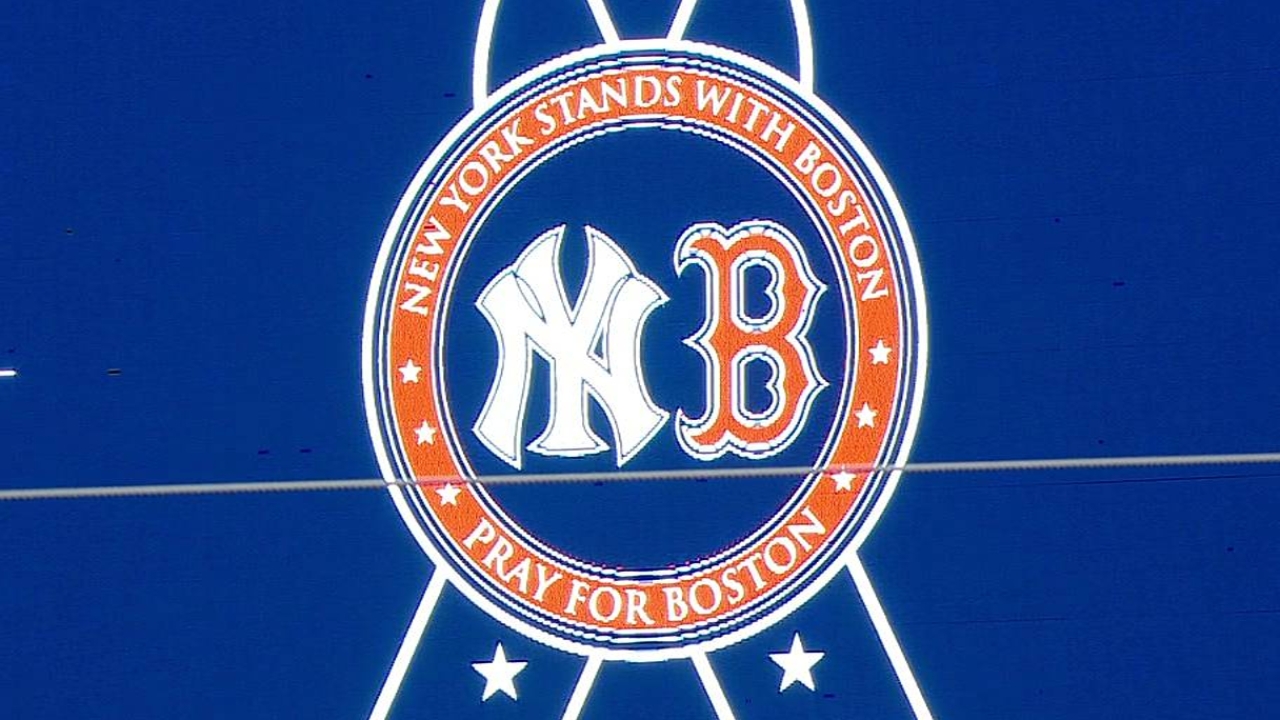 NEW YORK -- Kevin Youkilis has walked along Boston's Boylston Street countless times, including to attend past runnings of the Boston Marathon, and the Yankees infielder said he and his family were "pretty much sick to our stomachs" as they watched Monday's events on television.
"It's just a tragic day," Youkilis said. "You have thousands of people down there just really enjoying amazing feats. I've been down there on the finish line, and it's an amazing thing to watch these people finish a marathon. Then something tragic like that happens; you can't put it in to words."
On Tuesday, the Yankees held a moment of silence prior to their game against the Arizona Diamondbacks to honor those lost and affected by the events, and to pay tribute to the strength and resilience of the Boston community.
"Our thoughts and prayers go out to the victims and the families who were affected by the bombings and our respect and admiration go out to the police, medical personnel and first responders who acted so heroically," the Yankees said in a statement. "We stand united with the participants, volunteers, staff and spectators of the Boston Marathon and the people of Boston."
In addition, the Yankees played Neil Diamond's Fenway Park favorite "Sweet Caroline" over the public-address system between the third and fourth innings of Tuesday's game.
"I think it's important that we recognize that we're all behind the people in Boston and everyone that was involved," Yankees manager Joe Girardi said. "You think about that being a song that's a tradition there -- it's special to Fenway Park and the people of Boston. We're behind them. Put the baseball teams aside. We want to be there for them."
Youkilis said that he and his wife, Julie, spent most of Monday afternoon reaching out to as many people as they could in the Boston area, knowing that thousands turn out annually to cheer on runners and take part in the Patriots Day festivities.
"I actually was at the finish line one year, right there," Youkilis said. "I would've been on the other side of the street, where that [bombing] would've occurred. I would've been in plain view of where the first explosion went off.
"My wife, she has run in the Boston Marathon a couple of times and her sisters have run in it, too. You always know somebody in Boston that's run in it, is close, a family member, a loved one, the awesome people that go to it. There's so many people that go to it. It's just a sad day, especially with the children that have been injured."
Youkilis said that during his time with the Red Sox, players would gather in the clubhouse to marvel at the speed of the top marathon finishers. Patriots Day has also traditionally been a festive time at Fenway Park, complete with a giant U.S. flag draped over the Green Monster, and Youkilis said that he hopes Monday's tragic events will not change that atmosphere.
"It's the most exciting day of the year in Boston," Youkilis said. "People are off work -- they celebrate it and cheer on the runners. It's such a positive atmosphere. Personally, I've never seen so many people just sitting there and cheering for people running that they don't even know. They give them a boost of energy. It's a pretty remarkable thing."
Bryan Hoch is a reporter for MLB.com. Follow him on Twitter @bryanhoch and read his MLBlog, Bombers Beat. This story was not subject to the approval of Major League Baseball or its clubs.