Cervelli earning his keep behind the plate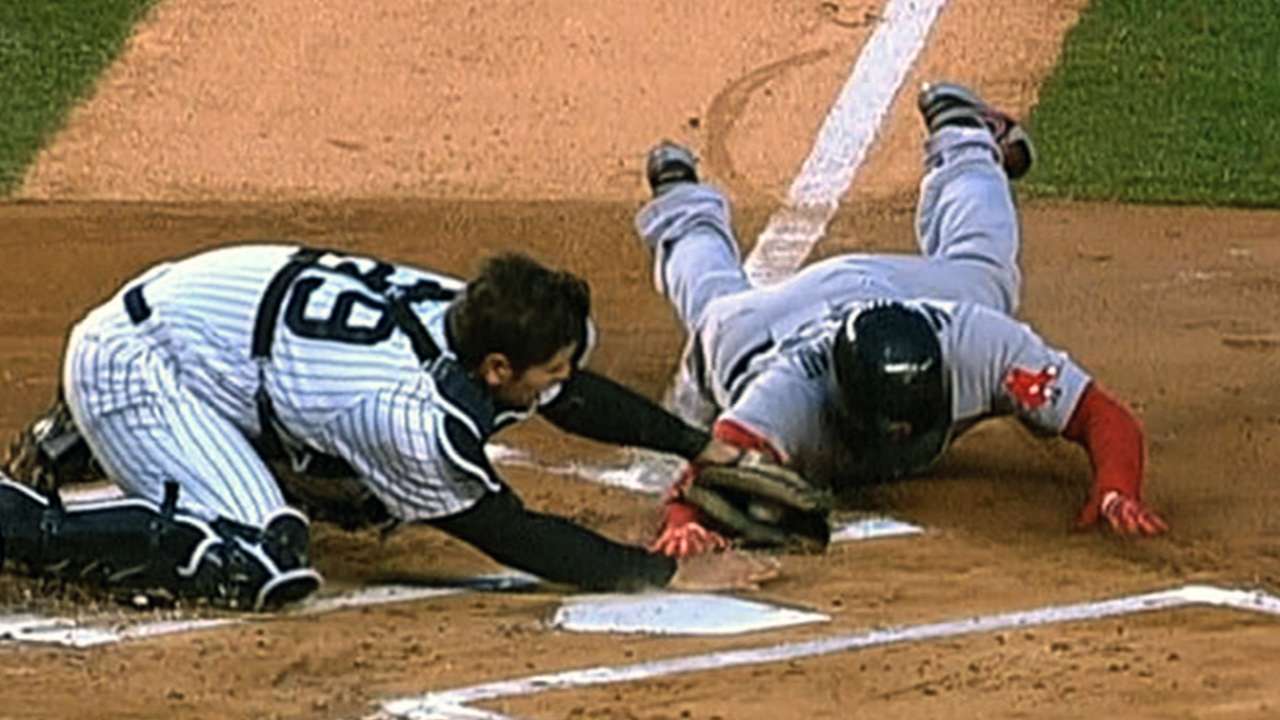 NEW YORK -- There are still moments late at night, Francisco Cervelli said, when his thoughts flash back to this time last year: the long bus rides, aging Triple-A stadiums and Scranton/Wilkes-Barre's seemingly never-ending road schedule.
This, Cervelli would agree, is better. Cervelli has been seeing regular duty behind the plate for the Yankees, and while manager Joe Girardi is stopping short of calling him the everyday catcher, Cervelli will continue to make a majority of the starts there.
"It's amazing, huh?" Cervelli said. "God always has a different plan for you. Sometimes we don't understand what's the plan at the moment, but right now, I understand. I'm going to keep working."
When Cervelli huddled with Chris Stewart and the rest of the Yankees' catchers this spring, Girardi stressed that the team was emphasizing defense behind the plate, and any offense provided would be a bonus.
Cervelli continued to show improvement while working with the pitching staff, particularly with his throwing, but he has also been an unexpected surprise at the plate. Cervelli entered play on Wednesday batting .360 (9-for-25) with one double, one homer and six RBIs in nine games.
"His at-bats have been good," Girardi said. "He's been patient, he's hit the ball with some authority and I saw that in Spring Training. We had a lot of opportunities to watch him play. ... He's gotten his pitch, and he hasn't missed it."
Girardi has hesitated when asked about naming an everyday catcher this year, a noticeable contrast after he left no doubt that Stewart was Russell Martin's backup last year. But on Wednesday, Girardi offered arguably his strongest endorsement of Cervelli as the Yanks' regular catcher.
"Cervy has caught a good portion of the games," Girardi said. "He's not an everyday [catcher], but if you catch three out of five, four out of five in certain rotations, that's an everyday guy. I have given him more than what we originally did. If he continues to shine, he'll continue to get more."
A career .276 hitter in the big leagues, Cervelli said that he believes playing in the Venezuelan Winter League improved all facets of his game, including his offense.
"It's a tough league in Venezuela, especially because you see the starting pitcher maybe one at-bat, two at-bats, and then the rest of the game you're going to see relievers," Cervelli said. "You have to make your own adjustments. I'm just looking for consistency, like I always say. I don't want to be a good hitter for one week. I just want to be consistent for the whole season."
Bryan Hoch is a reporter for MLB.com. Follow him on Twitter @bryanhoch and read his MLBlog, Bombers Beat. This story was not subject to the approval of Major League Baseball or its clubs.