Wells looking like old self with Yankees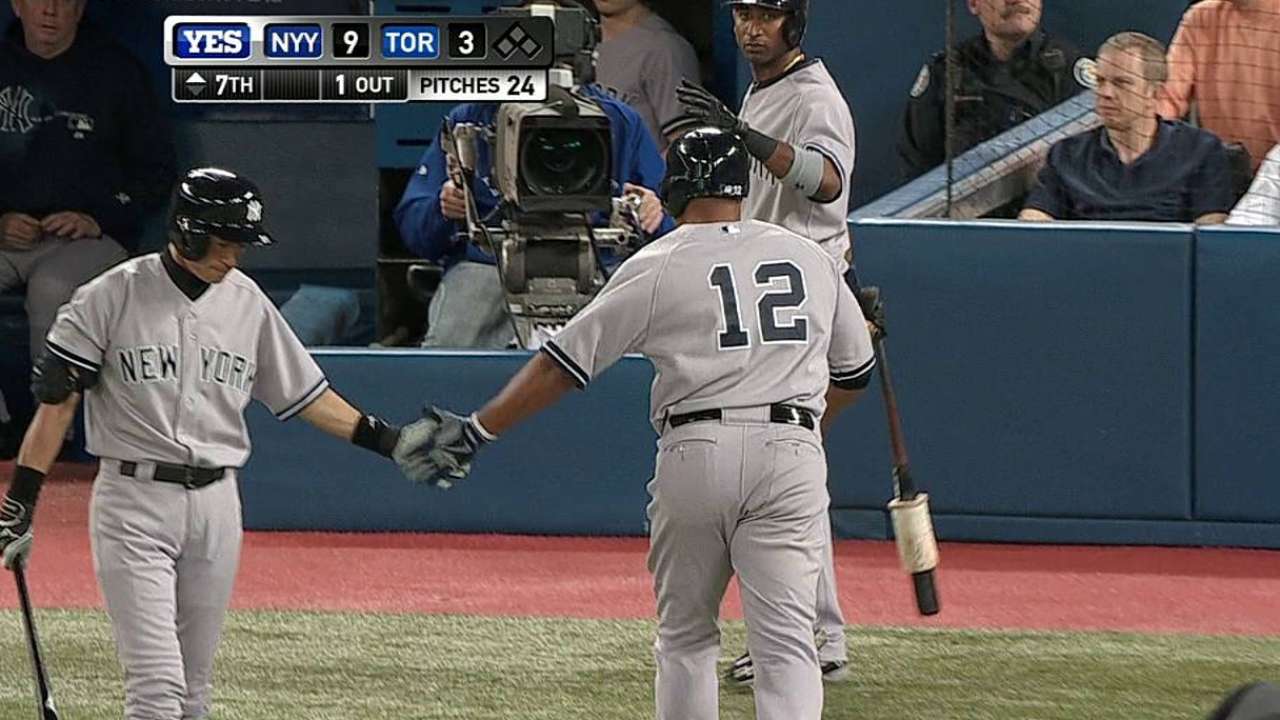 TORONTO -- There was no room for outfielder Vernon Wells in Los Angeles, but he has made sure there is plenty for him in New York.
Wells, coming off an injury-plagued year with the Angels that saw him play in just 79 games and post a .230 batting average and sub-.300 on-base percentage, got off to a hot start with the Yankees, batting.283 with four homers and a .962 OPS over his first 14 games.
"Obviously it didn't go the way I had planned or the Angels had planned," Wells said about his time with Los Angeles. "I would have loved to have played better there, but it didn't happen. You learn from the mistakes that were made and the time that you spent in that clubhouse and on that field, and you get better from there."
Wells has done just that, prompting manager Joe Girardi to say he thinks Wells is swinging the bat the way he was in his prime.
"I'm seeing a lot of the same guy," Girardi said when comparing Wells now to when he was an All-Star in Toronto. "He has swung the bat very well, I don't think he has chased a lot of bad pitches. I think he has played a very good left field for us.
"I think he is really close to the same guy that we have seen."
The Yankees saw a lot of Wells over the years, as the 34-year-old spent the first 12 years of his career with the Blue Jays as a center fielder. After two seasons with the Angels, Wells has found new life in New York -- a team he was happy to join.
Wells became an extra outfielder in Los Angeles, but after the Yankees suffered some key injuries, including a fractured forearm to Curtis Granderson, New York had a need for another corner bat. The Texas native has filled that role admirably and hasn't looked back.
"It was an opportunity to play," Wells said about coming to New York. "I'm not young anymore, but I still feel that I can go out and play on an everyday basis. This was the opportunity I was going to have to do that.
"Couple that with putting on a Yankees uniform, yeah, it was a pretty easy decision."
Wells' strong start has helped him find a temporary home in the No. 5 spot against lefties, Girardi said. The skipper wants to keep Wells in one spot, and right now, that's the middle of the order. It's a place Wells should feel comfortable in, as he spent much of his time with the Blue Jays in the three-hole.
Chris Toman is a contributor to MLB.com. This story was not subject to the approval of Major League Baseball or its clubs.