Youkilis likely out of action until Thursday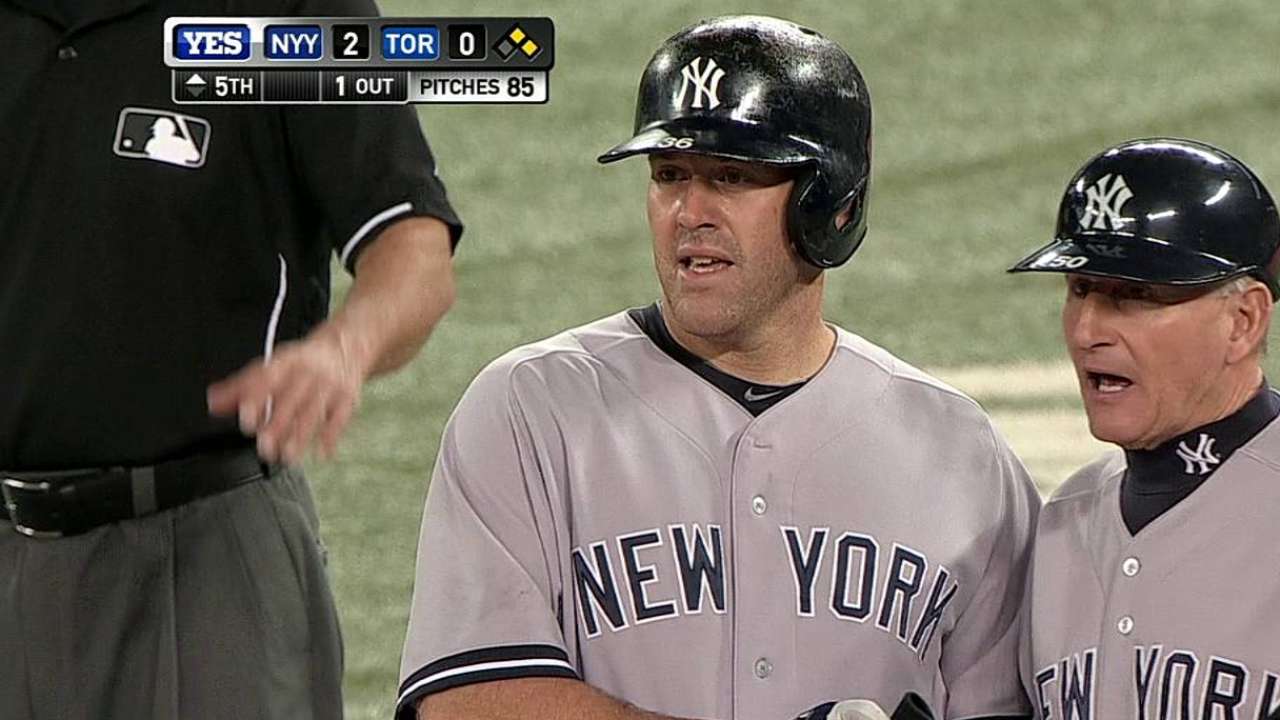 ST. PETERSBURG -- Kevin Youkilis is continuing to receive treatment on his sore lower back and is not expected to play before Thursday, manager Joe Girardi said on Tuesday.

Youkilis aggravated his back during batting practice on Monday and spent a good portion of Tuesday's 4-3 win over the Rays in the trainer's room.

"He's still got it there a little bit," Girardi said. "My guess is he probably won't play until Thursday. If he comes in tomorrow and says he feels great, I might re-evaluate."

Youkilis was seen by a team doctor on Monday, and though the issue is not thought to be serious, Girardi was not able to use him as a pinch-hitter on Tuesday for fear of re-aggravating the stiffness.

"It's up to the manager and trainer and all that," Youkilis said. "I put it in their hands. Sometimes they want you to wait another day to be 100 percent. If I feel good [on Wednesday], I'll let Joe know and make sure I do the right thing.

"I probably rushed a little bit more than I should have the other day; probably careless on my part. But I love going out there and playing. Sometimes you have to take a back seat and think about longevity."

Youkilis has experienced the stiffness in the same area several times in his career, and he said it usually lasts for a few days before subsiding. He doesn't think it's a result of playing on the artificial turf at Toronto's Rogers Centre.

"I don't think the AstroTurf is the reason," he said. "I've played on grass and had the same problems. So sometimes these things happen in my career with my back, unfortunately, and sometimes it takes a few days."

With Youkilis out of the lineup, the left-handed-hitting Lyle Overbay started again at first base against left-hander David Price, with Jayson Nix getting the nod at third base. Overbay went 0-for-3 but worked a key ninth-inning walk against Rays closer Fernando Rodney to set up New York's victory.

Girardi said that Youkilis' absence, as well as those of Derek Jeter and Mark Teixeira, leaves the lineup susceptible to left-handed pitching.

"It's difficult when [Youkilis isn't] in there," Girardi said. "He's a big part of our lineup against left-handers, but we've got to deal with it."
Bryan Hoch is a reporter for MLB.com. Follow him on Twitter @bryanhoch and read his MLBlog, Bombers Beat. This story was not subject to the approval of Major League Baseball or its clubs.