Romine re-acclimating himself to Yanks' staff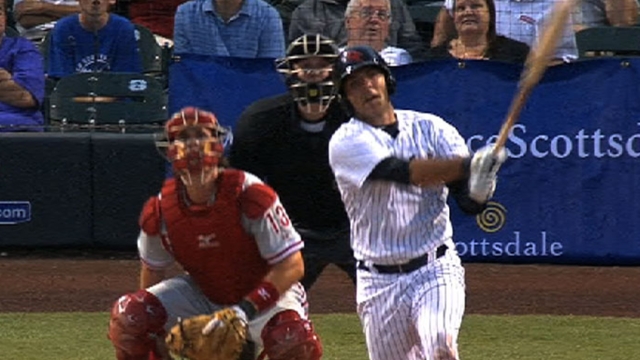 NEW YORK -- Austin Romine hasn't made his first start yet, but the catcher has had one of the busiest weekends of anyone in the Yankees' clubhouse.
It all started Friday night in the third inning of Triple-A Scranton/Wilkes-Barre's home game against Columbus. With two runners on base, one out and one run already across in the inning, a timeout was called by the Scranton bench for what Romine figured was a routine mound visit.
Instead, a confused Romine was waved to the dugout and pulled from the game.
"I was like, 'I'm not coming out, I didn't do anything wrong,'" Romine said. "Then [manager Dave] Miley told me, 'Pack your stuff, you're going up.' That's really all I heard until I was done packing and heard exactly what happened."
It was at that point that Romine learned of starting catcher Francisco Cervelli's fractured right hand and the opportunity awaiting him in the big leagues. He arrived in the Yankees' clubhouse Saturday morning and promptly went out to catch two bullpen sessions -- one each from Andy Pettitte and Hiroki Kuroda.
Fellow catcher Chris Stewart started both Saturday and Sunday, but manager Joe Girardi said Romine will get his reps behind the dish in Cervelli's absence. Though Cervelli caught each Yankees starter to some extent in Spring Training, it was on a very limited basis.
"In Spring Training, you've got to take that seriously because of situations like this," Romine said. "You want to know what pitcher throws what, where they miss, what they do well and how they like to pitch, so if I get in the game and I've got a guy coming out of the 'pen in the sixth or the seventh, I know exactly what's going on."
Paul Casella is a reporter for MLB.com. Follow him on Twitter @paul_casella. This story was not subject to the approval of Major League Baseball or its clubs.