Yankees applaud NBA's Collins for courage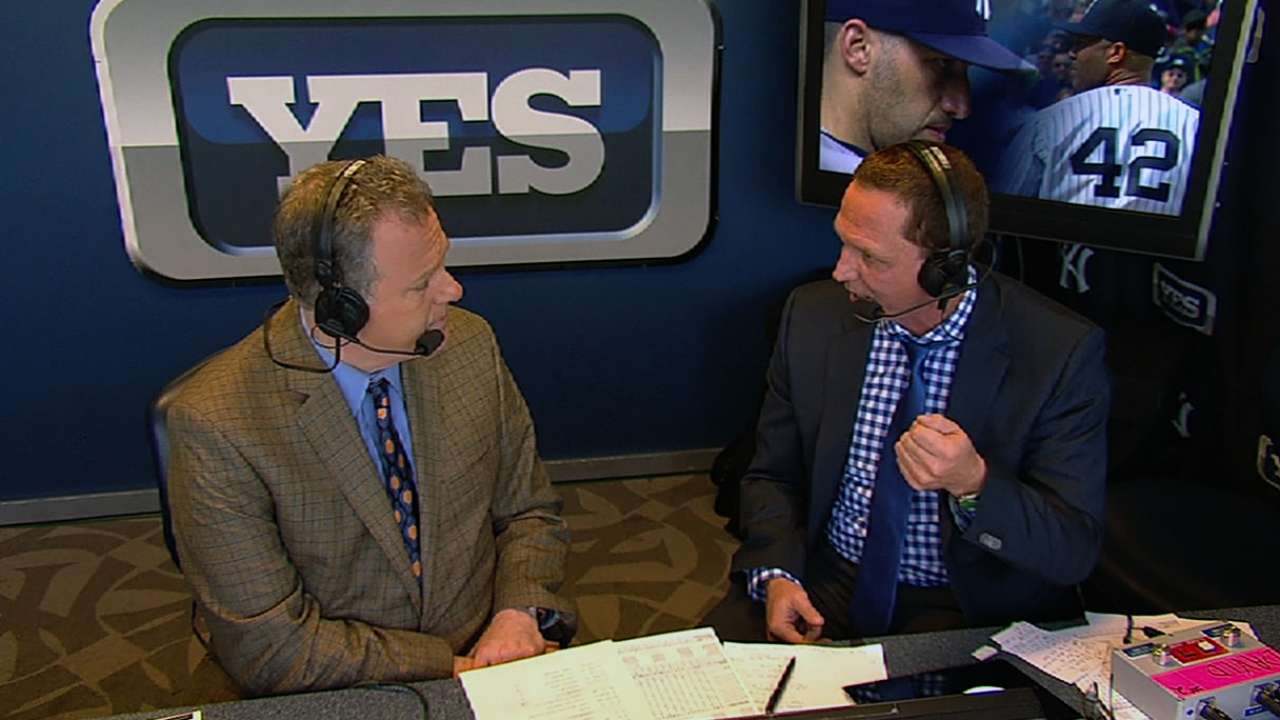 NEW YORK -- The three television screens in the Yankees' clubhouse were tuned to coverage of Monday's top sports story, as NBA player Jason Collins became the first active athlete in the four major American sports to come out as gay.
Collins' announcement drew many supportive and encouraging responses from the sports world, and at Yankee Stadium, several members of the Yankees' roster said that they believe Major League Baseball would also be ready to accept an openly gay player.
"I believe as men and women, we're called to love others [regardless of] their race, their religion, their thought process, whatever they do," Yankees manager Joe Girardi said. "We're not called to judge. I think part of judging people is probably what gets us in a lot of trouble in the world.
"As far as me personally, he's a player -- he's a man. My job is to be his friend and love him. If I was his manager, it's to get the most out of him. If I was a player, I always felt it was as a player to be the best teammate that I could be. That's the bottom line."
Collins, a veteran center who has been in the NBA since 2001 and most recently played for the Washington Wizards, revealed his sexuality in a column published on Monday by Sports Illustrated.
"Good for him -- he can be honest and not have to live a lie," Yankees ace CC Sabathia said. "It's tough for somebody to come out and do that, be the first guy. I'm sure it took him a while to come out with it and be good with it."
"It's his life, and if he felt that was the best thing to do in his life, that's a good thing," Yankees infielder Kevin Youkilis added. "If he feels at ease in life, that's a good thing for him."
Girardi said that he believes MLB "will handle it well" if and when a player comes out. It is also possible, as outfielder Vernon Wells suggested, that other active athletes have come out but did not announce their decision to the media.
"Maybe it did [happen]; maybe you guys didn't hear about it, not publicly," Wells said. "If someone comes out, they come out and it takes a strong person to do it. He's going to have to deal with a bunch of different things from a media standpoint, whatever it may be. If it happens, it happens."
Several Yankees said that they did not believe having a gay teammate would create an issue in the clubhouse.
"It wouldn't be a big deal for me," Youkilis said. "Like I've said, everyone's different ethnic groups, religions all come into one room. We're all one team and we're trying to win. I'm here to win and that's all I care about."
Sabathia also said that it may be easier for a future player to be comfortable announcing his sexuality because of Collins' statement.
"I think so, now that he's already been the first current player," Sabathia said. "I think it'll be a little easier for somebody else."
Bryan Hoch is a reporter for MLB.com. Follow him on Twitter @bryanhoch and read his MLBlog, Bombers Beat. This story was not subject to the approval of Major League Baseball or its clubs.