Nuno won't soon forget memories from debut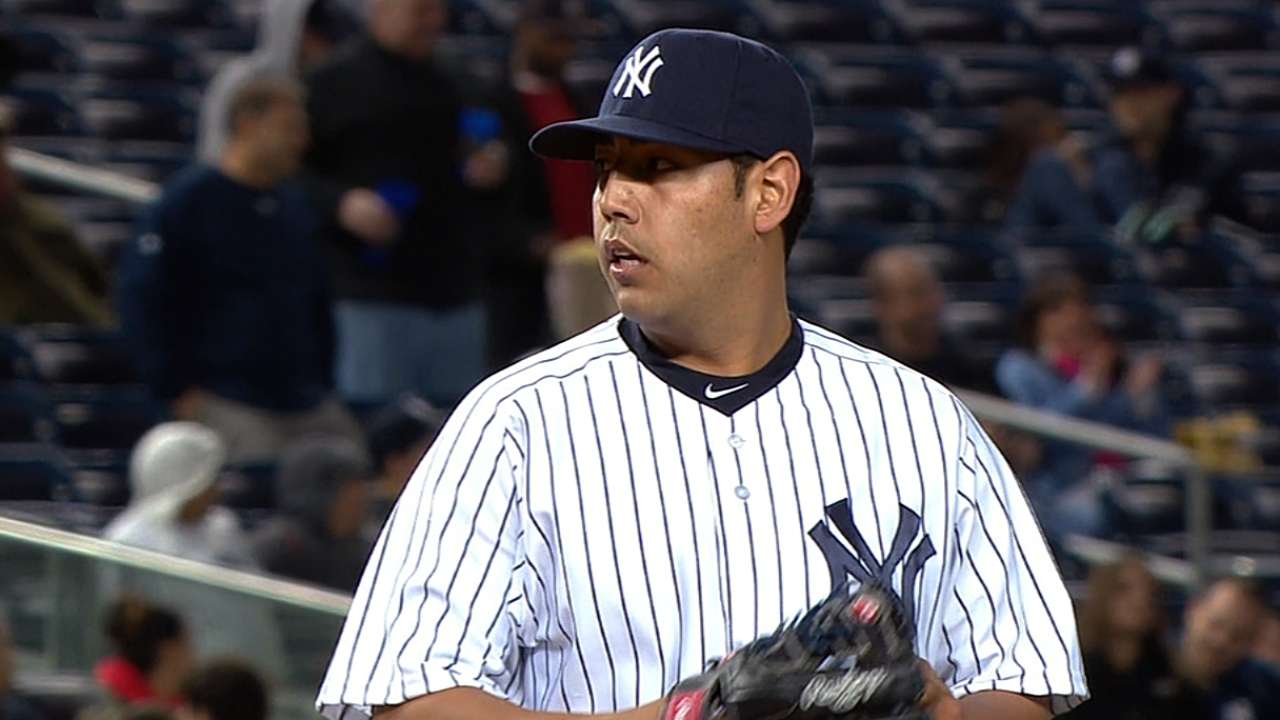 NEW YORK -- The baseball stuffed into Vidal Nuno's suitcase will serve as indelible proof that he was here, a treasured keepsake to be shipped to his California home as a permanent reminder that the miles covered on this long journey were worth it.
Nuno made his big league debut for the Yankees on Monday, tossing three scoreless innings of relief in New York's 9-1 loss to the Astros. He saved the ball from his first big league strikeout, a swinging "K" of Chris Carter in the eighth inning.
"It's going to be up in my room next to my bed so I can know I pitched in the Major Leagues," Nuno said. "Or I could give it to my dad, and it's like, 'Thank you very much for teaching me how to play baseball.' Either way, it's going to be in the family, in the house."
Nuno's path to the Majors is an interesting one. A 48th-round Draft pick of the Indians in 2008 from Baker University in Kansas, Nuno washed out of Cleveland's chain and played six weeks of independent ball for the Washington Wild Things of the Frontier League in 2011 before attracting the attention of a Yankees scout.
"It's young guys that got a shot in pro ball and got released," Nuno said. "It's good competition out there. They try to make it and try to get scouted. Long bus rides; the longest one was about 10 hours. It's a long journey on the bus, but it's all worth it. You still get to keep the uniform on and keep playing. That's what most guys want to do."
A soft-tossing left-hander who relies heavily on his changeup, Nuno throws strikes and has gained a reputation for attacking hitters, qualities that helped him advance through the Yankees' system.
Nuno was 2-0 with a 1.54 ERA in four starts this year at Triple-A Scranton/Wilkes-Barre after narrowly missing out on making the big league squad following a stellar spring.
Nuno tried to listen as much as possible to lefties like CC Sabathia and Andy Pettitte this spring, and he is hoping to try to put some of that knowledge to use now that he has finally made it to The Show.
"It was a long journey," Nuno said. "Every day I'm just glad to be around baseball, around my teammates. We have a good time. It's just another day at work instead of working a 9-to-5 job. I'm having a great time."
Bryan Hoch is a reporter for MLB.com. Follow him on Twitter @bryanhoch and read his MLBlog, Bombers Beat. This story was not subject to the approval of Major League Baseball or its clubs.