Yanks easing catcher Romine into action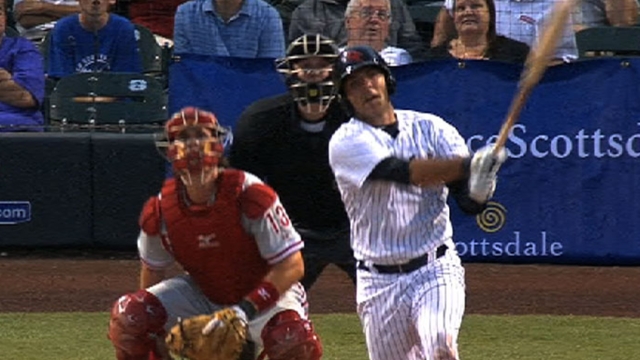 NEW YORK -- Yankees manager Joe Girardi has seemed reluctant to work rookie Austin Romine into the catching mix, and he said that his plan is to start veteran Chris Stewart behind the plate for all three games of the series against the Athletics.
Romine has started just once since he was recalled from Triple-A Scranton/Wilkes-Barre, and had some communication issues working with Andy Pettitte in that April 29 loss to the Astros.
Girardi said that his plan is tentatively to work Romine back in when the Yankees begin a series with the Rockies on Tuesday at Coors Field.
"I could change my mind, but it's three days," Girardi said. "It's still early in the year. We had a day off Thursday and we have a day off Monday."
Romine has generally been regarded as one of the Yanks' best catching prospects, and when he made his big league debut in 2011, the Yankees boasted that he was already rated as a plus defensive catcher at the big league level.
But the Yanks played Romine sparingly this spring after he lost most of 2012 to a back injury, and that was thought to be in large part because both Stewart and Francisco Cervelli were out of Minor League options. Girardi has made it clear that his priority is defense behind the plate.
"Stewy's always been a guy that can handle a pitching staff," Girardi said. "That's what we've asked our catchers to do, is handle our pitching staff well, and he's familiar with these guys. I want Austin to get familiar with them so we can get him in the mix more, and that takes a little bit of time. But Stew's always been a very good defensive catcher."
Romine said after the April 29 game that he planned to talk with Pettitte about the finer points of the outing, in which Pettitte allowed seven runs and 10 hits in 4 1/3 innings.
"We've got to iron this out before next time," Romine said that night. "It's going to take a little while to get on the same page as him and a lot of these guys. I'd like to do it a little bit quicker."
Bryan Hoch is a reporter for MLB.com. This story was not subject to the approval of Major League Baseball or its clubs.