Nova hopes to return to Yankees next week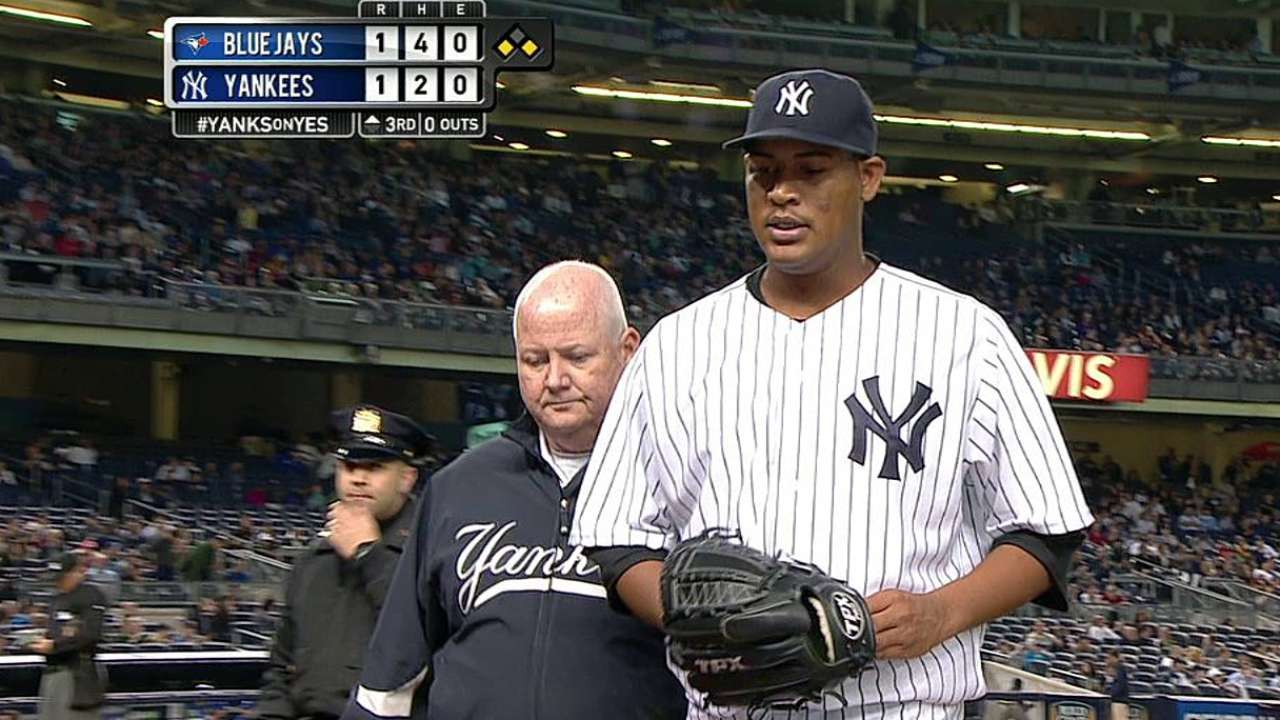 TAMPA, Fla. -- Ivan Nova pitched more than expected Wednesday afternoon. The good news was that he also felt better than expected.
Nova gave up two runs in four-plus innings in an extended spring game against the Blue Jays at the Yankees' Minor League complex, his first outing since going on the 15-day disabled list with right triceps inflammation on April 27. Nova hoped that his next stop would put him back in the Yankees' rotation for Monday's doubleheader against the Indians.
In Denver, manager Joe Girardi said Nova reported no pain or health problems, but his command wasn't real sharp.
"It's going to be in five days, so I can keep doing my work here, do my bullpen here, do everything I've got to do here and then be ready to go," Nova said, though he admitted that he doesn't actually know what's next for him. "If they call me up for Monday, then [on] Sunday, see ya."
Nova threw all his pitches as he gave up five hits and three walks while striking out five. The right-hander said he was a little cautious in his first two innings because he didn't know how his arm would react and whether he would feel the same inflammation that forced him to exit early from his April 26 start.
"The first two innings, I was scared," Nova said. "It was more than what I expected. Every time you get hurt, you expect it to last and feel it a little bit."
But Nova didn't feel anything afterward. At one point, he struck out five over a seven-batter stretch. He worked in quite a few curveballs -- the pitch that brought on the pain in his most recent start -- and came out of it feeling fine.
Asked if he'd been given a plane ticket to Cleveland, Nova broke into a big smile and laughed.
"Not yet," he said. "I wish."
Jack Etkin is a contributor to MLB.com. Adam Berry is a reporter for MLB.com. Follow him on Twitter at @adamdberry. This story was not subject to the approval of Major League Baseball or its clubs.