Diamond in the rough: Wells plays third for first time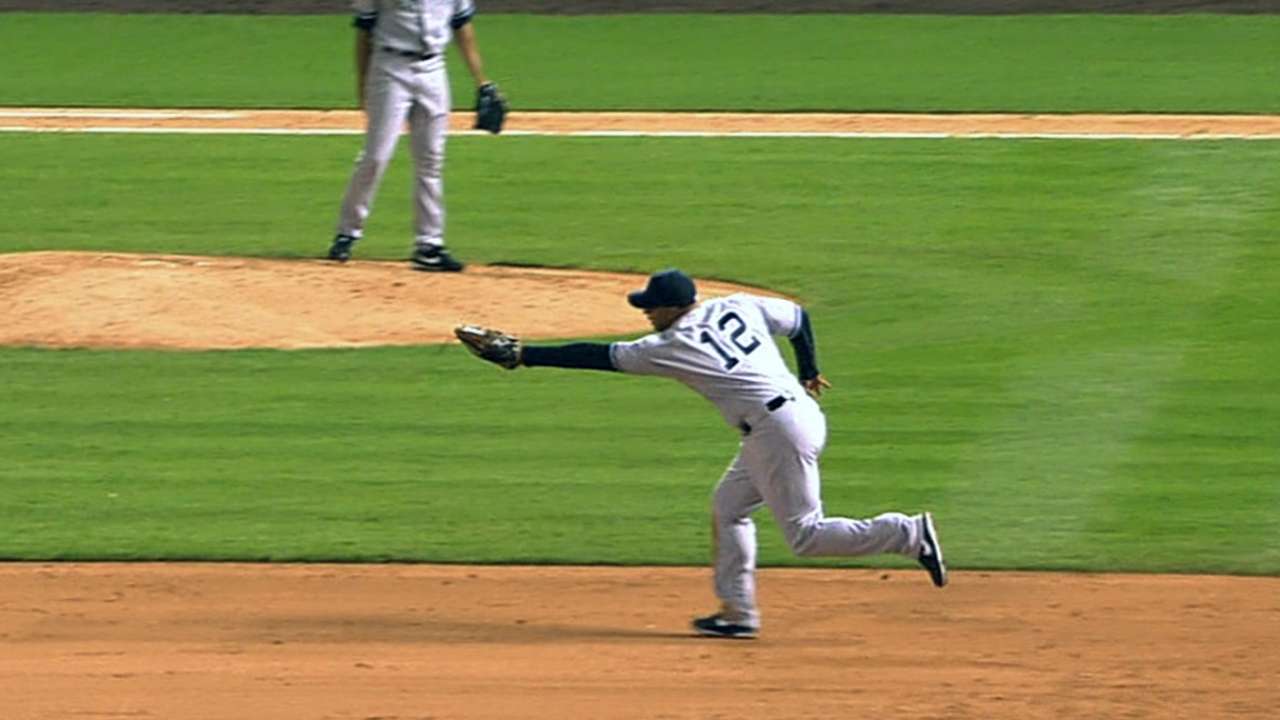 DENVER -- After scoring what proved to be the winning run on Brennan Boesch's infield single in the top of the ninth, Vernon Wells said, "I was like a little kid just jumping around. Then I quickly stopped and realized, 'OK, I got to go play third base, so I got to get my head together.' "
In a 3-2 win over the Rockies on Wednesday night, Wells played third base for the first time at any level in the bottom of the ninth. Manager Joe Girardi had seen him take ground balls there on a day when Wells was off earlier this season, and the seed was planted.
"You can learn a lot on an off-day," Girardi said.
For his part, Wells said he likes to take ground balls at third base about once a week "to keep my hands nice and loose" and has been doing it since his days in Toronto, where he began his career.
So with the Yankees leading 3-2 and closer Mariano Rivera on the mound, Wells was fielding ground balls thrown by first baseman Lyle Overbay.
Just played 3B behind Mo!!! #ThatJustHappened

- Vernon Wells (@VernonWells10) May 9, 2013
"Taking ground balls while Mo was warming up," Wells said, "and then throw the ball around and I'm throwing the ball to Mariano Rivera, it's a cool feeling."
Wells, a left fielder, said before Rivera threw his first pitch, he looked at infield coach Mick Kelleher in the dugout. "He said, "You got to play in,' " Wells said, "And I'm like, 'What? This is already in.' It was an eye-opening experience, that's for sure." Rivera got Josh Rutledge to fly to center to open the ninth. Carlos Gonzalez, the next batter, hit a chopper that Wells moved to his left and gloved.
"Hopefully, instincts take over, go catch it," Wells said, relating his thoughts when the ball was hit his way. "Then hopefully you hit Lyle's glove on the other side of the field." Girardi said, "I didn't know if he could get to it. I felt if he could get to it, he'd make the play."
Wells didn't have to borrow a teammate's glove -- "my outfielder's glove is small anyway. So if ever four or five people get hurt in one game, I have a second baseman's glove also. Hopefully that one stays in the bag."
Clearly, Wells was enjoying this postgame give-and-take. And why not after doing something so totally different in his 1,631st career game.
"You have fun with this game, and that was one of the cooler moments of my career," Wells, 34, said, "I played short in high school, and that was just a couple years ago. But that was the last time I played the infield."
Wells went 3-for-4 and hit a two-run homer in the first. He scored the winning run. And he made his debut at third base behind Rivera. So which was better?
"I'm definitely going with playing third with Mariano on the mound," Wells said. "That's most likely is something that'll never happen again, but you never know."
Who knows, maybe some day Wells will catch Rivera.
"That'll never happen," Wells said.
Jack Etkin is a contributor to MLB.com. Adam Berry is a reporter for MLB.com. Follow him on Twitter at @adamdberry. This story was not subject to the approval of Major League Baseball or its clubs.