Cano gets a kick out of prank after 1,500th hit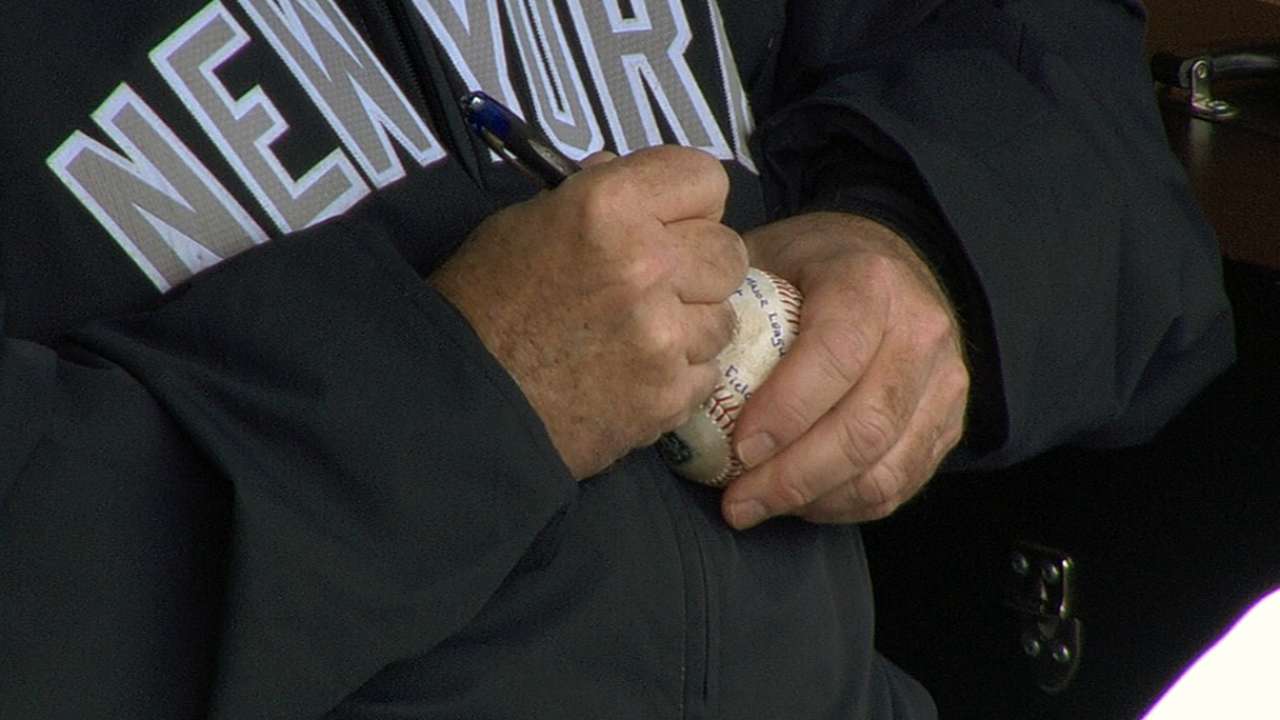 KANSAS CITY -- Robinson Cano howled with laughter as he read the inscription on the baseball he was given on Thursday in Denver, descending the clubhouse steps after realizing he was the victim of a dugout prank.
Cano logged his 1,500th career hit in the Yankees' 3-1 victory over the Rockies at Coors Field on a ground ball to second baseman Josh Rutledge.
The ball was taken out of play and secured by the Yanks, but not before the coaching staff urged head athletic trainer Steve Donohue to have some fun with a phony memento, with manager Joe Girardi and bench coach Tony Pena watching closely while Cano read the ball.
"It said, '1,500-hopper through the infield,'" Cano said with a grin. "That was funny. I was laughing and then he gave me the real one."
Donohue performs all of the inscriptions on the Yanks' milestone balls, having inherited those duties from longtime head athletic trainer Gene Monahan. Cano said that he kept the actual 1,500-hit ball, but he may have actually appreciated the fake one more.
"That was funny. It's good," Cano said. "That's the kind of thing that you need sometimes."
Cano also said that, contrary to a New York Post report, he did not have X-rays on his right foot after Thursday's game. Cano did say he had X-rays on his right big toe after fouling a ball off his foot against the Athletics back at Yankee Stadium.
Bryan Hoch is a reporter for MLB.com. Follow him on Twitter @bryanhoch and read his MLBlog, Bombers Beat. This story was not subject to the approval of Major League Baseball or its clubs.