Mo, Yanks make light of last year's injury in KC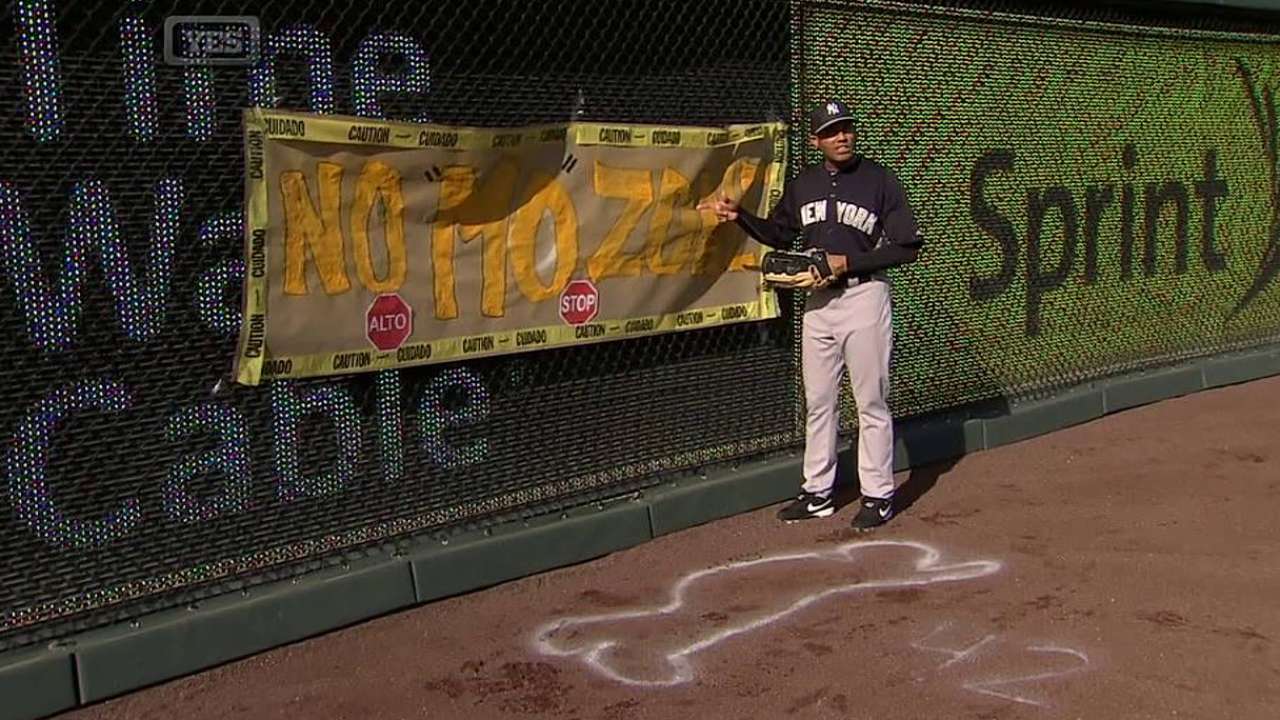 KANSAS CITY -- Mariano Rivera jogged out to the spot where his career could have ended 12 months ago, looked down and smiled.
A prankster from the Yankees' clubhouse had painted a white chalk outline of Rivera's body on the warning track, while a banner adorned with stop signs and yellow caution tape fluttered from the outfield wall reading: "No Mo Zone."
"The guys put a little effort into that sign. It had paint and tape and a little bit of everything," Yankees manager Joe Girardi said. "We even had to hold him in here a little bit while they put it up."
Rivera posed in front of the wall for a photo, grabbing his right knee in mock pain, and couldn't have been surprised.
In Denver on Thursday, Rivera said that he expected to hear some good-natured ribbing from his teammates as he returned to Kauffman Stadium, the Yanks' first trip back since Rivera tore his right ACL before a May 3, 2012, game against the Royals.
"The only thing that will come back to me is just knowing that I got hurt there," Rivera said. "But I mean, I will enjoy it definitely because that moment and seeing where I am right now, that's what is gratifying. I'm thanking the Lord for me being here."
Yankees bullpen coach Mike Harkey, who was one of the first on the scene when Rivera crumpled in pursuit of a Jayson Nix fly ball on that afternoon last May, is believed to have been one of the leading pranksters to dress up the left-center-field area on Friday.
The adornments were removed by the time the Yankees' batting practice session concluded, and after the Yanks' 11-6 victory over the Royals, the banner -- caution tape and all -- was folded neatly into the locker next to Rivera's in the visiting clubhouse.
"I'm going to put it right in front of my home," Rivera cracked.
Bryan Hoch is a reporter for MLB.com. Follow him on Twitter @bryanhoch and read his MLBlog, Bombers Beat. This story was not subject to the approval of Major League Baseball or its clubs.