Kelley puts on impressive strikeout performance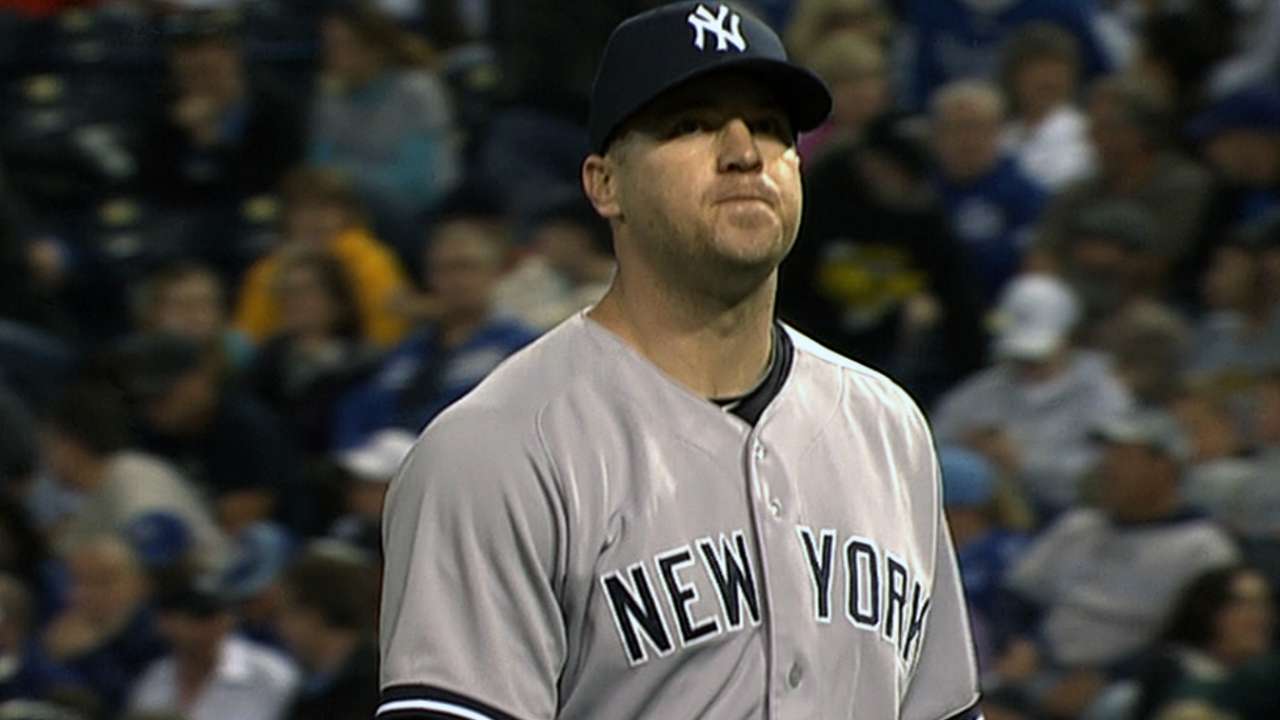 KANSAS CITY -- Shawn Kelley said he definitely wasn't trying to rack up a career-high six strikeouts in Friday's 11-6 win over the Royals, but the pileup of punchouts was a nice bonus for the Yankees right-hander.
Kelley hurled 2 1/3 perfect innings of relief in New York's victory, including striking out the first five batters he faced.
"I've always been a guy as the season goes on, as the weather gets warmer, my velocity goes up a little bit [and my] slider gets a little sharper," Kelley said. "I'm starting to feel a little bit more like myself and finding my groove a little bit."
Kelley was acquired by the Yankees in February from the Mariners for Minor League outfielder Abraham Almonte, making the team this spring because of his ability to pitch multiple innings.
"I think his arm strength has been more consistent," manager Joe Girardi said. "You're seeing the velocity out of his fastball be more 92-93 [mph] where you would see 89-92 [previously].
"It makes his slider better. It just makes all his stuff better. He's a guy that holds runners, he's athletic. It just seems like it took his arm a little bit of time to get in better shape."
Kelley has a 6.14 ERA in 14 2/3 innings, spanning 12 appearances, but has pitched cleaner ball of late and has also racked up 24 strikeouts against four walks entering Saturday.
"I'm just trying to attack and get ahead," Kelley said. "I've gotten a few more strikeouts this year than I've had in the past, but I'm not really doing anything different -- just getting more swing and misses.
"I don't really know if there's a reason for it or if guys are just being a little more aggressive, but I feel good as long as I keep getting ahead in the count. It's big for me to start 0-1. Then it's in my favor."
The Yankees' record for consecutive strikeouts in a single game is eight, set by reliever Ron Davis on May 4, 1981, against the Angels in Anaheim.
Bryan Hoch is a reporter for MLB.com. Follow him on Twitter @bryanhoch and read his MLBlog, Bombers Beat. This story was not subject to the approval of Major League Baseball or its clubs.