Indians celebrate Mo's career with gift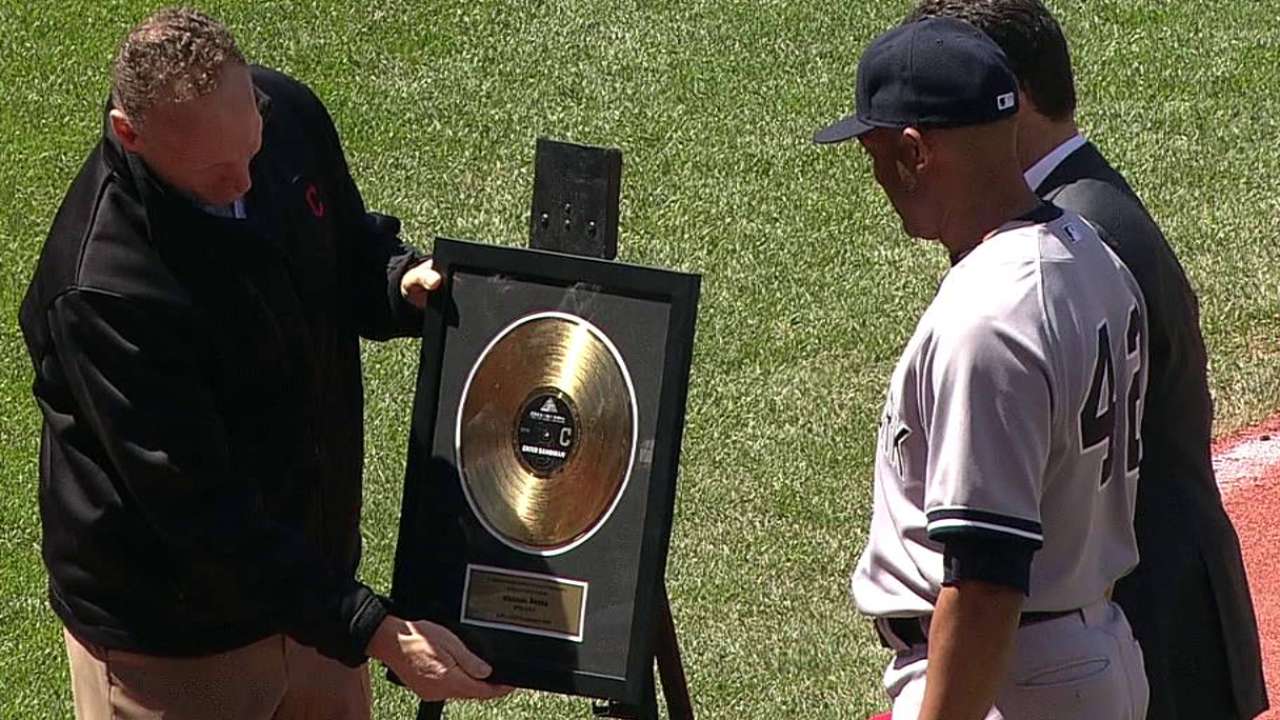 CLEVELAND -- Mariano Rivera already said farewell to Cleveland. Or so he thought.
Indians team president Mark Shapiro and Greg Harris, the president and CEO of the Rock and Roll Hall of Fame, paid tribute to the iconic closer between the games of Monday's traditional doubleheader at Progressive Field by presenting the 43-year-old Rivera with a framed gold record of Metallica's "Enter Sandman," the song to which Rivera trots out to the mound. The club also played a video on the scoreboard.
As has been customary on his farewell tour through the Majors this season, Rivera held a meet-and-greet with Indians employees in early April, which was scheduled to be the Yankees' final trip to Cleveland. However, the last two contests of the four-game series were washed away by rain, so Cleveland's on-field acknowledgement of Rivera's career had to wait a month.
"I didn't expect anyone to do anything," Rivera said. "They do this because they want to do it, not because I expect anything. I am very grateful. Every city, when I do my meet and greet, I want to do that because I want to say thank you to the fans."
Entering Monday's action, Rivera had converted each of his last 17 save chances against the Indians since 2003. This season, he has been successful on all 15 of his save opportunities, the second-longest streak to begin a season in his 19-year career.
Zack Meisel is a reporter for MLB.com. Follow him on Twitter @zackmeisel. This story was not subject to the approval of Major League Baseball or its clubs.