Joseph sent back to Triple-A after filling need for Yanks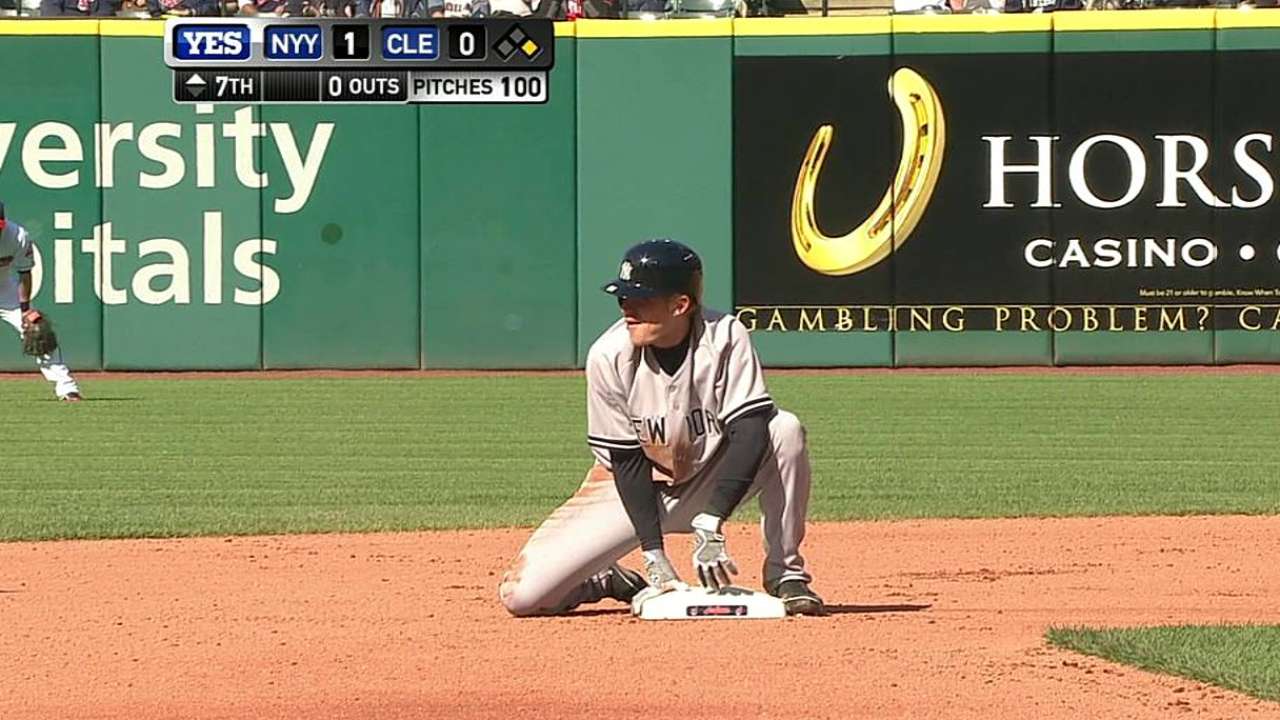 CLEVELAND -- Corban Joseph sat at a table in the Yankees' clubhouse, his restless right leg shaking as coaches handed him packet after packet of notes.
At one point, another coach placed a helmet over his blond mop to make sure the rookie had properly sized protective headgear.
Such is the life for a 24-year-old making his Major League debut in a pinch. The Yankees promoted Joseph to the big league roster as their 26th man for Monday's doubleheader against the Indians.
Joseph played every inning of both games and went 1-for-6 with a double, a run scored and a walk. He was then optioned back to Triple-A Scranton/Wilkes-Barre.
"He did a nice job," said manager Joe Girardi. "He played 18 innings for us. He started a big rally for us. To get his first hit, I'm proud of what he did."
Joseph spent two days with the Yankees two weeks ago when he replaced the injured Kevin Youkilis on the active roster. When the Yankees acquired Chris Nelson from Colorado, however, Joseph returned to Scranton/Wilkes-Barre before he could appear in his first big league game.
Girardi said on Monday morning that he wasn't going to ease Joseph into action this time around. He deployed the former fourth-round Draft pick at first base in the first tilt and second base in the second game.
"We're trying to take care of our guys," Girardi said. "We're in a real long stretch. We don't want to wear them out or get them hurt."
In 31 games at Triple-A, Joseph batted .270 with four homers and 10 RBIs. He played 28 contests at second base and three at first. Those three appearances represent his only regular-season experience at the position.
"It was something that we talked about and I thought it might be a good idea, getting him some experience there," Girardi said. "We like the way he swings the bat. We thought if he got called up, it might be a place he might be able to play."
Zack Meisel is a reporter for MLB.com. Follow him on Twitter @zackmeisel. This story was not subject to the approval of Major League Baseball or its clubs.