MRI on Pronk's balky shoulder negative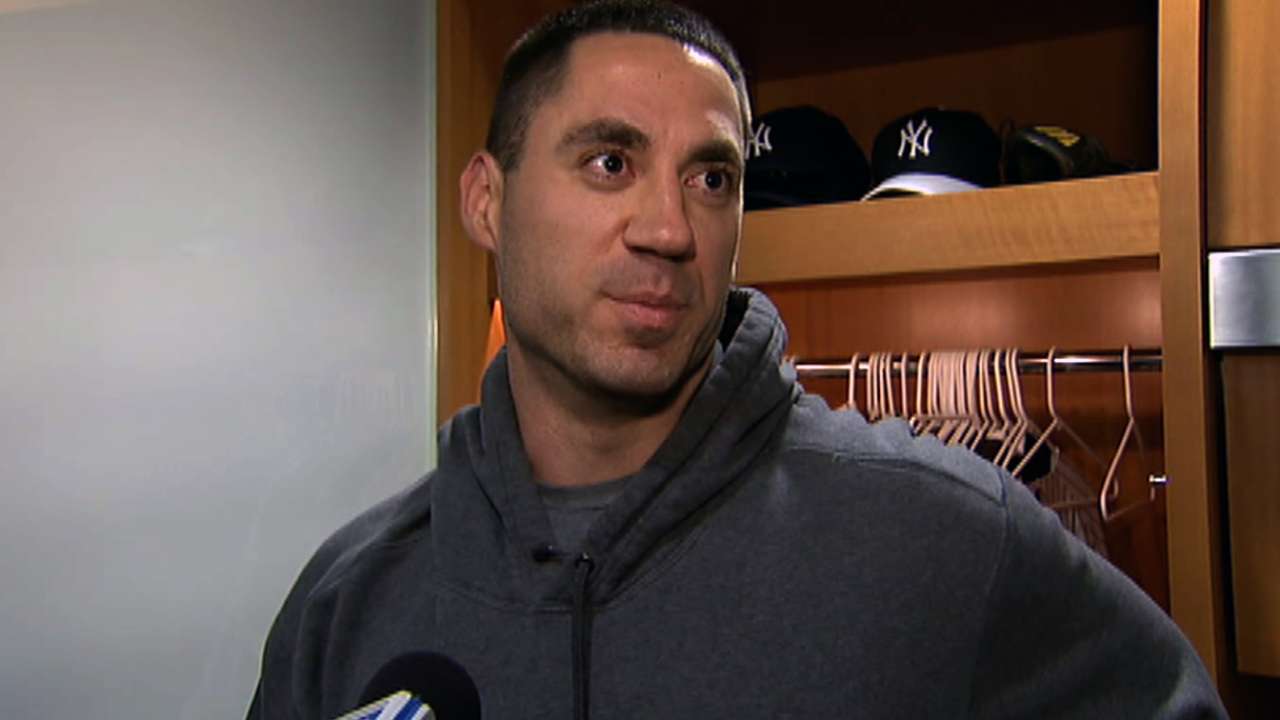 NEW YORK -- The Yankees got Curtis Granderson back in the lineup on Tuesday, but they may have a developing injury situation with another veteran. Travis Hafner got the day off due to pain in his right shoulder, but an MRI exam came back clean, alleviating the team's concern.
Hafner, who also received a cortisone injection to help manage the inflammation, said after the Yankees' 4-3 victory over Seattle that he initially injured the shoulder when he was hit by a pitch and that the pain has lingered for the last few weeks.
"It's good; it just showed some inflammation in the shoulder," said Hafner of the MRI. "I got an injection in it and hopefully that clears it up. It should be good to go in a couple days."
Hafner said the injury affected him mostly on the follow-through of his swing, and he said that the ailment has little or nothing to do with previous injuries to his shoulder. Hafner played in New York's doubleheader at Cleveland on Monday, but Tuesday gave manager Joe Girardi a chance to rest the veteran.
"It's just a little tendinitis in his shoulder," Girardi said after learning the results of the MRI exam. "It came out as good as we could've hoped for. He's going to be OK."
Hafner had a tremendous April, batting .318 with a .438 on-base percentage and six home runs in 66 at-bats. The designated hitter walked 12 times in the opening month, but he's batted just .133 with a .257 OBP in his last 10 games. Hafner hasn't gone deep since hitting a solo homer on April 27.
"[It's] a little sore," Girardi said before Tuesday's game. "We're going to try to get him a couple days. ... It's been bothering him for a little bit. He's managed it. He's played through it and he's been fairly productive for us. We're just taking some cautionary things to see where he's at and to make sure that we're not missing anything."
The Yankees worked around Hafner's absence on Tuesday by slotting Vernon Wells in as the designated hitter, and that alignment allowed Brett Gardner and Ichiro Suzuki to start in the outfield with Granderson. And if you ask Girardi, Granderson can be the key to getting everybody some rest.
"I don't think it hurts to give a guy a day off here and there, spread it around a little bit," Girardi said. "You can't expect him to necessarily go eight or nine days in a row right out of the chute. I think that would be unfair to him. Get him kind of back into playing every day. But they're all going to play a lot."
Spencer Fordin is a reporter for MLB.com. This story was not subject to the approval of Major League Baseball or its clubs.