In reaching Yanks, Adams sees work pay off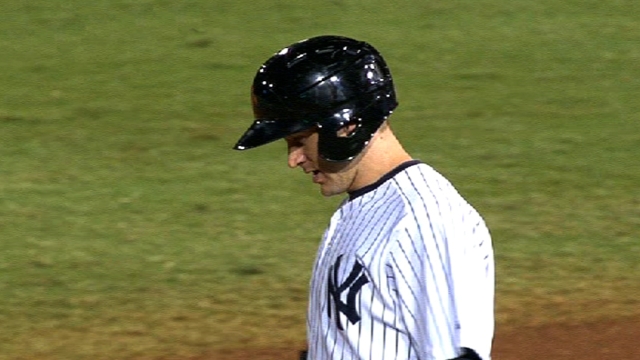 NEW YORK -- The Yankees are giving David Adams an unforgettable present for his 26th birthday. The rookie celebrated the occasion on Wednesday by making his Major League debut at third base at Yankee Stadium and recording his first hit with a sixth-inning single off right-hander Hisashi Iwakuma.
Adams was signed to a Major League contract and selected to the Yankees' roster from Triple-A Scranton/Wilkes-Barre on Wednesday, completing a rebound sequence after he was released by New York during Spring Training and then re-signed to a Minor League deal.
"A whirlwind -- it's been a rollercoaster ride, for sure," Adams said. "Back in Spring Training when I got released, [there was] a lot of disappointment, frustration. And then it's into, 'You know what? I've just got to turn it back around and get focused and continue to work hard.' And here we are."
In order to create room on their 25-man roster, the Yankees designated infielder Chris Nelson for assignment. Yankees manager Joe Girardi said that he plans to use Adams at third base, second base and first base.
"We like his bat," Girardi said of Adams. "We've always liked his bat, so he's going to get a shot. He knows how to play the game, we like the way he swings the bat and he's had success in his career offensively. We think he can help."
In 27 games at Triple-A, Adams was batting .316 (31-for-98) with 15 runs scored, six doubles, three home runs, 12 RBIs and 13 walks after being sidelined with a back injury this spring.
Adams was released by the Yanks on March 26 to create room on the 40-man roster for Vernon Wells, but he decided to re-sign with New York because he believed the club still represented his best chance to get to the big leagues.
"They said, 'Look, we like you. We like what you bring to the table,'" Adams said. "I wasn't healthy. They said, 'Look, it's a business move,' and I understood that. It's a business at the end of the day.
"There's always hope, especially with the injuries that have occurred this year. That was definitely in the back of my mind, and that definitely played a role in my signing back."
A third-round selection of the Yankees in 2008, Adams was nearly packaged with former top prospect Jesus Montero in a July 2010 deal with the Mariners that would have brought left-handed pitcher Cliff Lee to New York.
The Mariners balked late in the negotiations because they found that Adams was suffering from a high ankle sprain, shipping Lee to the Rangers instead when the Yankees refused to replace Adams with Ivan Nova or Eduardo Nunez. Adams' injury was later revealed to be an ankle fracture.
"There's still people who come up to me and question me about it," Adams said. "I've never thought anything of it. Trades fall through all the time. Who knows what was going on behind the scenes? That's the way I look at it. I'm here today, and that's all I worry about."
Bryan Hoch is a reporter for MLB.com. Follow him on Twitter @bryanhoch and read his MLBlog, Bombers Beat. This story was not subject to the approval of Major League Baseball or its clubs.