Brignac excited to join Yanks, his third team this year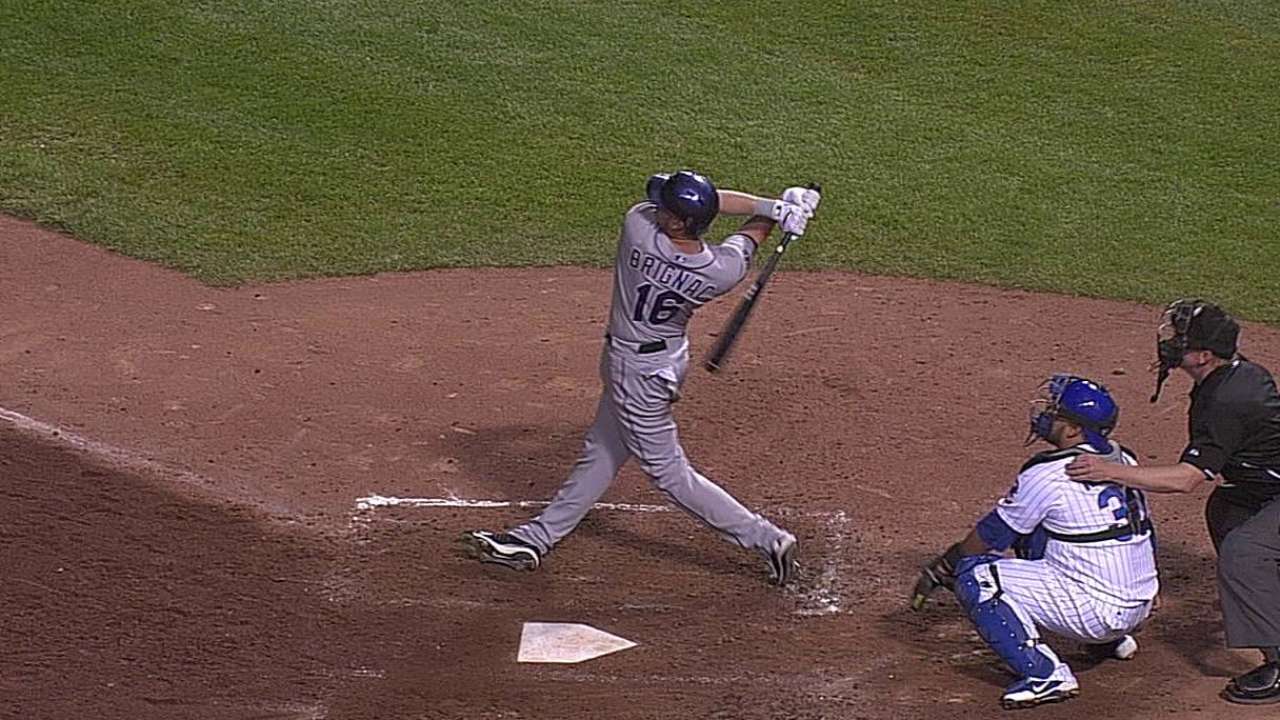 NEW YORK -- Prior to this season, Reid Brignac had spent his entire career within the Tampa Bay organization. And now he's on his third team in three months. Brignac, acquired from the Rockies on Saturday, began life with the Yankees on Sunday and was immediately penciled into the lineup, but the game against the Blue Jays was postponed due to rain.
Brignac, a former second-round draftee, was sent from Tampa Bay to Colorado in February for cash considerations and a player to be named. And after batting .250 in 29 games for the Rockies, he found himself designated for assignment and then packaged in another deal to the Yankees.
"It's been a roller coaster of emotions," said Brignac. "I was in a pretty good place with Colorado. I was a little upset and slightly disappointed in the circumstances, but to be picked up by the Yankees is a great experience. I'm very excited to get started and to help this team continue winning."
Brignac, who was issued No. 40 and slotted in at shortstop on Sunday before the rainout, will try to bring stability to one of the Yankees' most volatile spots this season. Both Derek Jeter and his backup, Eduardo Nunez, are on the disabled list, and Jayson Nix has stepped in as the answer at shortstop.
Nix moved to third base in Sunday's lineup to accommodate Brignac, but manager Joe Girardi said there should be plenty of playing time for both infielders as the Yankees move forward. Girardi said that Brignac, just 27 years old, will get a chance to realize his potential in New York.
"I think he's a really good defender. And I think he's got a little pop in his bat. This ballpark might play well for that," said Girardi. "I've seen him have some big days. I've seen him have some good years. I think there's some good talent there. We're going to see what he can do."
Brignac, a native of St. Amant, La., described himself as easygoing Sunday, and he said that he'll be happy to do whatever the Yankees need him to do. That could mean coming off the bench and playing multiple positions, but Brignac is just happy to be part of his boyhood idol's team.
"As a kid, [Jeter] is probably the biggest role model for most kids. He was for me when I was growing up and idolizing him," said Brignac, a career .228 hitter in 285 games in the Major Leagues. "To be able to play with him -- and several guys in this clubhouse -- it's an honor. It really is."
Spencer Fordin is a reporter for MLB.com. This story was not subject to the approval of Major League Baseball or its clubs.