What starts as night off ends with huge hit for Wells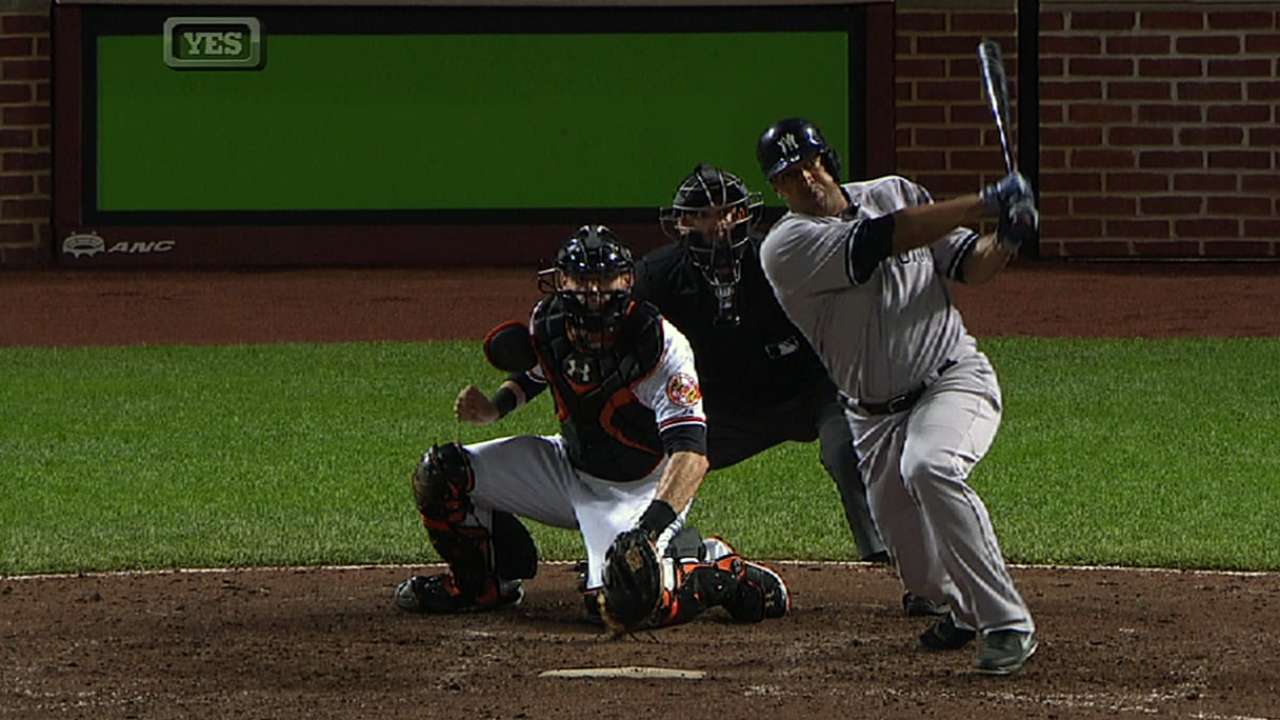 BALTIMORE -- The original thought was to give Vernon Wells a night off on Monday, allowing him back-to-back days of rest after the veteran outfielder had appeared in all but one of the Yankees' 42 contests this season.
So much for that. Wells entered the game as an eighth-inning pinch-hitter and delivered a go-ahead ground-rule double in the 10th inning off Pedro Strop, helping lift the Yankees to a 6-4 victory over the Orioles at Camden Yards.
"That lasted for a couple hours," Wells said. "It's good. Nice and refreshed."
Wells, 34, has enjoyed some success in his career against Orioles right-hander Freddy Garcia, stroking seven hits in 16 at-bats (.438), but manager Joe Girardi came into Monday's game believing the veteran outfielder needed a break. That changed by the eighth inning, when Wells grounded out against Darren O'Day before lacing his big hit in extra frames.
"The way the game was shaping up, close ballgame, any time any of us have an off-day, we want to be ready in case something happens," Wells said. "Joe asked me if I was ready in the eighth, and I said, 'Sure.' He said, 'Go play.'
"Obviously, the most important one came in my second at-bat. It was good to get in that situation. Early on in the at-bat, I was trying to get [Ichiro Suzuki] over, but [Strop has] got good stuff. I got to two strikes and it was just a matter of trying to put the bat on the ball."
Wells has been a nice surprise for the Yankees, batting .288 with 10 homers and 24 RBIs. Girardi said that it is a nice problem to have to rotate his outfield now that it includes Curtis Granderson, who started on Monday in left field as he played his fifth game of the season. Girardi also has Brett Gardner, Ichiro Suzuki and Ben Francisco in the mix.
"I'm going to have to work out this rotation, in a sense, but Vern's going to be in there a lot," Girardi said. "All these guys are going to play a lot. He had two really good at-bats."
Bryan Hoch is a reporter for MLB.com. Follow him on Twitter @bryanhoch and read his MLBlog, Bombers Beat. This story was not subject to the approval of Major League Baseball or its clubs.