MLB.com Columnist
Marty Noble
Picked-up pieces from Mets-Yankees showdown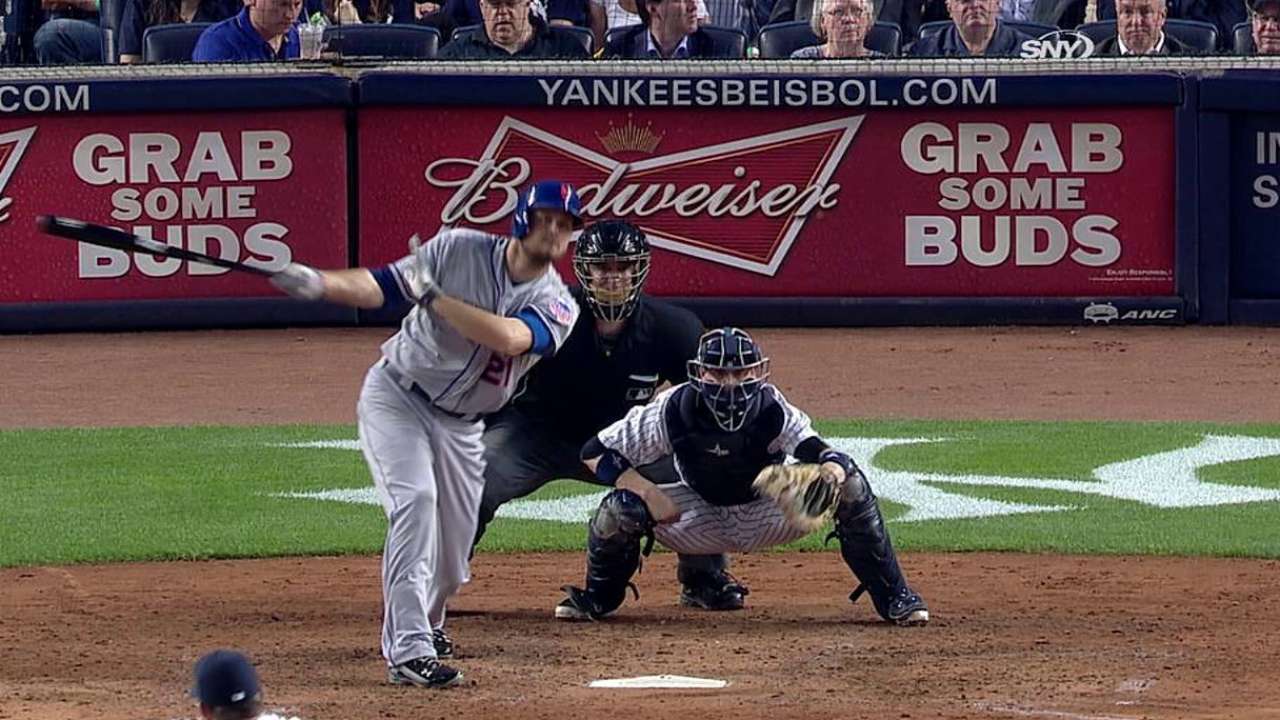 NEW YORK -- In any big league game, scores of news bits and sound bites are not shared with the public if only because they lack significant immediate impact, or in the case of newspapers, the news hole is so restricted. For this night of intracity baseball, MLB.com delivers news bits and observations from the press box that might not have made the cut otherwise.
Presenting: Mets and Yankees. What else happened?
A press box announcement from the official scorer Jordan Sprechman in the top of the first inning: "Pitching line on David Phelps: One-third of an inning, four hits, five runs, four earned, two walks, one strikeout."
Now, anyone with a memory that goes back before last Thursday will recall that the slightest incident of malpractice by a Yankees employee in a game against the Mets would prompt untold wrath and fury from the man who owned the team until three years ago. George Steinbrenner routinely redirected the career paths of Yankees wannabes because of poor performance against the other team in the city -- even in Spring Training games.
So after Phelps dug a five-run hole for the Yankees in an eventual 9-4 loss to the Mets on Wednesday night, one question in the pressbox was, "At what level would Phelps make his next start if George still were alive?"
The first responses from denizens of the pressbox were "Class A" and phrases akin to "He'll be on a plane to Tampa by the fifth inning." Sounded right, but Steinbrenner was at his best/worst when the Mets were involved. Had Steinbrenner witnessed the top of the first, he might have launched and financially underwritten a new Class D league just to have someplace worse to send the offender.
Ours for a song
One more nod to Steinbrenner: His choice of the Kate Smith version "God Bless America" for the seventh-inning stretch was his best decision since the Yankees didn't trade Ron Guidry. The lady sang as well as Guidry pitched.
A comebacker? Once the Mets had taken a 5-0 lead, the question was asked of several pressbox residents: "What the final score?" The average worked out to be 11.5 to 9, Yankees.
Get with the program
Mets manager Terry Collins gave little insight into what was said when he met with Ike Davis and Ruben Tejada on Tuesday. But when Collins said "We'll see" when asked whether he thought Tejada had "received the message," the inference was that the Mets manager had put his shortstop on notice.
Then Tejada led off the game with a single, and the assumption was "message received." Not so fast. He made another mistake in the sixth, more than glancing at Travis Hafner, the runner on third base with none out and the Mets leading by seven runs, after handling a ground ball hit by Brennan Boesch. Tejada was needlessly "looking back" a runner whose run meant next to nothing.
The run scored, Boesch was safe at first, and another demerit appeared next to Tejada's name. The shortstop pulled up lame in the ninth inning and was removed -- and that may have saved his big league status. From the perspective of several folks, Tejada was closer to time in Las Vegas than Davis was -- and that was before Davis abandoned his pull swing and produced two singles Wednesday night.
The perspective of the current Mets regime on Tejada was that he was baseball savvy. The folks who make the moves are wondering these days.
Long before his faulty performance in the Mets' first 50 games this year, there were warning flags. They began in Spring Training last year. Given the assignment made vacant by the departure of Jose Reyes, Tejada reported to camp 11 pounds overweight. Perhaps a few weeks at Triple-A with Wally Backman's tough love would bring out some savvy.
Every little thing
Despite lacking great stuff, former Mets pitcher Ed Lynch made himself a quite useful pitcher and routinely kept himself and his team in games by doing everything a pitcher can do before and after delivering a pitch. Lynch fielded his position, properly if not spectacularly. He backed up bases. He held runners by using a slide step or varying his deliveries. He worked pickoff plays at second base. He covered first unfailingly. He even took bunting and hitting behind runners seriously.
Lynch's attention to detail came to mind in the second inning Wednesday night when, with a man on first base, Ichiro Suzuki hit a ground ball to the right side that Davis handled cleanly before properly making the appropriate throw to second. Davis had moved too far to his right to get back to first base for a relay from Tejada, so the responsibility was that of Jeremy Hefner, whose follow-through left him a step closer to first base than he was before delivering the pitch.
Suzuki was safe at first base and would have been had Hefner reached the base, but the Mets pitcher never did.
Lynch would have been there.
Pitchers of modest on-field means must execute. Special pitchers, too. Mariano Rivera didn't back up the plate in the ninth inning Tuesday night. Shame on him. Tom Seaver was infamous for not backing up third base and the plate. He's in the Hall of Fame, and Rivera begins his five-year wait come October. Cooperstown's not calling Hefner just yet.
Taking one for the team
Mike Baxter is a player of supposedly modest skills with a mindset similar to Lynch's. He does what he has to do; witness the catch that threatened his livelihood and saved Johan Santana's no-hitter almost one year ago. Baxter makes a contribution of significance almost every game he starts, and he has been a successful pinch-hitter as well.
Baxter was hit by a pitch leading off the fourth Wednesday night, giving the top of the Mets' order an opportunity to take three whacks at Yankees reliever Adam Warren. After Warren struck out Tejada and Daniel Murphy, David Wright barely beat out an infield hit, and Lucas Duda delivered two runs with a double. A nod to Baxter for his having a hand and a leg in the rally.
In the afterglow of the Mets' fourth straight victory, Baxter indicated he could have avoided Warren's pitch. "But I was leading off," he said. Another nod. The bruise will fade, the memory of what he did will not, not for his manager and teammates.
Baxter also walked with one on and one out in the fifth, again affording the top of the order a chance to produce. It didn't work that time, but he had done what he could.
Marty Noble is a reporter for MLB.com. This story was not subject to the approval of Major League Baseball or its clubs.