MLB.com Columnist
Barry M. Bloom
Reinforcements ready to roll in at right time for Yanks
Teixeira, Youkilis to be first of injured Bombers to return, likely Friday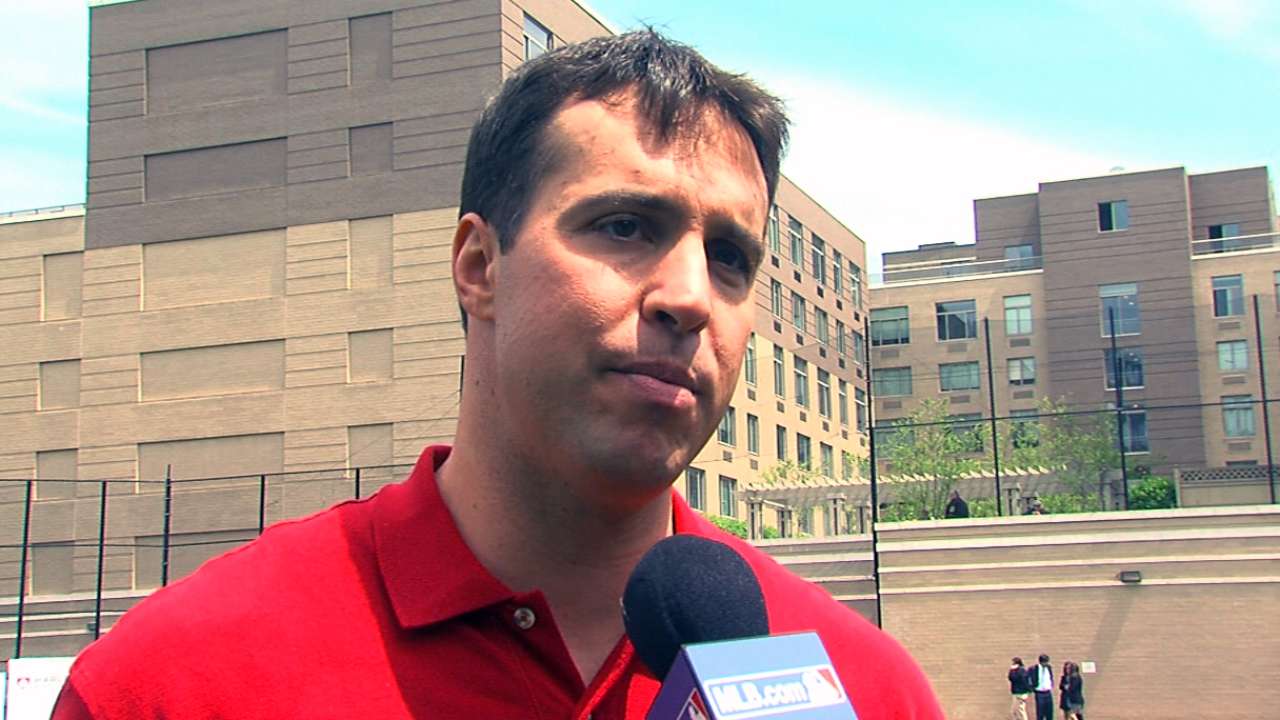 NEW YORK -- Contrary to the belief of some Yankees fans, the veteran Yankees on the disabled list couldn't be returning at a better time.
Barring any unforeseen circumstances, Mark Teixeira and Kevin Youkilis will be reactivated on Friday night when the Yanks open a three-game home series against the Red Sox, and Andy Pettitte is soon to follow, general manager Brian Cashman said on Wednesday.
"If everything goes well, that's the way it looks," he said before the Yankees were shellacked by the Mets, 9-4, at Yankee Stadium.
That's a good thing. The Yankees seemingly have gone as far as they could with a starting lineup that includes Travis Hafner, Lyle Overbay, Jayson Nix, Reid Brignac and Brennan Boesch, plus a starting rotation filled out by David Phelps and Vidal Nuno.
As the Sundance Kid once asked Butch Cassidy about the posse relentlessly chasing them in that 1969 film: "Who are these guys?"
They were good enough to send the Yankees out to a 30-18 record and a tenuous first-place hold over the Red Sox in the American League East. But this week, the Yanks have hit a pre-June swoon, having lost four in a row, the last three to a heretofore moribund group of rival Mets.
The Yankees scored a run a night on Monday and Tuesday at Citi Field, losing both games, 2-1, the latter when the usually unflappable Mariano Rivera faced three batters in the ninth, allowed three hits and blew his first save of the season after 18 successful opportunities.
But Wednesday night's action was the stunner. Phelps faced eight batters and recorded one out, striking out one, walking two and allowing four hits. When he was finally lifted after a rare Ike Davis two-run single, the Mets led, 5-0. The Mets hadn't won a game by scoring eight or more runs since April 12, and a Yankees starter hadn't left before recording two outs in a home game since 1993.
The point is that the Yankees' brass couldn't have asked any more of this assemblage of Major League Baseball's retreads and gamers. Since the opening series of the season against the Red Sox, manager Joe Girardi has implored this ever-changing group to hold the fort while in excess of $90 million in veteran talent made its way on and off the disabled list. Now that time has seemingly arrived.
"I think our guys have done a tremendous job," Girardi said. "Our coaching staff has done a tremendous job with adjustments they've made to players, who have become productive. We are pleased with where we are at. We still think we can get better, that we can play better, and we'll continue to work at it."
If all goes well, on Friday they will have the chance. Help is on the way. Youkilis and Teixeira each went 0-for-2 with a walk in a morning game on Wednesday at Double-A Trenton. They are expected to play again there on Thursday night.
Cashman made the trip to New Jersey's state capital and said he was pleased with the results. If they clear through Thursday, they will be back in Pinstripes on Friday.
"The important thing is these guys are healthy," Cashman said as he talked individually to members of the media in the tunnel outside the Yankees clubhouse on Wednesday. "In Tex's case, we wanted to get him as close to a full Spring Training as possible, because he didn't have one. For Kevin, it was more about knocking the rust off."
Teixeira hasn't played all season. He tore the tendon in his right wrist on March 5 while hitting with a weighted bat off a tee a day after joining Team USA in preparation for the World Baseball Classic. It was feared at the time that Teixeira might need season-ending surgery, and that possibility still exists.
Youkilis hurt his back on April 20 and has played one game since. The former Red Sox star was signed as a free agent this past offseason to play third base when it was determined that incumbent Alex Rodriguez needed hip surgery. In 17 games for the Yankees, Youkilis has hit .266 with two homers and seven RBIs.
In their stead, Overbay and Hafner have combined for 16 homers and 54 RBIs, leading some fans to wonder why they'd be dropped from the lineup.
"This happens all the time," Girardi said. "Players go down. Starters go down. Guys come up and do a good job. But when they come back, you expect to put them in the lineup."
Overbay will certainly be supplanted at first base by Teixeira, who has averaged 34 homers and 106 RBIs a season in his four years with the Yankees.
Yankees fans shouldn't be concerned, Girardi said. There's no reason to believe that at 33, Teixeira won't continue to produce. Ditto, Youkilis.
"I think those two know what it's like to play under pressure," Girardi said. "They've been doing it for a long time, Youk playing in Boston, Tex playing here in a number of playoff series. I don't think they're going to put any added pressure on themselves. They're just going to go out and play."
Pettitte hasn't pitched since straining a muscle in his upper back on May 17. He's thrown a few bullpen sessions and 75 pitches in a simulated game. The likelihood is that he won't need a rehab start and will return next week when the Yankees conclude their current homestand with a three-game series against the Indians, Cashman and Girardi said.
That will leave A-Rod, Curtis Granderson (broken finger) and Derek Jeter (broken ankle) on the shelf until sometime during the second half of the season, Cashman added. Date of return, unknown.
Still, the re-emergence of Teixeira, Youkilis and Pettitte should give the Yankees a boost of energy just when it is most needed.
Barry M. Bloom is a national reporter for MLB.com and writes an MLBlog, Boomskie on Baseball. Follow@boomskie on Twitter. This story was not subject to the approval of Major League Baseball or its clubs.