MLB.com Columnist
Barry M. Bloom
Cashman on the mend along with Yankees
General manager up and walking again after skydiving accident im March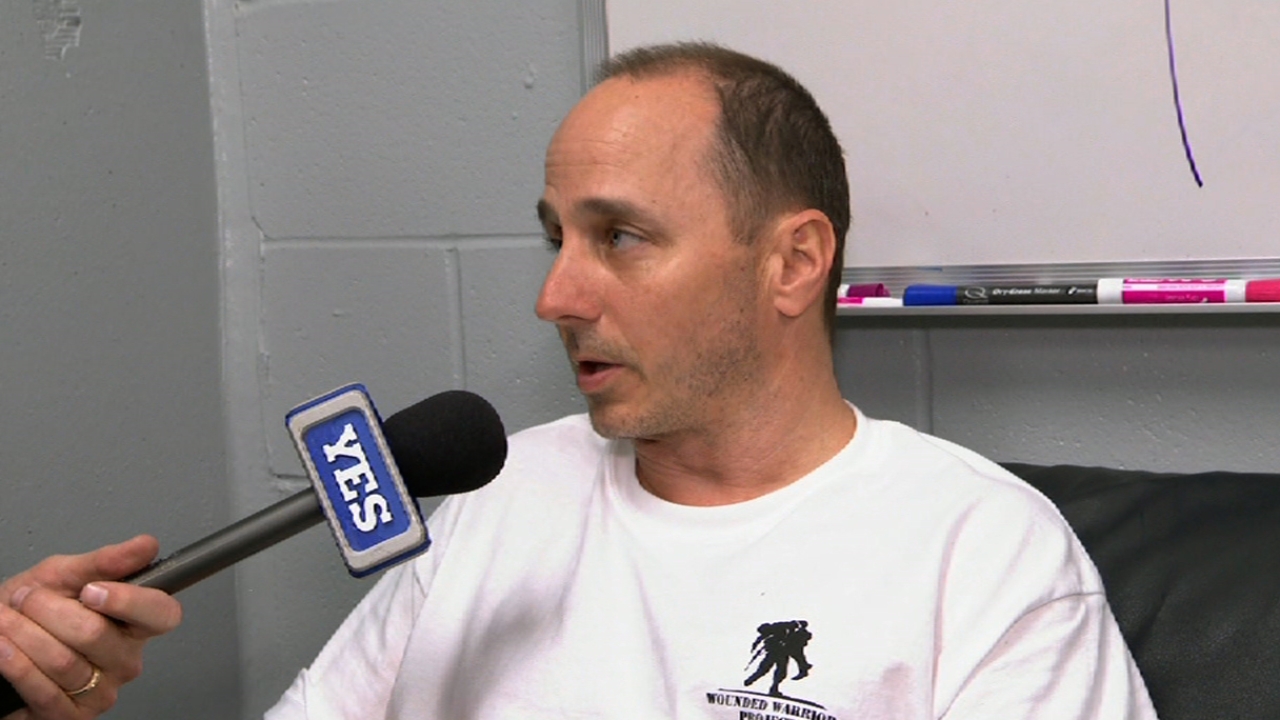 NEW YORK -- For Yankees general manager Brian Cashman, the first few months of the season have mirrored the experiences of many of the players on his team. He has been mending from a serious injury and is not yet completely off the disabled list.
Cashman broke his right fibula and dislocated his right ankle while skydiving with the U.S. Army Golden Knights at Homestead Air Force Base in Florida on March 4. The injuries occurred as he hit the ground to end his second jump of the day.
In doing so, he joined Alex Rodriguez (hip surgery), Derek Jeter (broken ankle), Curtis Granderson (broken wrist) and Mark Teixeira (strained wrist tendon) on the early-season DL, later to be further populated by Kevin Youkilis (back) and Andy Pettitte (muscle strain), and again by Granderson (broken pinkie), among others.
But like Cashman, the Yankees have survived, and Teixeira and Youkilis are expected to be activated on Friday night for the opener of a three-game series against the Red Sox. Pettitte is projected to start Monday night against the Indians.
MLB.com caught up with the still-gimpy Cashman at Yankee Stadium this week to talk about his recovery and the first two months of the season.
MLB.com: So how's your foot and leg?
Cashman: It's coming along. We've got a sleeve on it now. I can't run yet, but I can walk.
MLB.com: How long are they saying before you can run?
Cashman: I've got to get the swelling out of it. My dorsiflexion is still really restricted because of swelling on the front end, so until I get the swelling out, I can't run. I can do the bike. I can do the elliptical. But I like to run, and I can't do any of that yet. I'm not even trying. I've only been walking for two, two and half weeks.
MLB.com: You can't climb buildings, then, right now either?
Cashman: I can climb down a building, but I can't climb up one. I can do the repelling. I can do that.
MLB.com: What was it like to parachute out of a plane and hurt yourself?
Cashman: You take a step that's not there and it's very different. There was nothing but air. We were dropping at 129 mph until we deployed the chute. We were flying pretty strong so it was wild.
MLB.com: Would you go up and do it again?
Cashman: No, I'm going to retire now. Yeah, my chute is officially retired. I've done it twice. I don't have anything to prove on that anymore. The chute's up.
MLB.com: What do you think of your club's season so far?
Cashman: We found a way to not let the injuries early kill us. We're going to get some guys back, and hopefully we'll take advantage of it. The biggest thing for us is that we have great pitching. If we continue to pitch well, then we'll compete all year.
MLB.com: When some experts picked the Yankees to finish last in the American League East at the beginning of the season, what was your reaction to that?
Cashman: I could understand it, with everything that was happening with us. My job is to find a way of that not happening, of not allowing that to happen. You certainly understood that when people were dissecting your club as opposed to other clubs because of what we were dealing with injury-wise, that's why they could make those arguments.
MLB.com: What has been the secret over the last two years of picking up older players and getting the max out of them? Guys like Andruw Jones, Raul Ibanez and Ichiro last year, Travis Hafner and Lyle Overbay this year, among others.
Cashman: We have a great pro scouting department. The players who have come in here are not afraid to come into New York and compete. They're high-quality people. They're professionals who have had a lot of success in other environments and they've taken on a role to not be the guy here, and it's benefited them as well as us.
MLB.com: Is there anything to the myth of putting on Yankees pinstripes brings up your game a little?
Cashman: Nope, because for as many of those as you can throw out, I can give you a list of guys who came here as superstars in other environments and they were reduced to smithereens in New York.
MLB.com: Carl Pavano comes quickly to mind as being one of them.
Cashman: Randy Johnson wasn't the same kind of pitcher here as he was elsewhere. Then he left us and continued to have success again. This is not a market for everybody.
MLB.com: What do you with a guy like Overbay when Teixeira comes back?
Cashman: We'll see. I mean, Teixeira is going to play first base. Out of everybody, Overbay will be affected more than anybody else with these returns. I have a number of ways I can go. Overbay might be here, he might not be here, but there's no doubt he won't be playing first base when Tex's here, because Tex will be playing first.
MLB.com: Are you concerned, because of the nature of Teixeira's injury, that you might want to see him play for a few weeks before you get rid of a guy like Overbay?
Cashman: Not really. That's why's he has gone through an extended Spring Training. He'll have up to about 45-47 at-bats. That's really what you would do in regular Spring Training. That's as much as you can do. He feels great, and when he comes back, it will be time to turn him loose. Whatever will be will be.
MLB.com: What do you think of the job manager Joe Girardi has done under these circumstances over the last two months?
Cashman: I think Joe has been the same guy since I've gotten him here. He's a tremendous manager under any circumstances or basis. The players come and go. Injuries occur and don't occur. I think he is a very well-prepared manager and he consistently runs this team the right way. He's done a tremendous job. This year has been no different than any other year.
MLB.com: So will his contractual situation wait to be addressed at the end of the season?
Cashman: Yes.
MLB.com: And what about Robinson Cano? Where do those negotiations stand?
Cashman: I've got nothing to report about Robby, other than we'd like to keep him. But that's about as much as I can say. He's a free agent this offseason, obviously. We'll be obviously knocking on his door now, and if he elects for free agency, we'll still be knocking on his door. We'll still be knocking either way.
MLB.com: What's the prognosis now on Jeter and A-Rod?
Cashman: Hopefully they'll be back some time in the second half. It's too early to say, but the doctors tell us that we'll see them during the second half. A-Rod is down in Tampa doing some baseball activities, but I don't know if that places him a little ahead of Jeter or not. Perhaps when Jeter gets the green light to start doing that, he'll close the gap. I don't know. Bottom line is the docs say they'll be back sometime during the second half. Alex is doing some functional baseball stuff right now, where Derek is not. So if Alex is a little ahead right now, I can't tell you. I haven't asked that question.
MLB.com: But the bottom line, as you say, is that you have to be pleased about where the club is now with all these guys coming back.
Cashman: Well, we're 30-23 and we're two games out of first place in the division. We got through this period, but we have a long way to go. We have four more months, and it's a long season. Hopefully we'll find a way to win this division. But there are a lot of games left.
Barry M. Bloom is a national reporter for MLB.com and writes an MLBlog, Boomskie on Baseball. Follow @boomskie on Twitter. This story was not subject to the approval of Major League Baseball or its clubs.