MLB.com Columnist
Barry M. Bloom
Teixeira, Youkilis give Yanks immediate boost
Returning players spark run-scoring rallies to help beat Boston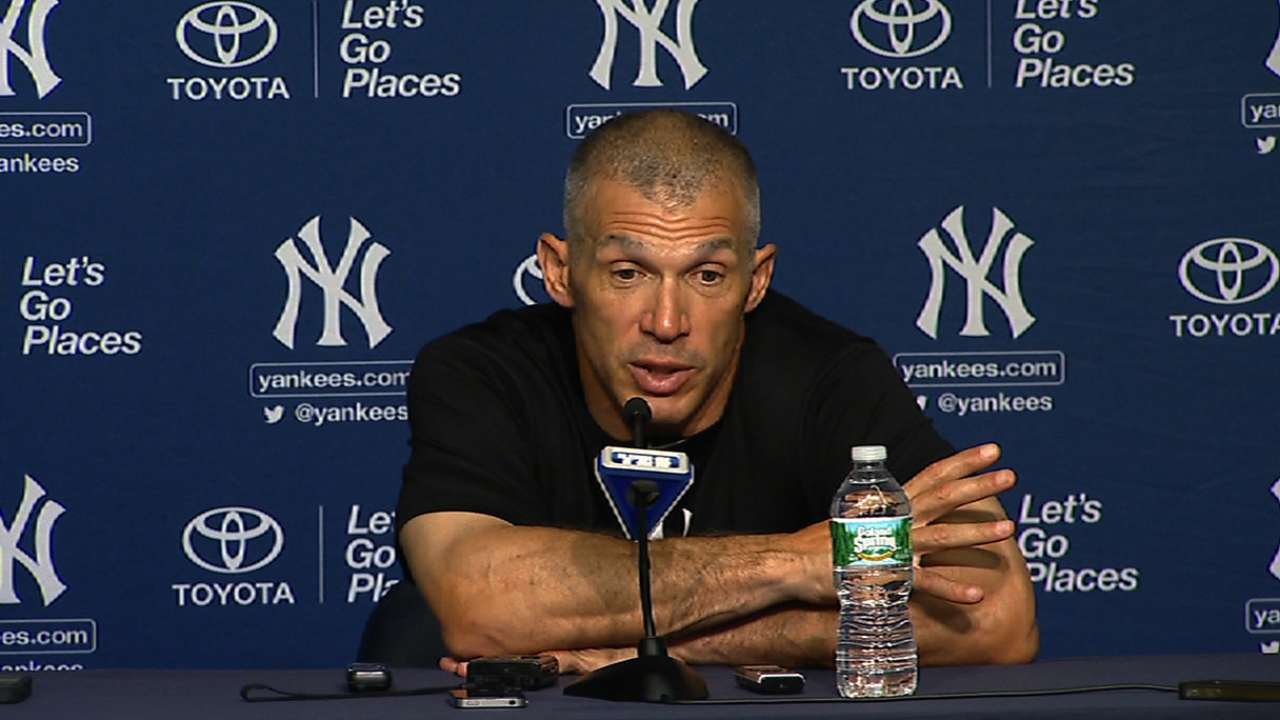 NEW YORK -- If there was a change in feeling and texture to the Yankees on Friday night with the return of Mark Teixeira and Kevin Youkilis against the Red Sox at Yankee Stadium, it should come as no surprise.
"It was awesome to have those guys back," said CC Sabathia, who responded with one of his most potent starts of the season. "Of course it gave us a lift, mentally, physically. Anytime you have guys like Youk and Tex come back, even without trying, it can give you a boost."
Teixeira and Youkilis returned after lengthy injury absences and both were big contributors to the 4-1 victory.
Teixeira walked to open the second inning and scored his team's first run. Youkilis knocked in the third run in the fifth with a single as the 31-23 Yanks snapped a five-game skid and pulled within a game of Boston in the American League East as the month of May came to an end.
Oh, and Sabathia pitched 7 1/3 innings of one-run, six-hit ball while walking none and striking out 10, matching his season high. Even Mariano Rivera came out of the 'pen in the ninth to record his 19th save after blowing his first of the season against the Mets at Citi Field on Tuesday night.
For at least one evening in the South Bronx, all seem aligned in the Yankees Universe.
"This felt great," said Rivera after adding to the all-time lead by recording his 627th career save. "We're getting our guys back little by little. But the most important thing is that we won the game."
The Yanks' play earlier in the week had been so flat that even some club executives postulated they had come to the end of the line hanging in there with the team of overachievers that general manager Brian Cashman had been able to put together. It was time for the regulars to return and pick up the slack.
While being swept by the Mets in their four-game Subway Series, the Yankees never led by more than a run. They scored a single run in three of the four games, and in the final three, they walked once and struck out 34 times.
That all changed during Friday night's first game of a three-game set. They looked like a different team as Red Sox starter Jon Lester walked four and whiffed only five.
Teixeira, batting in the cleanup spot, started off the second-inning, two-run rally by patiently waiting out Lester, who walked him on a full count. Vernon Wells doubled Teixeira to third and Jayson Nix drove him home with a single. Ichiro Suzuki knocked in Wells with a single and just like that, Sabathia had a 2-0 lead he never relinquished.
"It was a lot of fun, a great first at-bat," Teixeira said. "I mean, to run around the bases and score a run, that really kind of breaks you in a little bit. You want to feel like you're helping the team out as soon as you get out there. That's how you'd draw it up, really."
Youkilis, too, said he felt good about driving in Ichiro with a solid single to left off Lester, his friend and former teammate. The pair played together on the Red Sox when they swept the Rockies to win the 2007 World Series.
"Did it feel good? You bet," Youkilis said. "In the big leagues, all the hits you can get are always a good thing. In that situation, especially to give us a 3-0 lead, gave CC a little bit more breathing room."
Neither returning player looked particularly sharp at the plate. They were a combined 1-for-7. But their presence had an immediate impact, allowing manager Joe Girardi to space out and even sit some of his left-handed hitters. Youkilis is a righty swinger and Teixeira a switch-hitter.
For the time being, that left Girardi with a predominately left-handed-hitting bench in Brennan Boesch, Lyle Overbay, Travis Hafner and Reid Brignac. Backup catcher Austin Romine was the only right-handed hitter in reserve.
"These guys grind out at-bats, that's what they do," Girardi said about Teixeira and Youkilis. "Their impact is big. We need to keep them healthy. It changes our lineup, it really does, because it gives us a better balance. We're deeper now."
Teixeira hadn't played a regular-season game this year and had been sidelined since straining a tendon in his right wrist on March 5, preparing to play for Team USA in the World Baseball Classic. Youkilis had played one game since April 20 because of a lower back strain.
Teixeira, under the shadow of possible surgery to repair the wrist, spent a good period of time at extended spring training getting it back into playing shape. Youkilis also spent weeks in Florida restoring physical order. And they were cleared to return after playing in back-to-back rehab games at Double-A Trenton on Wednesday and Thursday.
Both said they felt free of pain beforehand as Girardi opted to start Youkilis as the designated hitter with rookie David Adams at third base. Teixeira was installed in his normal spot at first. Afterward, Teixeira said he had iced the wrist and would do so for the next few weeks. But he was no worse for the wear.
Youkilis called it an easy night. "I was DHing and I didn't have much to do," he said. "It was an easy day for the body and all that."
Teixeira could be seen all evening walking around the clubhouse with a big smile on his face. He also missed almost the entire month of this past September with a calf injury and then played regularly in the playoffs.
Now he'd like to get back into a steady flow after missing what amounted to the last three months, spanning two regular seasons.
"It's been really weird for me," Teixeira said. "I'm used to playing a lot of games every year. I keep saying it, but it's really good to be back. Hopefully it's the last DL stint of my career."
Barry M. Bloom is a national reporter for MLB.com and writes an MLBlog, Boomskie on Baseball. Follow@boomskie on Twitter. This story was not subject to the approval of Major League Baseball or its clubs.