After snapping 0-for-22 skid, Ichiro heating up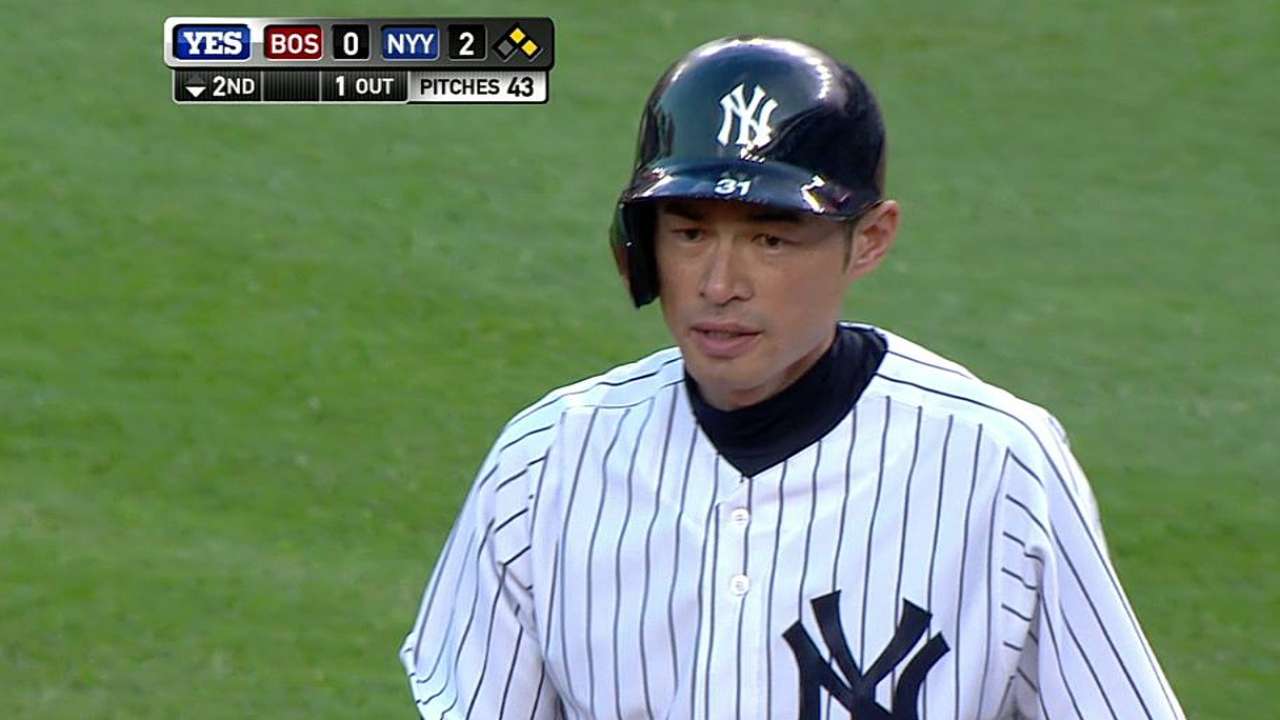 NEW YORK -- Earlier this season, it appeared that Ichiro Suzuki could've finally hit a wall. He was mired in a slump in mid-May when he failed to collect a hit in 22 straight at-bats from May 11-16. It wouldn't have been difficult to envision that as a new norm for the 39-year-old outfielder instead of an outlying cold streak.
Since snapping that streak with a seventh-inning single on May 16, Ichiro's heated up. He's 13 for his last 37 (.351) since that 0-for-22 stretch and has hit safely in 10 of his last 12 games.
"I almost think that, when a guy of his stature struggles like that, it's a little bit daunting because of all the success, but I just feel it's a little bit of what hitters go through," manager Joe Girardi said. "They go through streaks. It's great while you're in a good streak, and it's never any fun when you're going through a tough streak."
Ichiro went 2-for-3 in New York's win 4-1 over Boston on Friday night and tallied his first RBI since a May 10 rout of the Royals. He was starting in right field and batting eighth for the second consecutive night on Saturday after being off Thursday.
In his 13th year in the Majors, Ichiro continues to creep perilously close to some milestones -- achievements that may have suddenly seemed unreachable during that miserable 0-for-22 stretch. Ichiro reached the 150-hit plateau in each of his first 12 seasons in the big leagues, tied for third best all-time. Exactly a third of the way through this season, Ichiro sits at 44 hits -- just six off the necessary pace.
The coveted 3,000-hit milestone once again seems reachable, too. With one year remaining on his contract after this season, Ichiro sits 350 hits away from 3,000. At a 150-hit pace, it would take him one season beyond the final year of his current contract to reach it. Add in the 1,278 hits he recorded in Japan's Nippon Professional Baseball and he's just 72 away from 4,000.
"He's been an impressive hitter since the time he got here," Girardi said. "I remember seeing him his first year in Spring Training, and people thought they were going to knock the bat out of his hands all the time.
"Here it is 2013 and he's 2,700-plus hits. We haven't knocked the bat out of his hand too much."
Bryan Hoch is a reporter for MLB.com. Follow him on Twitter @bryanhoch and read his MLBlog, Bombers Beat. Josh Vitale and David Wilson are associate reporters for MLB.com. This story was not subject to the approval of Major League Baseball or its clubs.