MLB.com Columnist
Barry M. Bloom
Teixeira promises to no longer swing weighted bat
Yankees slugger says wrist is fine, hopes there will be no setbacks this season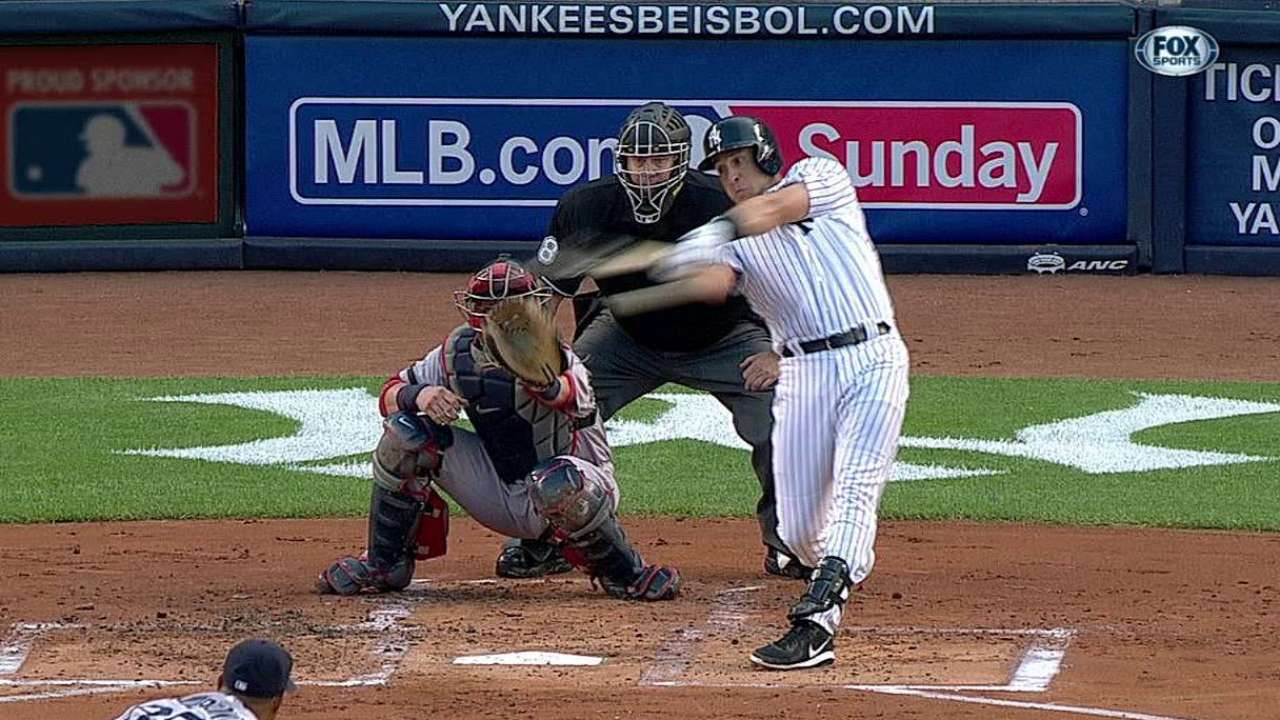 NEW YORK -- Mark Teixeira has pledged that he won't continue the repetitive act that partially tore the sheath surrounding the tendon in his right wrist and put him on the disabled list for the first two months of the season.
The first baseman injured himself, swinging at balls off a tee with a weighted bat only hours before Team USA was to play its first exhibition game against the White Sox on March 5 in preparation for the World Baseball Classic.
That little practice is now over.
"Absolutely," said Teixeira, who had his first hit of the season -- a single -- during the opening inning of New York's 11-1 loss to the Red Sox on Saturday night at Yankee Stadium. "There's a fine line between making yourself strong and sharp for the season and working too much -- and I hit that this Spring Training. I felt so good. Physically I was in good shape, I had a lot of energy. I took way more swings than I should have -- and with the weighted bat, too.
"You look back and it probably wasn't the smartest thing in the world, but I've been doing it for years. I've been swinging the bat since I was 5 years old. Finally my wrist said, 'All right, it's enough.'"
Teixeira was in the lineup that day at Camelback Ranch in Glendale, Ariz., and after telling U.S. manager Joe Torre that he felt discomfort in the wrist after cutting the practice session short, he was a late scratch.
Teixeira had worked out in the cages that morning with coaches Dale Murphy and Gerald Perry. No one realized the extent of the injury until he flew to New York and had the wrist examined by Yankees physicians.
What originally had been diagnosed as a wrist strain turned out to be more serious. An MRI revealed that Teixeira had a partially torn tendon sheath that could potentially require season-ending surgery. Instead of being sidelined for a couple of weeks, he was told he'd be on the shelf for at least two months.
It actually turned out to be nearly three months by the time the healing and rehab period in Florida had finally ended. Teixeira returned to the Yankees' lineup at first base and in the cleanup spot against Boston on Friday night.
Now all everyone can do is hold their collective breath. Blue Jays slugger Jose Bautista suffered a similar injury to the tendon sheath in his left wrist during a game last July 16 at Yankee Stadium. He tried to return a month later and re-injured the wrist, this time destabilizing the tendon itself. Bautista then underwent season-ending surgery and now is fully recovered. He's played 48 games so far this season and has 12 homers and 28 RBIs.
That's the shadow Teixeira and the Yankees will be playing under for the coming months. For his part, Teixeira is upbeat and positive.
"It feels great," Teixeira said. "There's no soreness, no stiffness. There's nothing to make anybody think that there's something wrong with the wrist. That's the good thing. It's been a long road."
As far as maintaining the condition of the wrist, Teixeira added: "Just swinging is going to be my rehab, really. It has to be functional. There's really nothing else I can do. It's healed. Now you just cross your fingers and hope there are no issues. Maybe I'll need a day off here or there, but my plan is to be healthy for the rest of the season."
Teixeira is a notorious slow starter and has already gone 1-for-7 with a run scored, a walk and five strikeouts in his first two games back.
Since signing an eight-year, $180 million free-agent contract with the Yankees prior to the 2009 season, Teixeira's Aprils have looked like this.
In 2009: .200 average, three homers, 10 RBIs.
In 2010: .136 average, two homers, nine RBIs.
In 2011: .253 average, five homers, 13 RBIs.
In 2012: .244 average, three homers, 12 RBIs.
Since Teixeira wound up averaging .262, 34 homers and 106 RBIs over the course of those four seasons, things obviously evened out. This year, however, he had no April, one game in May and won't have the entire course of the six-month regular season. He has four months to produce if the wrist remains healthy.
Time is certainly of the essence, he knows, but Teixeira laughed when asked if there was any way to compensate for all that.
"If anyone has any tips, let me know," Teixeira said. "If anyone has any tips they can give me, I'm up for tips. But you just have to go out and play. There's a rhythm I think you have to get into. That's the biggest thing. Hopefully getting into that rhythm won't take long at all. I had a lot of work in Tampa, a lot of at-bats in Tampa, and once you get into that game rhythm of playing in the big leagues, hopefully I'll be back to being myself pretty soon here."
Barry M. Bloom is a national reporter for MLB.com and writes an MLBlog, Boomskie on Baseball. Follow@boomskie on Twitter. This story was not subject to the approval of Major League Baseball or its clubs.