MLB.com Columnist
Barry M. Bloom
Pettitte feels good, but not satisfied with return
Lefty goes 4 2/3 innings, allows three runs against Indians in no-decision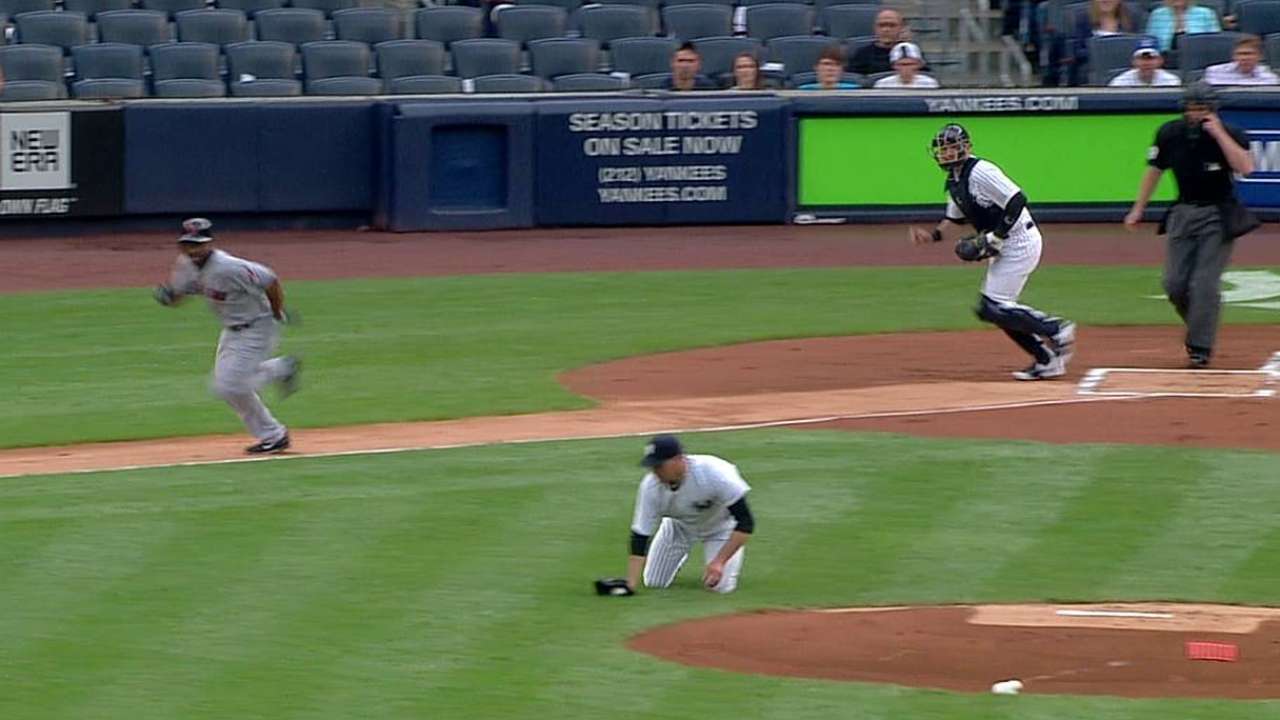 NEW YORK -- The first thing everyone needs to know about Andy Pettitte after his return Monday night from the disabled list is that he's feeling just fine. That annoying trapezius muscle in the upper back beneath his left shoulder wasn't bothering him at all.
The next thing everyone needs to know is that he was pretty upset with himself for not being able to make it out of the fifth inning in a 7-4 Yankees victory over the Indians at Yankee Stadium.
"As far as me personally, it was frustrating. We finally get some runs on the board and then you give a lead back to them," he said. "I'm never going to be happy about that. I'm very thankful I can smile a little bit about it because we got the 'W.'
"But I felt good. I felt good early. I feel like I might have run out of gas a little bit."
The lead Pettitte referred to was a 4-1 advantage courtesy of Mark Teixeira, whose third-inning grand slam off Indians right-hander Justin Masterson accounted for his first homer and first RBIs of the season. It was a line shot and typical Bronx ballpark blast just above the right-field wall and into the front row of seats.
Like Pettitte, Teixeira is back from the disabled list, having returned Friday from three months of recovery and rehab because of a partially torn tendon sheath in his right wrist. Teixeira had been 1-for-9 with seven strikeouts going into the key at-bat.
Pettitte has only been idle since May 16, when manager Joe Girardi noticed the left-hander grimacing and rotating that shoulder during the fifth inning against the Mariners. Pettitte didn't want come out at the time, but with four and a half months to go in the season, Girardi wasn't willing to throw caution to the wind.
The Yanks disabled him the next day, and Pettitte has spent the last three weeks making his way back, ultimately settling on a 75-pitch simulated game in lieu of heading to the Minors for at least one rehab start.
Pettitte was sharp at the outset Monday, recording three strikeouts in a row at one point, but the Indians worked him well in the fifth inning. He walked two, threw 10 balls in row, and after Carlos Santana smacked a ground-rule double to tie the score, Girardi went out to get him again. He had thrown 83 pitches.
Girardi, catcher Austin Romine and Pettitte all indicated that home-plate umpire Manny Gonzalez was calling a very tight zone.
"There were some borderline pitches there," Romine said. "I'm not going to argue strikes and balls. But one or two pitches go the other way, and you don't know what happens."
To be sure, Pettitte wasn't using that as an excuse. He tossed two wild pitches and bounced a few more up to the plate. At one point, he seemed to wave the rookie catcher out to the mound so they could get on the same page. But in the end, when his time did come, Pettitte wasn't anxious to leave the game.
"Of course, you always want to stay out there," he said. "But with the pitch count where it was, the last game I got pulled, and then I only threw 75 pitches the other day. That was in a simulated game at 10 'clock in the morning. This took a lot more adrenaline and stuff, so I knew they were going to be short with me out there."
There's no fooling Father Time and Pettitte will be 41 on June 15. The winner of 249 regular-season games and 19 more in the playoffs hasn't played a season uninhibited by retirement or injury since 2009. And that just happens to be the last time the Yankees won the World Series.
The Bombers have won 27 of them, and what remains of the Core Four -- Pettitte, Derek Jeter and Mariano Rivera -- have contributed to five since 1996. All three are in different phases of winding down their stellar careers. Jeter is trying desperately to recover from a badly broken left ankle and thus far has missed the season. Rivera, who recorded his 20th save in 21 chances and No. 628 of his career on Monday, says he's retiring at the end of the season.
Pettitte has already utilized that option once, sitting out all of 2011 and missing the first month of 2012, and there's no telling what he might do after this season is over. It's not so far-fetched to consider that all three might be eligible for the first time in the Hall of Fame's Class of 2019.
For now, Pettitte's run of the last three-plus seasons has been another source of frustration.
"Oh, for sure, yeah, because in 2010 I felt great," he recalled. "I made the All-Star team. I was having one of the best years of my career and then was out for two and half months with a groin injury. And then last year, I broke my ankle. Those are things you can't control."
Pettitte can't control the baseball fates, either. He opened the season with three consecutive wins and now has recorded only one victory since April 19. He's 1-3 with two no-decisions in his last six starts wrapped around the stint on the DL.
He also was pushed back five days and a turn in early April when his lower back seized up, an injury he says was not related to the just-concluded problem. But there's no getting around it. He knows, in baseball terms, he's getting old.
"Anytime you go a period without winning big league ballgames, it's frustrating," he said with a laugh. "Winning big league games is the name of the game, and they're precious. It's always frustrating, but it's part of it. Hopefully I can get on a good winning streak like I did early in the year.
"Reeling off a bunch of wins in a row, that's what you're looking for."
Barry M. Bloom is a national reporter for MLB.com and writes an MLBlog, Boomskie on Baseball. Follow@boomskie on Twitter. This story was not subject to the approval of Major League Baseball or its clubs.