Overbay gets outfield opportunity; Boesch sent out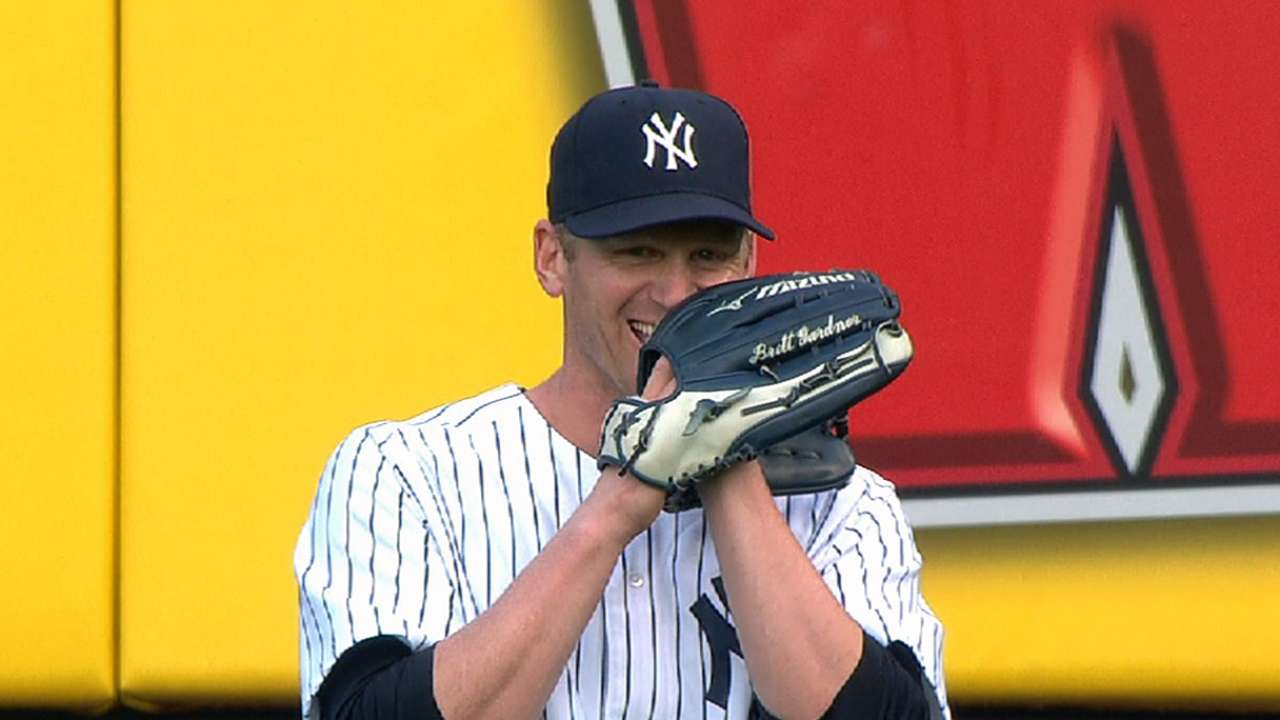 NEW YORK -- The idea of transitioning to the outfield was first floated to Lyle Overbay two days ago. Yet it wasn't until he arrived in the Yankee Stadium clubhouse prior to Monday's series opener that Overbay knew for certain he'd be making his Major League debut in the outfield.
Overbay started in right field Monday night using a spare outfield glove provided by pitcher Boone Logan, marking Overbay's first appearance in the field at anywhere other than first base in his 13-year career. The 36-year-old, whose own outfield glove was en route to Yankee Stadium as of game time, had previously appeared in 1,375 games exclusively as a first baseman, designated hitter or pinch-hitter.
"We've been forced to be a little bit creative here because of some of the injuries," manager Joe Girardi said. "And we just feel that we're going to give him an opportunity out there, and [keeping Overbay on the roster] also gives us coverage for [Mark Teixeira] at first base, if he needs a day off."
With Teixeira's recent return to first base and Travis Hafner's success as the club's DH this season, there was some speculation that Overbay could be designated for assignment to make room for Monday starter Andy Pettitte's return from the disabled list.
Instead, the club elected to option outfielder Brennan Boesch to Triple-A Scranton/Wilkes-Barre and give Overbay -- hitting .247 with eight homers and 29 RBIs in 51 games this season -- a shot in the outfield.
"That's kind of why I got released in Boston and Arizona, because I only played that one position," said Overbay, who played some outfield for the Red Sox in Spring Training before his release in March. "We have a DH that's done a very good job, so you can't kick him out of his spot, so yeah, [being designated] crossed my mind, for sure."
Along with his outfield work in Spring Training, Overbay made 30 starts in the outfield (25 in left, five in right) during his earlier playing days in the Minor Leagues -- though that was more than a decade ago. As for what Girardi expects out of Overbay in his new role, the skipper said he just wants Overbay to continue his offensive production while providing sufficient play defensively.
"I don't expect him to go out there and be a Gold Glove right fielder," Girardi said. "I expect him to add offensively for us and just do a good job out there."
Boesch, who signed with the Yankees during Spring Training after being released by the Tigers, was on his second stint with New York this season. He played in 23 games, and hit .275 with three home runs and eight RBIs.
"If you're going to give Lyle some opportunities in right field, Brennan, it's probably going to take a few away from him," Girardi said. "We'll get him playing everyday down there and that should help him as well."
Paul Casella and Jordan Bastian are reporters for MLB.com. Josh Vitale is an associate reporter for MLB.com. This story was not subject to the approval of Major League Baseball or its clubs.