Yanks sign infielder Cruz, place Nix on disabled list
Yanks sign infielder Cruz, place Nix on disabled list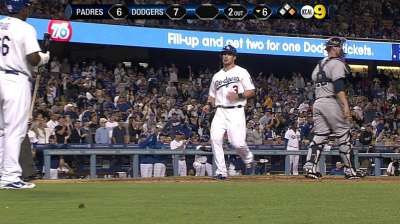 MINNEAPOLIS -- Luis Cruz filled his Tuesday afternoon by walking around Disneyland. He'll spend his Wednesday night playing shortstop for the Yankees.
The former Dodgers infielder, 29, signed a Major League contract on Wednesday and immediately found his name in the lineup, batting eighth against the Twins at Target Field.
"I feel happy wearing this uniform," Cruz said. "I think it's like a dream for any player to play for the Yankees."
In a corresponding roster move, the Yankees placed infielder Jayson Nix on the 15-day disabled list after an MRI performed on Wednesday revealed a Grade 2 strain of his right hamstring.
"Nixy's tough and he plays through a lot of stuff," manager Joe Girardi said. "He didn't necessarily want to go on the DL. We just felt that no one we've ever had that's had a Grade 2 has ever not gone on the DL. It's awful risky, and you risk making it [linger for] a long time."
Cruz struggled this season with the Dodgers, batting .127 with a .175 on-base percentage and .169 slugging percentage in 45 games. He was designated for assignment on June 28 and opted to become a free agent rather than report to Triple-A.
"I had too many things in my head at the beginning of the season, outside baseball," Cruz said. "I'm ready to go now."
Cruz said that he let his agent, John Boggs, handle the negotiations with the Yankees while he spent the day in Anaheim, celebrating his son's third birthday. Late on Tuesday, Boggs called, telling him to join the club in Minneapolis.
Cruz is hoping that joining the Yankees will help him approach the production he showed with the Dodgers last year, when he batted .297 with six homers and 40 RBIs in 78 games.
"I think, for me, it's like a new start," he said. "I just want to help this team win, hit some balls hard and pick every ball at shortstop."
The Yankees have needed plenty of help at shortstop. Derek Jeter, Eduardo Nunez and, now, Nix have all been lost to injuries, and Reid Brignac and Alberto Gonzalez have also been given starts at the position.
"We've had a variety, right?" Girardi said. "It's not what you predict when you go into a year, but sometimes you've got to make do."
Bryan Hoch is a reporter for MLB.com. Follow him on Twitter @bryanhoch and read his MLBlog, Bombers Beat. This story was not subject to the approval of Major League Baseball or its clubs.