Oblique healed, Nunez back in pinstripes
Oblique healed, Nunez back in pinstripes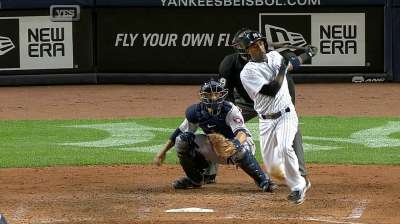 NEW YORK -- After spending two months on the disabled list with a strained left oblique, Eduardo Nunez is back in pinstripes, starting at shortstop and batting eighth against the Orioles on Saturday.
In corresponding moves, right-hander David Phelps was placed on the DL with a strained forearm, and first baseman Mark Teixeira was transferred to the 60-day DL.
Nunez sustained the oblique injury on May 5 and was placed on the DL the next day. Prior to the injury, he was batting .200 with four RBIs, nine runs and two stolen bases.
The recovery process was longer than he expected, though. He encountered multiple setbacks while rehabbing in Tampa, Fla., as he continued to feel pain when attempting to swing a bat.
"I never thought that [it would take this long]," Nunez said. "Maybe one week. But I had big setbacks twice. It was tough, it was tough. But now I'm here again."
But Nunez made it through his rehab assignment without incident, batting .375 with an RBI and two stolen bases over six games between Class A and Double-A.
With Derek Jeter on a rehab assignment and Jayson Nix on the DL with an injured hamstring, manager Joe Girardi said that Nunez would likely be his everyday shortstop for the time being.
"Don't be surprised if I give him a day off here and there over the next week or so," Girardi said, "just because he's probably not equipped to play the next nine days in a row. He's probably not in that type of shape yet. I have to be smart about it."
Josh Vitale is an associate reporter for MLB.com. This story was not subject to the approval of Major League Baseball or its clubs.