Yanks playing it safe with rehabbing Jeter
Yanks playing it safe with rehabbing Jeter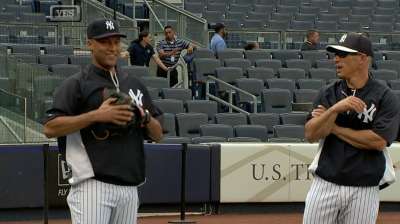 NEW YORK -- Derek Jeter would have likely penciled himself into the Yankees' starting lineup on Sunday if manager Joe Girardi had let him. But the Yankees are going to have to see more from their star shortstop before they decide to let him make his season debut.
Girardi watched Jeter's at-bats in a rehab game with Triple-A Scranton/Wilkes-Barre on Friday night -- he went 0-for-2 at the plate with a walk -- and said they looked pretty good.
One game won't be enough to assess the shortstop's readiness to return to the Bronx, though.
"You have to see how he's moving around, how he's responding physically to playing every day," Girardi said. "You have to build him up. He has to be able to play more than five innings once every three days. We'll go through this week, I'm sure, then we'll make an evaluation."
Girardi said the most important thing was to make sure not to bring Jeter back before he's ready. Jeter already suffered a setback when doctors found he had refractured his left ankle in April, and Girardi wants him to avoid another stint on the disabled list.
Jeter has 20 days to complete his rehab assignment, but he could come back before the final day, which would be July 26. Girardi said having the All-Star break coming up July 14-17 is nice, because the Yankees won't be able to bring Jeter back during those days, meaning he will get extra time to rehab the injury.
Girardi wouldn't say whether that meant Jeter would be back before or after the break, though.
"I don't ever put a time limit on it, because I don't think it's fair to the player, and I don't think it's fair to us," Girardi said. "They're ready when they're ready, and when we feel that they're ready. I'm not saying anything about when he's going to be here or when he's not going to be here. I'm just saying I'm not putting a date on it."
Josh Vitale is an associate reporter for MLB.com. This story was not subject to the approval of Major League Baseball or its clubs.